When you shop through retailer links on our site, we may earn affiliate commissions. 100% of the fees we collect are used to support our nonprofit mission.
Learn more.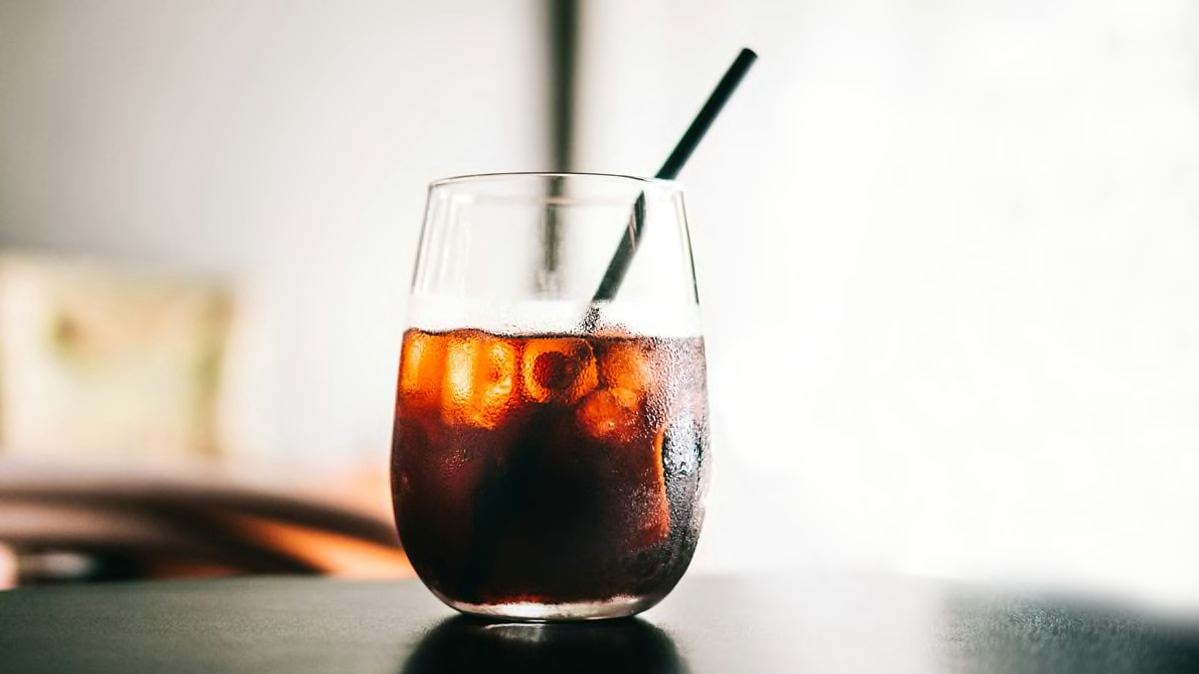 Not that long ago, cold brew coffee was a novel drink, available only at some independent coffee bars. But now you'll find it served at mainstream coffee chains, as well as in bottles, cans, and cartons in supermarkets and convenience stores.
These ready-to-drink cold brews are popular, with sales increasing 137 percent between 2016 and 2017, according to market research firm Mintel. One reason: They're convenient, especially for cold brew coffee, which can be time-consuming to make yourself. Another reason: Some are positioned as healthy.
"Ready-to-drink coffee is one of the more innovative categories in the beverage industry, and one way we're seeing differentiation is though health claims," says Caleb Bryant, senior beverage analyst at Mintel. "There's protein coffee and one being positioned as a post-workout beverage with electrolytes, for example."
Mintel data shows that people who drink bottled or canned coffee have a strong interest in products with attributes related to health and wellness, such as antioxidants, brain health, protein, or probiotics. Ready-to-drink coffee also benefits from coffee's overall healthy reputation—studies have shown that it may reduce heart disease and type 2 diabetes risk, and increase longevity—and the perception that it's lower in sugars than soft drinks, Bryant says.
But when Consumer Reports' nutritionists evaluated ready-to-drink cold brews, comparing their nutrition and claims, they found that these drinks aren't always a smart choice for your health.
"You might be surprised not only by the amount of sugars in some of these drinks, but also by the sodium and other additives they contain," says Amy Keating, R.D., a Consumer Reports nutritionist.

What Is Cold Brew, Anyway?
As most seasoned coffee fans and baristas will tell you, cold brew coffee isn't just iced coffee. Its brewing process, and hence flavor, is a lot different from that of hot coffee.
Conventional joe is typically brewed by pouring hot water over coffee grounds and letting it flow through a filter into a pot or a mug. Brewing takes just a few minutes. Iced coffee is traditionally made by chilling brewed coffee, often by pouring over ice.
Cold brew, on the other hand, normally involves steeping ground beans in room temperature or cool water, for hours. It's often served chilled or over ice.
The resulting flavor of cold brew—as with hot coffee—depends on many factors, including the quality of the beans, the purity of the water, and how long it steeps. But compared to conventional coffee, cold brew tends to be less bitter and acidic, with a more nutty, chocolatey, and sweet flavor.
CR nutritionists looked at more than 40 ready-to-drink cold brews from seven brands—including La Colombe, Peet's, and Starbucks—comparing the manufacturers' nutritional information and reviewing the package claims. Most of the products were single-serve; we didn't include cold brew "concentrates," which are meant to be diluted with milk or water before drinking.
Our experts' advice? "If you're looking for a healthier ready-to-drink brew, you really should pay attention to labels," says Keating. Here are some pointers to keep in mind.
You May Get a Jolt of Caffeine
Cold brew typically has a higher caffeine count than hot coffee, says Keating. This is because you generally need more coffee grounds per ounce of water to make cold brew than you do for conventional hot coffee.
"That, paired with the longer brew time, means a more concentrated cup," says Keating.
Regular brewed coffee has about 12 mg of caffeine per fluid ounce; Starbucks' Featured Dark Roast has about 16 mg. The caffeine counts of the cold brew products we reviewed ranged from 6 mg per fluid ounce in Califia Farms Cafe Latte Cold Brew with Almond Milk to 25 mg per fluid ounce in Rise Brewing Co.'s Original Black Nitro Cold Brew Coffee. An 11-ounce bottle of Rise would give you close to 275 mg of caffeine. That's more than the 200 mg some health groups, such as March of Dimes, suggest as a daily limit for pregnant women; and a little more than half the 400 mg per day max the U.S. government dietary guidelines recommend for others.
Some companies, such as Rise, list the amount of caffeine per serving on the bottle, but not all do so. The U.S. Food and Drug Administration (FDA) doesn't require manufacturers to disclose the amount of caffeine on packaging.
In most cases, however, we were able to get caffeine counts not listed by visiting the manufacturer's website or by calling its consumer line.

It's Not Soda, But It Can Still Be Sugary
One of the major perks of coffee is that it has negligible calories when you drink it black. But when you add milk and sugar, the calorie count can climb. A 12-ounce serving of SToK Protein Cold Brew Coffee Espresso Creamed, for example, has 180 calories and 19 grams of sugars. About six of those grams come from the milk and cream, but that leaves 13 grams—around 3 teaspoons—of added sugars.
For comparison, a 12-ounce can of cola has about 37 grams of added sugars. Still, when you consider that the American Heart Association recommends limiting added sugars to 25 grams (about 6 teaspoons) per day for women and 36 grams (about 9 teaspoons) for men, the cold brew is packing a lot of the sweet stuff.
Some manufacturers label their brews as "lightly sweetened," or "pinch of sugar," but such terms aren't regulated by the FDA, says Keating. "And the amount of added sugars per individual can or bottle can vary quite a bit."

For example, La Colombe Pure Black & White Cold Pressed Coffee, with "pinch of sugar" on the label, has just about a teaspoon of added sugars (5 grams) in a 9-ounce can. But SToK's Not Too Sweet Black Cold Brew Coffee has about 4 teaspoons (16 grams) of added sugars in a 13.7-ounce bottle.
"Such wide differences are yet another reason to look beyond the claims on the front of a product and check the nutrition information and ingredients," Keating says.
The FDA will require manufacturers to list added sugars on Nutrition Facts Labels starting in 2020, but some companies already do so. If you don't see an added sugars line, read the ingredients list for sources of sugar. If the product isn't made with milk, cream, or half and half, which contain natural sugars, or fruit juice, but does list some type of sugar, you can assume that much of the sugars in the drink are added. And remember that sugar goes by many names. Cane sugar was the most common type of sugar listed in the products we looked at, but some of them were sweetened with caramel, honey, or tapioca syrup—which all count towards your added sugars intake.

Added Salt—and Other Surprises
More than half of the products we looked at contained salt or another source of sodium, such as baking soda or sodium phosphate, and 11 of them had between 200 and 320 mg of sodium per serving. That's the same amount as in about 30 to 48 potato chips.

"We also found that many cold brews had added ingredients you might not expect to find in coffee, such as gums and chicory root fiber," says Keating. "The more ingredients like these that a product has, the more processed it is, and it is better for your health to minimize processed foods in your diet."
Plant Milk Doesn't Always Make It Healthy
Cold brews made with plant milks are just as likely to contain sugars and sodium as their dairy counterparts.
For example, Peet's Cold Brew Almond Milk has 19 g of sugars and 160 mg of sodium in a 10½-ounce bottle.
"The label doesn't break out the type of sugars, but you can tell they are primarily all added by looking at the ingredients in the ingredients list," says Keating. "None of them contain significant amounts of natural sugars."

And nearly all of the Califia Farms drinks made with nut milks that we looked at have added sodium. Califia Farms Nitro Cold Brew Coffee Mocha, for instance, has 230 mg of sodium (and 17 grams of added sugars) in 10½ ounces.
Healthier Cold Brews
Below are the products our experts say are worth a try (they appear in alphabetical order). But if you can't find one of these, look for unsweetened black on the label.
"Even if you don't like black coffee, try a black cold brew," Keating suggests. "Its lower acidity and bitterness may make it more appealing. If you still think you need some sweetener, add it yourself starting with less than what you would use in a cup of hot coffee." Unsweetened products with plant or dairy milk are OK too.

| | |
| --- | --- |
| Drink | Nutritional Information |
| Califia Farms Black & White Unsweetened Cold Brew Coffee with Almond Milk | Per 10½ ounces: 60 calories, 3 g carbs, 0 g sugars, 200 mg sodium, 120 mg caffeine |
| Califia Farms Cold Brew All Black Coffee Single Origin Ethiopia Yirgacheffe | Per 10½ ounces: 20 calories, 3 g carbs, 0 g sugars, 20 mg sodium, 190 mg caffeine. |
| Chameleon Cold-Brew Black Coffee | Per 10 ounces: 10 calories, 3 g carbs, 0 g sugars, 0 mg sodium, 230 mg caffeine |
| Chameleon Cold-Brew Blended with Organic Whole Milk Original | Per 8 ounces: 100 calories, 18 g carbs, 5 g sugars, 85 mg sodium, 99 mg caffeine |
| La Colombe Draft Latte Cold-Pressed Espresso (unsweetened) | Per 9 ounces: 120 calories, 16 g carbs, 11 g sugars, 120 mg caffeine. |
| La Colombe Pure Black & White Cold-Pressed Coffee | Per 9 ounces: 60 calories, 9 g carbs, 7 g sugars, 70 mg sodium, 180 mg caffeine. |
| La Colombe Pure Black Cold-Pressed Coffee | Per 9 ounces: 5 calories, 3 g carbs, 1 g sugars, 25 mg sodium, 180 mg caffeine. |
| Rise Brewing Co. Nitro Cold Brew Coffee Lemonade | Per 11 ounces: 30 calories, 7 g carbs, 6 g sugars, 0 mg sodium, 110 mg caffeine. |
| Rise Brewing Co. Original Black Nitro Cold Brew Coffee | Per 7 ounces: 0 calories, 0 g carbs, 0 g sugars, 0 mg sodium, 180 mg caffeine. |
| Starbucks Cold Brew Coffee Black Unsweetened | Per 11 ounces: 15 calories, 3 g carbs, 0 g sugars, 0 mg sodium, 210 mg caffeine. |
| SToK Cold Brew Coffee Black Un-Sweet | Per 13.7 ounces: 15 calories, 3 g carbs, 0 g sugars, 10 mg sodium, 145 mg caffeine. |
Editor's Note: An earlier version of this article stated that Peet's Dark Chocolate Cold Brew is made with almond milk, per the information on the company's website. The company contacted us to say that this product is made with cow's milk.
Sugary Drinks vs. Water
People love sugary drinks but, in terms of nutritional value, these beverages really fizzle out. 'Consumer 101' TV show host, Jack Rico, details Consumer Reports' explanation on why it's better to stick with water.