When you shop through retailer links on our site, we may earn affiliate commissions. 100% of the fees we collect are used to support our nonprofit mission.
Learn more.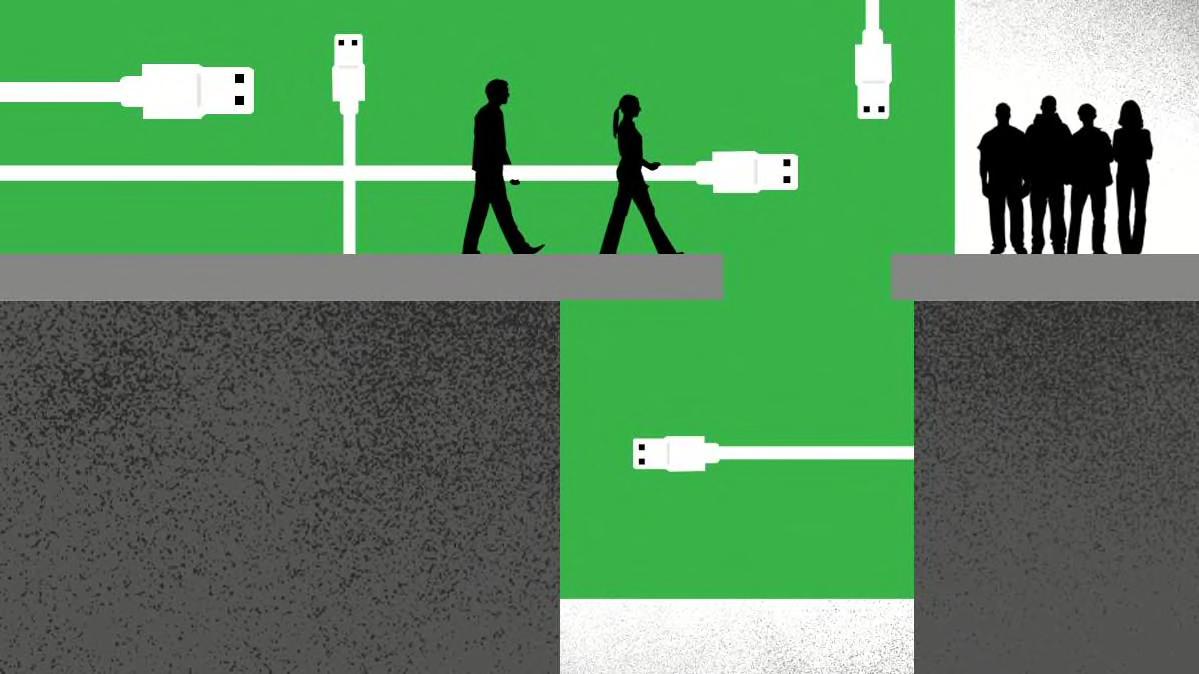 Illustration: John Ritter
Closing the Digital Divide
What's at stake: The pandemic has made plain America's digital divide—the gap between people who have access to the internet and those who don't. Millions of us have been forced online to work, learn, see doctors, visit family, and shop for essential items. But about one-third of rural Americans lack a broadband connection at home, and only about half of lower-income households have access, compared with more than 9 in 10 high-income households.
Americans seem troubled by this: Eighty percent say internet service is as important as water and electricity, according to a nationally representative CR survey of 2,164 adults conducted in April. Yet high-speed internet is not governed or made widely available like a utility.
How CR has your back: CR is calling on policymakers and companies to make broadband more accessible and affordable. One solution would be expanding a program called Lifeline. First established during the Reagan administration to provide discount phone service to low-income Americans, Lifeline was updated to include wireless phone service under George W. Bush and extended to broadband during the Obama administration.
More than 50,000 people have signed a CR petition to press the FCC and Congress to use Lifeline to make critical communication services more affordable, especially given the long-term impact of COVID-19 on our economy and lives.
What you can do: Sign the petition "Internet access: The health of our nation depends on it!" and learn how "Libraries and Schools Are Bridging the Digital Divide During the Coronavirus Pandemic."
Debt Collection Protection
What's at stake: Debt collectors generate more complaints to the Federal Trade Commission than any other industry. Many abide by regulations, but others, the FTC says, "harass and threaten consumers, demand larger payments than the law allows, refuse to verify disputed debts, and disclose debts to consumers' employers, co-workers, family members, and friends." CR has reported extensively on such scofflaws, including debt collectors who pressure people to pay debts that are no longer owed or were never owed in the first place and who prey on people's lack of knowledge about their legal rights.
This issue is especially important now, with millions of Americans struggling to pay their bills amid the economic fallout of the pandemic.
How CR has your back: CR is actively working to pass laws to provide greater oversight of the debt collection industry. In California we've endorsed two bills in the state Legislature that would curb some of the worst problems. The first would require all debt collectors to be licensed and examined by the state. The second would prohibit unsecured creditors from placing liens on borrowers' homes and forcing foreclosure sales as a debt collection tactic.
These reforms would allow a state agency to field complaints from consumers, investigate abuses, and put a stop to the threats and financial damage that shady collectors can cause.
What you can do: Learn more about what you can do to protect your finances at the "Personal Finance & Scams" section of Consumer Reports' online Coronavirus Resource Hub.
Helping Stop the .Org Sale
What's at stake: In late 2019, the Internet Society agreed to sell the Public Interest Registry—operator of the .org top-level domain used by nonprofit organizations—to a private equity firm. In the deal, the PIR would be converted from a not-for-profit entity to a for-profit one with some $360 million of debt on its books.
How CR has your back: CR joined with hundreds of nonprofits to stop the sale, arguing, among other things, that it would leave one company with control over who gets a domain and how much they'd pay for it. In late April, ICANN—the nonprofit charged with preserving the stability of the internet—vetoed the deal, concluding that "the public interest is better served in withholding consent."
What you can do: Learn more about our digital rights work at CR's Digital Lab site.
Progress Update
61 percent of 2020 auto models come with pedestrian detection standard on all trim levels, up from 38 percent in 2019, when we announced that none were eligible to be a CR Top Pick without it.
We asked you to sign a petition demanding that U.S. airlines give cash refunds—not just vouchers—to people who couldn't fly because of the pandemic. By late May, more than 90,000 consumers had done so.
More than 80 of you wrote saying your mortgage servicers expected repayment in full as soon as a COVID-19-related forbearance period was over. The outpouring helped persuade federal regulators to clarify: No lump sums required.
Editor's Note: This article also appeared in the August 2020 issue of Consumer Reports magazine.