When you shop through retailer links on our site, we may earn affiliate commissions. 100% of the fees we collect are used to support our nonprofit mission.
Learn more.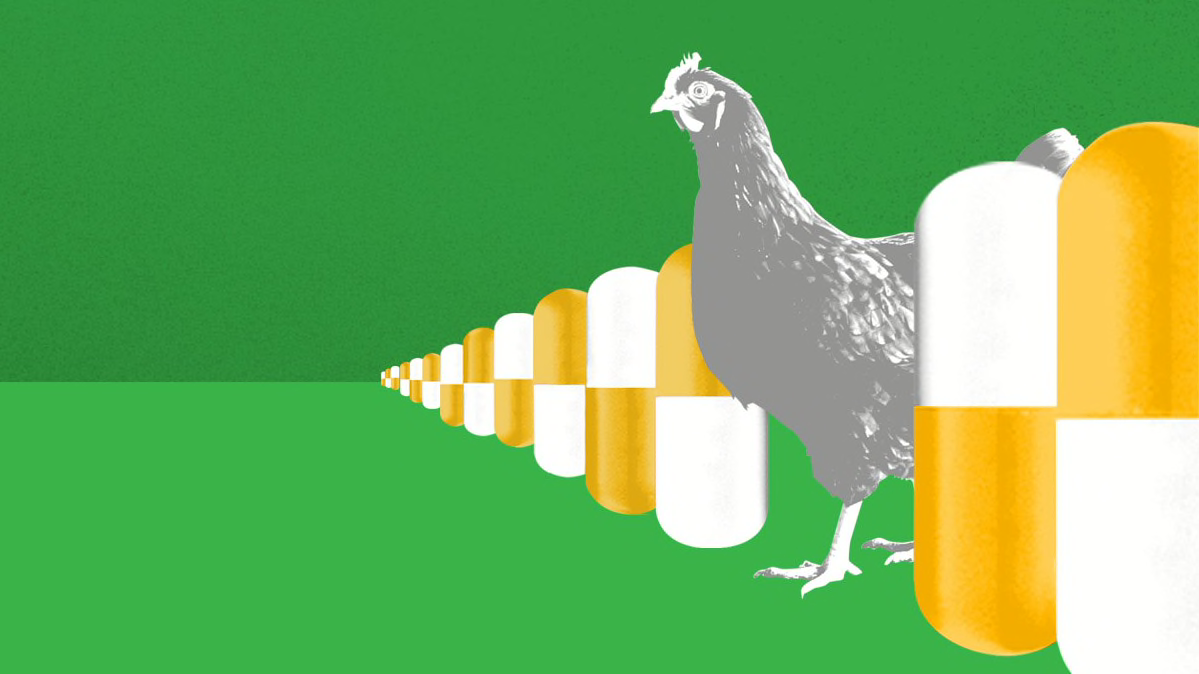 Illustration: John Ritter
A Victory for No-Antibiotic Meat
What's at stake: Infections from drug-resistant "superbugs" cause at least 23,000 deaths a year in the U.S., according to the Centers for Disease Control and Prevention. A key reason is that the routine overuse of antibiotics in animals raised for food has enabled the evolution of bacteria that are almost impervious to the drugs.
Two positive developments have emerged, however. In November, Sanderson Farms, the nation's third-largest chicken producer, said it would stop using antibiotics that are medically important to humans in its live poultry operations by March 2019. The company had previously criticized other producers' promotion of their food as "raised without antibiotics" as being an empty marketing slogan.
And in December, McDonald's said it would reduce the use of medically important antibiotics in its global beef supply chain. It promised reduction targets for beef suppliers by 2020.
How CR has your back: For years, CR has pressed food companies to curb their antibiotic use; our CEO, Marta Tellado, has declared antibiotic resistance "the health crisis of our generation."
CR is also part of a group of safety organizations that grades fast-food chains on their antibiotics policies in the annual Chain Reaction report (PDF). McDonald's was one of 22 chains that got an F in 2018, and we called on it to change its practices. We believe McDonald's deserves praise for the new policy, and we'll watch closely to ensure that the targets are meaningful.
What you can do: Download a PDF of the Chain Reaction report.
Fighting Unfair Ticket Fees
What's at stake: Service fees. Facility fees. Convenience fees. If you've purchased tickets to a concert or performance recently, you've probably been hit by one or more of them. Frustratingly, they're often disclosed only at the end of the buying process, often while a ticking clock pressures you to complete the transaction before you "lose" your tickets.
The fees aren't trivial. The Government Accountability Office estimates that the average fee on initial ticket sales is 27 percent of face value and 31 percent at resale sites.
The problem is exacerbated by the highly concentrated marketplace. With Live Nation Entertainment (which owns Ticketmaster) dominating ticket sales and promotion, the competitive pressure to improve the consumer experience is scant.
How CR has your back: The Federal Trade Commission has taken notice. It recently asked for comments in advance of a March workshop on online ticketing. We asked CR members to share their stories, and within days, more than 6,600 wrote with examples of hidden fees in ticket sales as well as bait-and-switch tactics and bogus ticket sites in the secondary market.
We shared the responses with the FTC, and included recommendations in our formal comments. Among them: If a consumer has to pay a fee to get a product or service, that fee should be included in the base, advertised rate; additional fees should be disclosed early enough that a consumer can use that information in their buying decision; and fee amounts should reflect the cost of the additional product or service (that is, companies shouldn't be able to mask price hikes by adding additional fees).
What you can do: You can join CR's efforts to fight unreasonable fees across industries at WhatTheFee.com.
Easing Student Debt
What's at stake: Students who were defrauded by for-profit colleges recently scored an important victory.
The fight dates back to 2016, when the federal government made it easier for students to get educational debts canceled if their schools were shut down. The policy—known as the "borrower defense" rules—was prompted by the implosion of Corinthian Colleges and ITT Tech, which folded after being accused of misleading prospective students with inflated job placement claims and graduation rates. Many students were left with big debts—but without the training they'd been promised.
For-profit schools pushed to block the rules, and they were put on hold in 2017 when Betsy DeVos became the new head of the Department of Education. Instead, DeVos proposed new rules that CR and other consumer groups said would make it almost impossible for swindled students to get relief.
In October, a federal judge reinstated the old rules and, in December, the Education Department announced it would cancel the debts of students negatively impacted by some of the recent for-profit school closures.
How CR has your back: CR pushed for the borrower defense rules and joined the legal effort to prevent the delay. Now we'll make sure the rules are implemented faithfully.
What you can do: For tips on how to make a claim under the rules, or to tell us your student debt story, go to CR.org/studentdebt0319.
Editor's Note: This article also appeared in the March 2019 issue of Consumer Reports magazine.