When you shop through retailer links on our site, we may earn affiliate commissions. 100% of the fees we collect are used to support our nonprofit mission.
Learn more.
A Message From Shar Taylor
---
Top Tests for a Safe and Spectacular Summer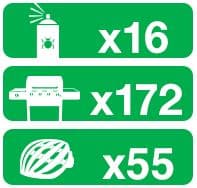 Ah, summer. A time for cookouts. Camping. Bike rides to the beach. As you know, we buy every product we test (2,094 new models last fiscal year!). Your valued contributions help cover the cost of purchasing those items as well as staff time and the labs to make it possible for us to evaluate and rate products. Below are just some of summer's most essential products we bought and tested. Be prepared and have fun!
When enjoying a summer evening in the backyard with friends and family, uninvited guests can be annoying and sometimes dangerous. We've tested 16 insect repellents to help you and your loved ones stay safe from mosquito-borne illnesses like the Zika virus. [More here]
Want to throw a barbecue for the neighbors this weekend, but think you may need the biggest, fanciest grill on the market? After testing 172 gas grills, we can tell you . . . performance isn't tied to size or price. Our guide to gas grills can help you plan for that summer cookout of your dreams. [More here]
Be sure not to take risks with a bike helmet that doesn't fit well. A properly fitted helmet is the single most effective way to save a life and prevent head injury in a bicycle accident. Our team tested 55 bike helmets across all price points so you and your loved ones can choose the best option for you. [More here]
---
Supporting What's True: Joe Thanhauser
Many of you participated in our matching gift campaigns last year. Thank you! We recently got in touch with one of our supporters who offered a matching gift to ask what motivated him.
Joseph Thanhauser, chairman and founder of Manhattan-based Byrnam Wood commercial real estate firm, and Gordon Ogden, his principal business partner, have together generously supported CR over the past three years with matching gifts to inspire others to donate. Thanks to their support, and the generosity of President's Circle members like you, these campaigns brought in more than $1.3 million last year!
Here's what Joe told us.
I support Consumer Reports because it's an absolutely independent, doggedly objective test lab and statistical gathering organization. I don't think there's anything else like it — anywhere.
My parents subscribed to the magazine, so I have been reading Consumer Reports since the 1960s. Even as a child, I was fascinated with technology and information and read all of the comparative reports in the back pages. As an adult, I returned to Consumer Reports every time I bought a new car — that's over 40 years of car purchases. And when my two daughters grew old enough to drive, Consumer Reports helped me find the safest cars for them.
I've relied on Consumer Reports so much over the years. I'm 68 years old, but I still like my toys and trust CR to give me great product information. But it's their principles that impress me most of all. I've seen fads come and go, and despite them all, CR is steadfast. Whether in 1963 or 2017, they stay true to their values, their impartiality, and to their consumers.
I've visited the CR test site and watched how the experts demonstrate how they test food, TVs, cameras, even elevator technology. Every person I met at CR was very passionate about his or her work. My business partner, Gordon Ogden, joined me at the CR test track and we were lucky enough to be passengers with CR's trained automobile drivers going really fast. Gordon was so inspired by what he experienced at the test center and what I'd told him about CR that he decided to support them as well. And Gordon has young children at home and saw the added value to his family's health and safety. We've been jointly underwriting matching gift opportunities for several years now.
Gordon and I select the causes we support very carefully. Consumer Reports has a unique combination of independence, expertise, uncompromising moral commitment, and history that puts them on that short list. Consumer Reports is the only organization connecting the public to this information and they take great care with that responsibility. Every consumer is a beneficiary of the work they do; they deserve all of our enthusiastic support.
---
CR's Work on Car Insurance Prompts Action
---
Q&A: Jim Rogers, Director of Food Safety Testing
---