As your child outgrows his infant car seat, a convertible seat is the next step. This versatile seat can be installed in both rear- and forward-facing configurations, and will likely be the one your child sits in for the longest period of time.
A convertible seat is a must in order to keep your child rear-facing until the recommended age of 2 years old. Most kids will outgrow an infant or rear-facing-only seat long before that age. Based on our recent tests, Consumer Reports recommends you transition your child to a rear-facing convertible seat by age 1 because of a key potential safety benefit.
We found that in more than half of the infant seats we tested, the 12-month-old child dummy had head contact against the simulated front seatback, which could result in injury. By contrast, in nearly all of the rear-facing convertible seats, the 12-month-old dummy avoided head contact. (Learn more about how we test car seats.)
We tested the convertible child seats to our revised crash test protocol (first implemented with infant seats), and the result is a new lineup of the best performing convertible seats. These models have the highest overall scores, representing balanced performance in all three test areas: fit-to-vehicle, ease-of-use, and crash performance.
Protecting Young Passengers
Consumer Reports' new crash test evaluates the ability of the child seat to reduce the injury risk in conditions that simulate a car's interior environment, and the forces encountered during a crash. The results provide comparative scores of a seat's performance relative to its peers on the market. Each convertible seat is crash tested in all of its configurations and installation methods with the age-appropriate child-sized dummies.
While crash protection is key, optimal crash protection is only truly provided when a child seat is correctly and securely installed. Our ease-of-use and fit-to-vehicle assessments provide an insight into each seat's potential to be installed properly. That's where a parent has control. It is extremely important that a parent is able to understand how to securely install a child seat in his or her own vehicle.
Our fit-to-vehicle ratings now reflect the differences between using LATCH or the standard 3-point seat belt, with separate ratings for the different orientations and installation methods. Overall scores now take into consideration the newest regulations regarding LATCH lower-anchor use: up to a 65-pound weight limit (child seat plus the child). This means that with heavier seats, you may be limited as to how long you can keep the seat installed using LATCH connectors, and when you must switch to a seat belt installation. This transition is reflected in each seat's overall score.
Bottom Line
To abide by best-practice recommendations, most children will require a transition to a convertible seat in order to remain rear-facing until 2 years old. While all of these convertibles meet the minimum requirement for safety, our Ratings and recommendations help you to differentiate which seats provide your child with a greater margin of protection and increase your chance of getting the seat securely and correctly installed. Visit our Types and Timeline to see whether your child should be in a convertible seat.
Featured below are the convertible models with the highest overall scores. On top of that, these seats span a price range from $45 to $300. Price doesn't necessarily reflect quality or safety—you can buy a safe, top-performing seat without breaking your budget. Full details and ratings can be found on their individual model pages.
Chicco Nextfit ($300)
A solid performer in crash protection, the Nextfit also scored highly for ease-of-use and fit-to-vehicle. With push-on LATCH connectors and SuperCinch tensioning technology, this seat makes LATCH installations easier to navigate. The no-rethread harness makes it easy for parents to adjust the height of the harness for a growing child. One challenge could be the seat's weight, but it isn't so heavy that it detracts from the Nextfit's easy-to-use features.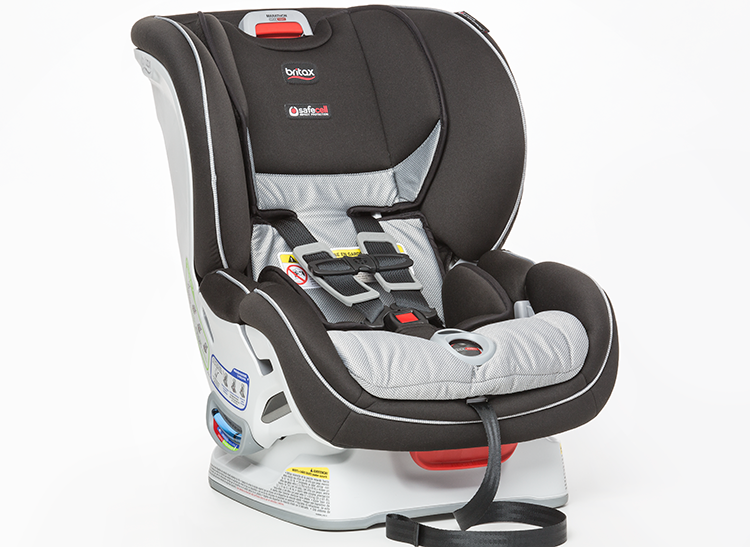 Britax Marathon ClickTight ($265)
The Marathon ClickTight performed well overall. One reason is Britax's ClickTight technology, which eliminates the need for a parent to use extra force or their full body weight to get a tight installation. Rather, just route the belt or LATCH strap in the proper belt path and the ClickTight tensioner does most of the tensioning. ClickTight is not the only feature that makes installation easier. The no-rethread harness eases the burden on the parent when adjusting harness height to accommodate their growing child. While a bit heavier, overall this is a great seat with an innovative feature that makes both LATCH and seat belt installations easier. One tip: When opening the ClickTight feature, parents should take care to press down on the seat, releasing some of the tension so that the ClickTight can open. Parents should also be careful to keep the belt flat and not twisted.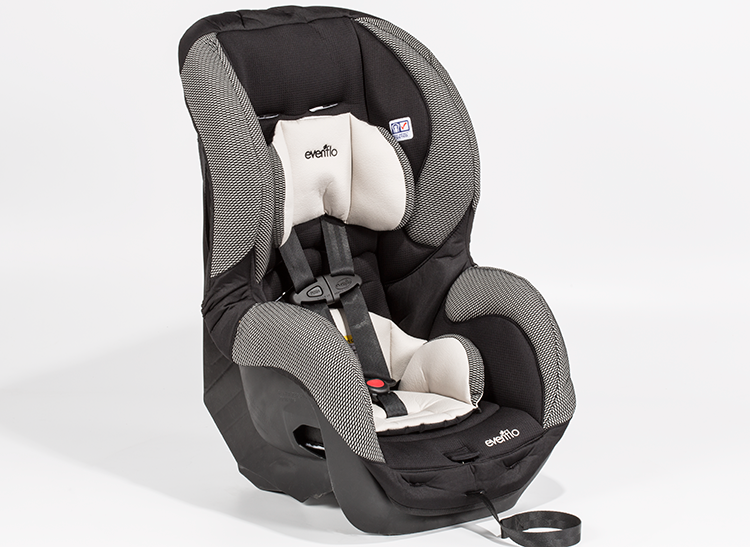 Evenflo SureRide/Titan 65 ($100)
The SureRide demonstrated the best potential for limiting injury based on our simulated crash test results. It's a lightweight model, making it easy to install and convenient for parents to carry around. Forward-facing installations are easier than rear-facing, because recline indicators are difficult to read. This seat is also a CR Best Buy, based on its combination of price and performance.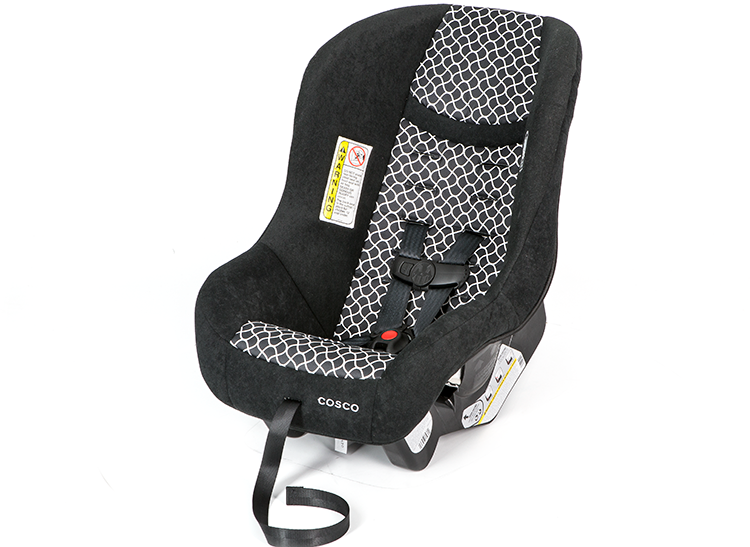 Cosco Scenera NEXT ($45)
This CR Best Buy has a maximum weight capacity of 40 pounds. While it isn't loaded with fancy features, this seat is straightforward to use, and it scored well in forward-facing fit-to-vehicle and crash performance. It is a great seat at a bargain price.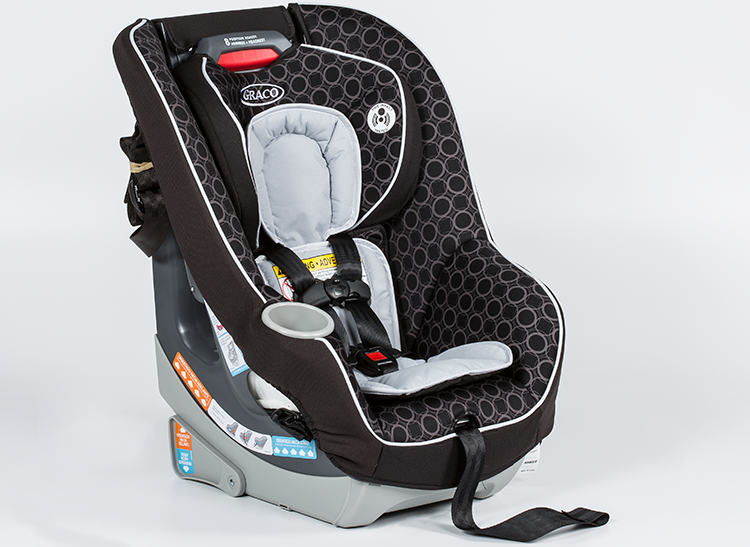 Graco Contender 65 ($140)
The Contender 65 features an eight-position external harness adjuster, and has a lower price point than most competitors with a similar feature. It had impressive crash-test performance, and it scored very well in both ease-of-use and fit-to-vehicle. The recline angle may be difficult to achieve for rear-facing installations, but placing a rolled towel underneath may help.
Shopping links are provided by eBay Commerce Network and Amazon, which makes it easy to find the right product from a variety of online retailers. Clicking any of the links will take you to the retailer's website to shop for this product. Please note that Consumer Reports collects fees from both eBay Commerce Network and Amazon for referring users. We use 100% of these fees to fund our testing programs.