Dyson's Omni-glide Vacuum: Impressive Twists and Turns
The highly maneuverable stick vac focuses solely on cleaning hard floors
When you shop through retailer links on our site, we may earn affiliate commissions. 100% of the fees we collect are used to support our nonprofit mission. Learn more. It can be hard to find one vacuum that deftly handles everything you need.
An upright might be great on carpet but unwieldy on stairs. A canister may handle the stairs with ease but be difficult to store. And rather than relying on one machine to do it all, we've long lobbied for outfitting your home with two or more vacuums, best suited to your floor plan—and floor type.
So we were intrigued when Dyson unveiled a vacuum dedicated to one thing: The brand calls its new cordless stick vacuum, the Omni-glide, a "brand new way to clean hard floors." Nothing here for rugs or carpet. (Which is why you won't see it in our cordless stick vacuum ratings. It might look similar, but those multisurface vacs have brush rolls and are put through intensive carpet cleaning and pet hair pickup tests.)
Its hard-surface focus makes the vac a bit of a throwback, according to Kelly Moomey, CR's market analyst for vacuums. "Traditionally, stick vacs have been meant primarily for hard-surface vacuuming," Moomey says. "It's only been within the last six to 10 years that they have the power to perform well on carpet." She adds that it's too early to tell whether we'll see more vacuums going in this direction.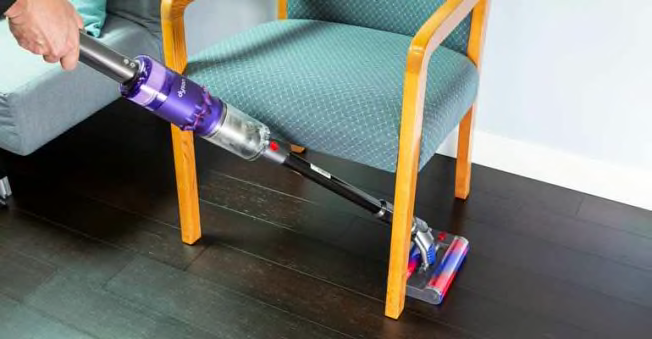 The first thing you'll notice about the Dyson Omni-glide? It's super-light. At a tad under 4 pounds, it weighs almost a full pound less than the lightest stick vacuum in our tests, the Kenmore CVS Go 10438. The more than 50 cordless stick vacuums in our ratings range in weight from 4.7 to 8.2 pounds, with most topping the scale at over 6 pounds.
And it's user-friendly.
"Its handle is similar to a tennis racquet and feels comfortable to hold," says Frank Rizzi, the CR test engineer who performed the hands-on test.
It also has an on-off switch instead of a trigger you have to squeeze as you work, like other Dyson stick vacs and some models of other brands, so you can easily switch the vacuum from one hand to another without stopping and starting.
But how well does it clean hardwood floors, get into tight spots, and glide along edges? We put it to the test, and evaluated the standout feature for which this new vacuum is named: the omnidirectional soft roller cleaner head.
How the Dyson Omni-glide Performs
The word that comes to mind when you operate the Omni-glide is flexible. The head swivels and can do a 360-degree turn.
"Its powerhead spins completely around, making vacuuming under chairs and around furniture very easy," Rizzi says. And thanks to the design of the handle, you can more easily lower the Omni-glide close to the floor. (See photo at top.)
It also makes cleaning stairs, a tough task with a variety of vacs, a cinch.
"If one of your pain points is vacuuming dust from a flight of uncarpeted stairs, this vac will be your new best friend," Rizzi says.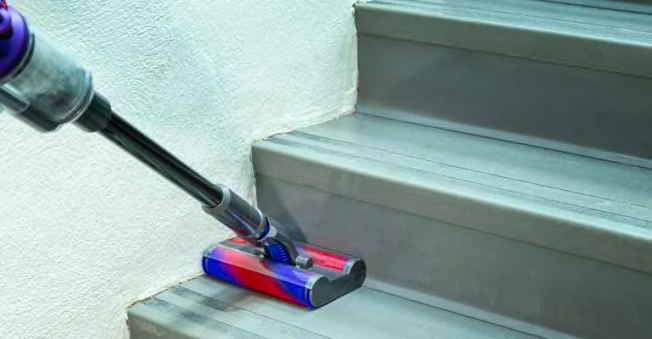 The Omni-glide is top-notch at cleaning bare floors and cleaned up all the types of debris we put in its path. And it hugs the edges of a room, sucking up dust until the bin is full. Emissions are clean, meaning it retains the debris it vacuums up and doesn't release it back into the air.
What we didn't like so much? The relatively small dustbin—smaller than those of not only Dyson stick vacs but also all the other brands in our tests. So it has to be emptied often if you are tackling a big mess or a large area.
"It did pick up some of the cereal in our tests, but only a very small amount fills the bin," Rizzi says.
That said, the bin is pretty easy to empty. Once you remove it from the wand you can empty it with one hand, like many other stick vacuums.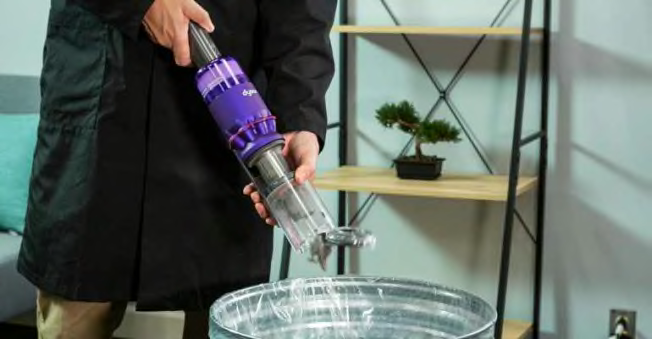 The battery is also on the small side and isn't interchangeable with the batteries in other Dyson stick vacs. The Omni-glide comes with one battery, and you can buy a second for $150, although that jumps the total price up to $550. Dyson claims the run time is 20 minutes. It takes 3.5 hours to recharge.
The Dyson Omni-glide lives up to its billing as a hard-floor cleaner. And if you have a combination of hard floors and carpeting, it's worth considering as a second vacuum to your primary upright or canister that can handle carpet. The Dyson Omni-glide is available at Dyson, Bed Bath & Beyond, Best Buy, Home Depot, and Target.
That said, there are a number of more versatile cordless stick vacuums that cost about the same or less that can tackle carpets and pet hair as well as bare floors. Here are five from our tests that do just that, if you're looking for a more all-purpose stick.