What It's Like to Recover From COVID-19
It could take weeks or months to bounce back from the sometimes serious damage to the lungs and heart Getting COVID-19 led to the second experience that Alex Melo describes as a life-or-death moment. The first was during a tour of duty in Iraq, when he says he spent a night in a disabled tank and friendly forces unsure of his identity almost took him out.
The 44-year-old felt that close to death again April 9, when doctors at Portsmouth Regional Hospital in New Hampshire told him his oxygen was so low he needed to be put on a ventilator. He had already been hospitalized with COVID-19 for nine days.
"You've heard so many people never wake up from this," he says. "It's a painful experience, [and] you don't have anybody next to you, like a close family member."
COVID-19 patients are often on ventilators for long periods of time, sometimes for weeks, but Melo was taken off in less than three days. A week and a half after that, he was discharged from the hospital, wheeled out through hallways full of applauding staff.
He's now at home recovering. "Every day I regain my strength, my appetite, all those things I lost during the virus attack," he says.
Thousands of Americans are sharing similar experiences, with some finding that the journey back is marked with unexpected setbacks. "There's a huge population that . . . now has to deal with the chronic effects of this virus and how it's going to affect them in the long term," says Jeffrey Kuvin, M.D., chairman of cardiology at Northwell, a hospital system in New York that has treated more than 11,000 coronavirus patients.
COVID-19 can do damage far beyond the lungs. Even in relatively mild cases, symptoms can vary widely, ranging from the classic cough and fever to loss of sense of smell, gastrointestinal troubles, intense fatigue, and difficulty breathing. These symptoms and their effects on the body can persist for a long time.
Mary Pflum Peterson, a 47-year-old journalist and author in New York City, first received a COVID-19 diagnosis March 21, several days after she noticed she had lost her sense of smell and taste. (Her four kids had fun putting together gross combinations of food with lots of hot sauce for her to sample, she says.)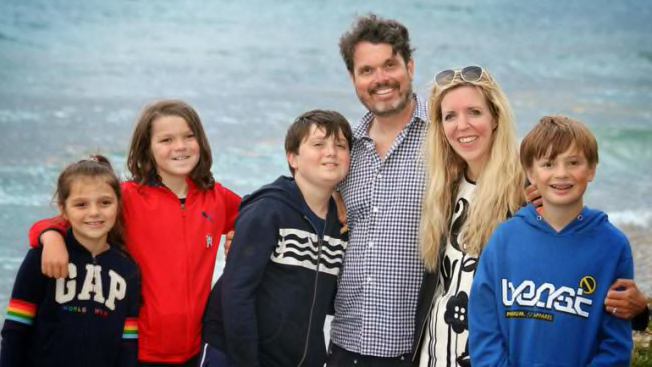 But the worst symptoms arrived about a week in. "All of a sudden it got like someone heavy sitting on your chest," she says. "I couldn't inhale without a sharp pain." On her doctor's advice, she avoided the emergency room and measured her oxygen levels at home with a pulse oximeter. After a rough few days, she started to improve, though her trouble breathing and exhaustion came back for a couple of days around April 12. Now she says that while she's still experiencing some side effects, she's "light years better" than she had been.
Cases that involve intubation and an ICU stay—like that of Iraq War veteran Melo—may have effects that take even longer to recover from. Doctors are still trying to determine whether a blood-clotting problem that doctors discovered while he was in the ICU was triggered by the coronavirus, but in general, research has shown that COVID-19 can have serious effects on the heart. COVID-19 patients are at higher risk for arrhythmia and atrial fibrillation, and the disease may cause cardiac dysfunction in some cases, according to Kuvin, the cardiology chairman at Northwell.
There are many patients who have been intubated for far longer than Melo, which can lead to further complications, according to Dela Cruz at Yale. During intubation, people are sedated to make the breathing tube more tolerable, to suppress coughing, and to stop a panicked patient from trying to pull the tube out. But sedation, especially with powerful drugs, can lead to delirium, confusion, and post-traumatic stress disorder (PTSD)—which could be worse for COVID-19 patients because their intubation periods are often longer than they are for other respiratory infections. Plus, long ICU stays increase the risk for other infections and for muscle weakness, Dela Cruz says.
We have much to learn about COVID-19, according to these experts, and a big part of what we need to learn is what recovery is going to look like on a broad scale. We need "a better understanding of what the healthcare needs and rehabilitation needs of patients are after recovery, and to understand how that varies across the severity of COVID-19 infection," says Crothers at the University of Washington.
While there are still many unknowns, experts anticipate that most people with mild cases of COVID-19 will recover fully, even if it takes longer than some might expect.
People get over a mild SARS-CoV-2 infection in about two weeks, according to the World Health Organization, and a more severe case can take three to six weeks to beat. Some people are unaware that they were exposed to the virus in the first place or had extremely mild illness and felt recovered after only a few days, Dela Cruz says. But in all these cases, even after overcoming the illness, it can take longer for the body to heal—especially if someone has experienced pneumonia.
In Pflum Peterson's case, more than a month after diagnosis—at the point when she's well enough to have donated plasma—she says she still can't yell to her kids. She feels uncomfortable or painful sensations in her lungs from time to time. Sometimes they've felt "like old tube socks, bent out of shape," she says, or sometimes burning, "like you ran way too hard out in the cold."
Certain sleeping positions are still better than others for easier breathing at night. And she has experienced heart palpitations, which can be disconcerting. (Other COVID-19 patients have reported similar palpitations, Kuvin says.) But Pflum Peterson says she has spoken to others recovering from the illness, when donating plasma and in online support groups, and taken comfort in hearing others are dealing with similar side effects.
Whether such lingering effects will be common with milder cases is still an open question, Crothers says. But patients with more severe cases are more likely to have a challenging recovery, she says, and a harder time recovering fully.
Melo was hit hard enough by the virus to require a long ICU stay with a few days on ventilator, but he says that even though his strength, lung capacity, appetite, and sense of smell and taste aren't 100 percent, they're all "slowly coming back. I'm going on the right track."
People who experience acute respiratory distress syndrome (ARDS), a form of respiratory failure that's seen with COVID-19 as well as other diseases, are often put on a ventilator. These patients frequently have decreased lung function and exercise capacity for months afterward. But over the course of a year—and sometimes up to five years—these problems tend to improve, Crothers says. Some patients get back to baseline, though not all.
"Once you get home, the recovery process is still ongoing," Dela Cruz says. But he says that because COVID-19 is so new, we can't yet know when patients are "going to get back to their full function—lung function, cognitive function, [and] physical activity function."
Guiding recovery for these patients is going to be a complex process that may require coordination among physical therapists, respiratory therapists, mental health professionals, and others, according to these experts.
"As we move to this phase, now to add so many new cases with a brand new paradigm of 'post-COVID,' it's going to take a long time for many patients to recover from the severe lung problems they have," Kuvin says. "It's going to be a whole population to follow over time to see how they do, how they reintegrate into their regular lives, what effects COVID has on their other medical conditions."
Another hurdle: Programs to help these patients recover need to be put in place while healthcare capacity is still stressed dealing with new patients who have active infections. "It's going to continue to be a challenging time," Crothers says.
If You Are Recovering From COVID-19
Today, Melo says going up and down the stairs leaves him a little out of breath, and things still don't taste normal—he threw out two cans of Coke, thinking they'd gone bad, before he realized what was wrong. In the hospital, he says he at first wanted to start moving quickly and exercising again but had to be told to slow down when he got ready to start doing pushups. A nurse told him that if he really wanted to get out of the hospital, he had to take it slowly and give his body time to build up strength again.
Kuvin echoes this advice. "It's important to become active again, but to do it in a very stepwise approach, with goals set every few days to increase the level of activity," he says.
You need to listen to your body as you are recovering, he adds. "Just like the acute phase, the convalescent phase is likely to be taxing on the body." Pay attention to any potential cardiac problems, Kuvin advises, including chest tightness or shortness of breath.
Throughout their recovery process, patients will need to work with different doctors and therapists, covering everything from respiratory health to mental health, Dela Cruz says. Those healthcare professionals will be able to identify what's most helpful for specific patients, ranging from using a spirometer to measure breathing capacity to initiating treatment for PTSD for someone who spent a long time on a ventilator.
Now that he's recovering, Melo says he's eager to donate plasma.
Pflum Peterson says that along with donating plasma, she has given blood to a survivor study to help with vaccine development. "Never thought I would be so happy to have someone want to poke me with a needle," she says.
In general, she says that hearing from others that recovery was an up and down process has been helpful. "Just be really patient with yourself, there are good days and bad days," she says.