When you shop through retailer links on our site, we may earn affiliate commissions. 100% of the fees we collect are used to support our nonprofit mission.
Learn more.
It's official: The Tesla Model S P85D scores 100 points in Consumer Reports testing after first "breaking" our ratings scale, one that by definition maxes out at 100. This episode of "Talking Cars with Consumer Reports" explains why the P85D scores so high and looks at the considerations and challenges involved with rating this high-performance all-electric car.
Some of the car's performance numbers are off the charts, particularly the pairing of its record-setting 3.5-second 0-to-60 mph acceleration time with the equivalent of 87 mpg. That raises a question for us: How do we put those over-achieving numbers into perspective with the rest of the automotive universe? For example, in the real world of traffic and speeding tickets, is the P85D's acceleration really twice as good as a car that hits 60 in seven seconds? Issues like these suggest that the performance benefits to a consumer aren't exactly linear.
Furthermore, just because the P85D scores 100 doesn't mean it's perfect. For example, for all of the P85D's capability and Tesla's network of Supercharger stations, owning this car still brings some range and recharging compromises compared to a gasoline-powered car. Spurred on by a viewer comment from a fellow Model S owner, we discuss those tradeoffs and who they're likely to affect.
Another big footnote is the car's nearly $128,000 price tag, making this the most expensive car Consumer Reports has ever tested. To that end, we discuss which Model S we'd buy, and if given the $128,000, whether we'd spend that kind of money on a P85D. Interestingly, our trio's answers to those questions factor in everything from mountain-bike hauling capability to the car's popularity on California streets.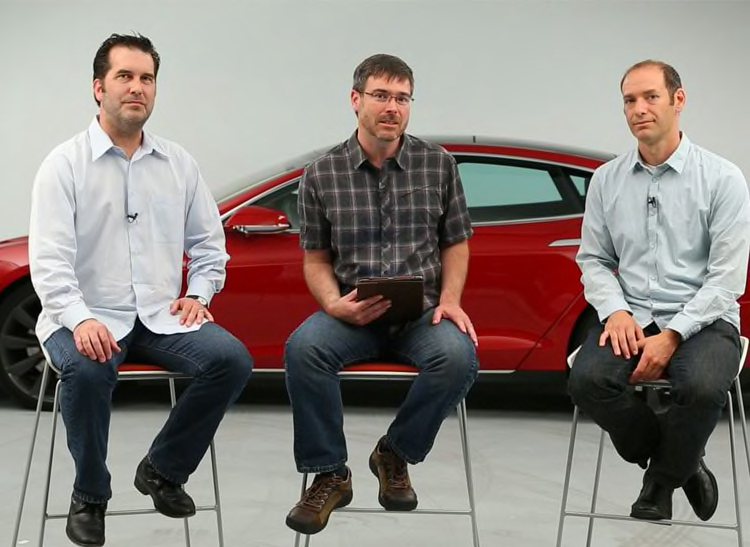 As with the other shows, this episode is also available free through the iTunes Store. Subscribe to the video or audio. You'll also find the video on YouTube.
Share your comments on this show below, and let us know if you need any advice for choosing a car.