Are green cars still worth the money?
Lower gas prices prompt the question. The answer might surprise you.
Published: February 25, 2015 06:00 AM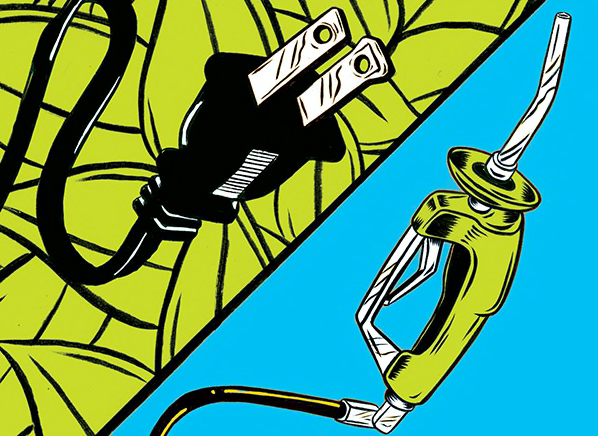 Just as millions of consumers are returning to the car market, fuel prices are close to all-time lows when adjusted for inflation. Gas at $2 per gallon is propelling more people into buying a wide array of new SUVs and trucks. Light truck sales rose 10 percent in 2014 and show no signs of abating.
Oddly, however, this just might be the right time to consider a hybrid or other type of green car. It just depends on the model you're considering and why you want it.
Don't expect a hybrid to pay for itself in gas savings. It could take a lot longer to recoup your investment at $2.20 per gallon of gas than at higher gas prices. In fact, even when considering the car in the best-case scenario—the $27,715 Ford Fusion Hybrid—it would still take five years to break even on the price premium compared with a conventional Fusion that costs $25,165. Other models may take more than eight years to pay back. Of course, as fuel prices rise, that time frame drops.
But payback time isn't the whole story. No matter the price of fuel, most hybrids cost less to operate than comparable conventional cars. And for some buyers, the lower emissions and smaller carbon footprint of a hybrid car is an important consideration.
Today's low gas prices could actually benefit hybrid buyers. Hybrids aren't selling as quickly as dealers would like, so they're offering big discounts on them. At press time, you could easily find a $2,500 discount off a $25,025 Toyota Prius or a $3,500 incentive on a loaded $32,950 Kia Optima Hybrid. That's more than you could get off a Toyota Corolla or conventional Kia Optima.
So it's a great time to look at a hybrid, says Eric Lyman, vice president of industry insights for Automotive Lease Guide, which tracks new and used vehicle prices.
The same goes for electric cars. At press time, the biggest discount available on a 2015 model was more than $4,800 on a $30,000 Ford Focus Electric. Factor in the $7,500 federal electric-car tax credit, and that brings its price in line with other economy cars. Not only are electrics the most efficient cars you can buy, but they're also effectively the cleanest.
For those who still want a conventional engine, there's comfort in the fact that today's cars, trucks, and SUVs are greener than the gas guzzlers of just a few years ago. The best midsized sedans, including the four-cylinder Mazda6 and Honda Accord, can get 30 mpg overall or more. Roomy SUVs like the Subaru Forester can get 26 mpg overall, and even luxury three-row SUVs like the Acura MDX or the BMW X5 return 20 or 21 mpg overall.
In fact, excluding electrics and plug-in hybrids in Consumer Reports' Ratings, there are six cars that got 40 mpg or better overall and 52 cars that returned 30 mpg or better. Even if you want an all-wheel-drive wagon or SUV, you can find 15 choices today that returned 24 mpg overall or better in our tests.
What doesn't seem to make short-term sense at current fuel prices are diesels. That's partly because diesel fuel costs more, not having dropped in price as quickly as unleaded gasoline, and diesel emissions technology is more expensive to maintain.
Despite the current cheap gasoline, it seems like a bad idea to buy a gas-guzzling car. If there's one constant with fuel prices, it's change—they won't stay low forever. The Energy Department forecasts that prices will rise to $2.90 per gallon next spring.
Driving a car with good fuel economy gives you a hedge against such price fluctuations. "It's not a matter of if gas prices rise," Lyman says. "It's a matter of when they will rise, and how much."
Hybrids: The payback calculator
Most of these popular hybrids cost more to buy and own over five years than conventional cars, largely because of their higher purchase prices. All are comparably equipped. Total 5-Year Owner Cost includes depreciation, fuel, maintenance and repair, insurance, tax, and interest on a five-year loan. The Ford Fusion Hybrid breaks even because of its far better fuel economy and narrower price gap.
| Make & model | Purchase price | MPG | Total 5-yr. owner cost | Years to payback | Fuel cost for 5-yr. Payback |
| --- | --- | --- | --- | --- | --- |
| Toyota Prius Two | $25,025 | 44 | $27,750 | > 8 | $6.46 |
| Toyota Corolla LE | $19,340 | 32 | $25,500 | — | — |
| Toyota Camry XLE Hybrid | $31,565 | 38 | $34,500 | > 8 | $4.44 |
| Toyota Camry XLE (4-cyl.) | $28,580 | 28 | $33,250 | — | — |
| Honda Accord Hybrid | $30,125 | 40 | $34,250 | > 8 | $8.10 |
| Honda Accord Sport | $25,485 | 30 | $31,250 | — | — |
| Ford Fusion Hybrid SE | $27,715 | 39 | $33,000 | 5 | $2.24 |
| Ford Fusion SE | $25,165 | 24 | $33,000 | — | — |
Autos Spotlight