Find the best bike helmet for you
The bottom line on protecting your brain
Published: April 29, 2015 06:00 AM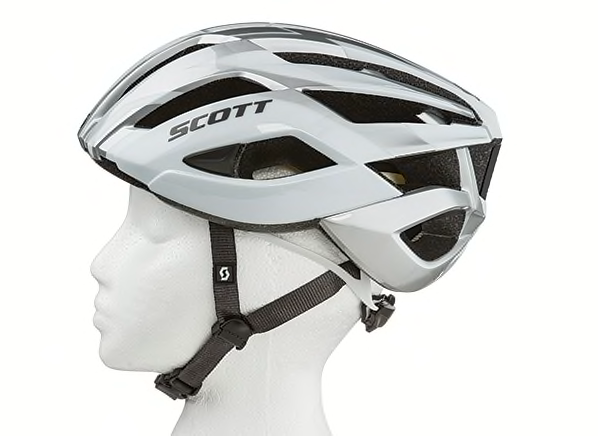 Do you need a bike helmet? You wouldn't think that would still be a controversial question, but it is. The anti-­helmet contingent offers arguments such as: "Forcing people to wear helmets makes cycling seem dangerous." "It's inconvenient." "It discourages exercise." "More bike lanes would be better!" "No one wears them in Amsterdam."
They aren't a panacea, but the answer is a resounding yes, you should wear a bike helmet. Here's why: 87 percent of the bicyclists killed in accidents over the past two decades were not wearing helmets, according to the Insurance Institute for Highway Safety. And when it comes to nonfatal injuries, a 2013 review by a committee at the Institute of Medicine found that wearing a helmet during sports reduces the risk of traumatic brain injury (TBI) by almost 70 percent.
TBI is a catchall term used to describe a spectrum of head injuries from concussions to skull fractures. Bike-helmet safety standards are designed to measure a helmet's protectiveness on the catastrophic end of the range—the realm of skull fracture, severe brain injury, and death. Of the 22 helmets we put through our impact tests, all absorbed the force of impact within the limit set by the current Consumer Product Safety Commission standard, and received at least a very good rating for impact resistance.
Determining how well helmets protect against concussion—which can be serious, but not in and of itself life threatening—is trickier. The brain is a gelatinlike structure surrounded by fluid, which acts as a cushion against shock. A blow to the head or a violent movement (such as whiplash) can cause the brain to slide or rotate inside and bump against the skull. That can disrupt the normal functioning of the brain and alter brain chemistry. You can't always "see" a concussion on a CT scan or an MRI, and there is still plenty that doctors and other experts don't know about concussions.
"There's no single objective test to determine if someone has a concussion," says Orly Avitzur, M.D., a neurologist and a medical adviser to Consumer Reports. "They're diagnosed based on symptoms and the results of a neurological exam." If there's no objective test to show whether someone has a concussion, it's difficult to design a test to see whether wearing a helmet protects against one.
But the bottom line on helmets is: They work. First, there's the undisputed fact that helmets are very effective at reducing your odds of suffering a moderate or severe head injury if you fall. And though they may not protect against all concussions, because they are designed to slow the rate at which the head decelerates and to disperse and absorb the energy of an impact, chances are they help at least a little.
"The best studies done on bike helmets show that they are unequivocally effective in preventing traumatic brain injury—mild, moderate, and severe," says Frederick P. Rivara, M.D., M.P.H., vice chairman of the Institute of Medicine committee and a professor of pediatrics at the University of Washington in Seattle. "People should always wear a helmet when they ride a bike. And our studies show that when parents wear them, children do, too."
We gave them a real pounding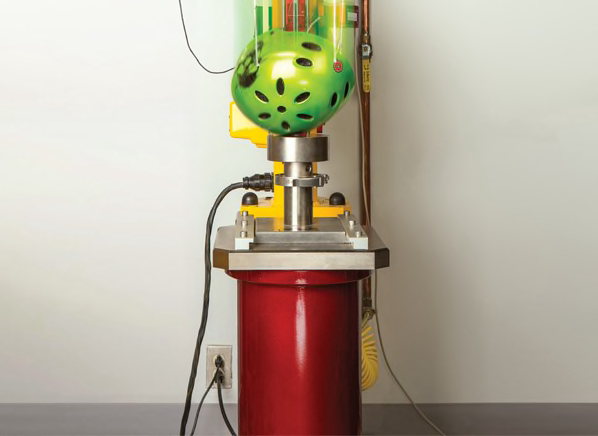 Safety is the most important factor when you're choosing a bike helmet. To test helmets, we put the them through a brutal pounding in our labs using an apparatus that dropped them at 7 mph and 14 mph onto a flat anvil to measure how they absorbed impact. We used an electronic sensor inside a dummy metal head to detect how much force would be transmitted to a rider's head in an accident. Because you can strike your head in different places in a fall, we hit each helmet at the front, crown, back, and sides.
We also checked each bike helmet's ability to pass a test that evaluates the strength and holding power of the chin strap. We dropped an 8¾-pound weight 2 feet; that pulled on the helmet strap to simulate the force that might occur in a accident. We checked to see whether the strap stretched too much, or broke or came loose where it is attached to the bike helmet, and whether the clasp or buckle remained intact. All of the helmets passed that test, except the Cannondale Teramo, which we've rated a Don't Buy: Safety Risk. Because that bike helmet failed our chin-strap test, we did not put it through our impact test.
It's all about the fit
No matter how well a bike helmet protects, you're not going to wear it if it's not comfortable or is difficult to adjust. So we also looked at ventilation, weight, and fit adjustment. Combining the scores with those of our safety tests, the Scott Arx Plus, $150, came out at the top of our adult helmet ratings. The Arx is equipped with a Multi-directional Impact Protection System. MIPS helmets have an inner lining that is supposed to minimize rotational force, believed to be a prime factor in TBI, and reduce the amount of energy delivered to the head.
But whether a helmet with MIPS minimizes rotational force any better than a helmet without MIPS is a matter of debate. Some experts argue that your scalp or hair functions similarly to a helmet liner and allows for slide on impact. We did not test that feature because we could not find a standard test for rotational force. We judged the Scott Arx Plus on the same features as we did for every other helmet in our tests.
By testing for impact resistance at two speeds, though, we attempted to see whether there were any differences in the helmets' performance in lower-impact accidents. A 7 mph helmet drop simulates falling 2 feet off a bike, and a 14 mph fall is like falling 7 feet. "It's not only how fast you're going—it's also the height you fall from that can have an effect on the severity of the impact," says Rich Handel, assistant test project leader for bike helmets. As you might expect, a fall from a higher height subjects your head to more force. But we didn't see any differences in performance between the two heights that would change a helmet's rating.
The helmets we tested ranged from $12 to $220. "You might find some of the more expensive models to be more stylish, but when it comes to protection and comfort, you don't need to spend a lot of money," Handel says. The $12 Schwinn Merge adult bike helmet got a very good rating overall. That's a small price to pay to protect your brain.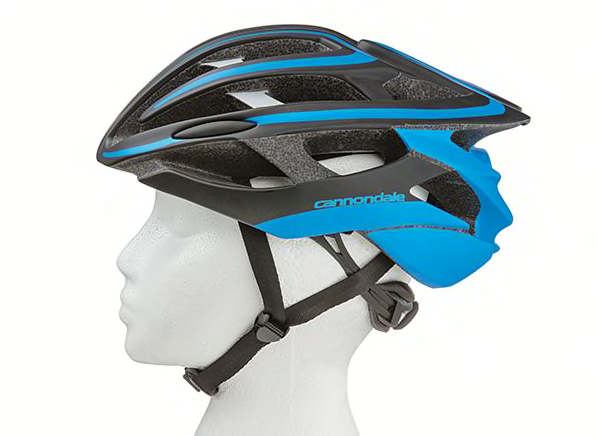 Don't buy this helmet
Late last year we rated the Cannondale Teramo helmet, $120, a Don't Buy: Safety Risk because it failed our chin-strap strength test. The buckle snapped off or broke into pieces in four of the five samples we tested. We are not aware of any injuries related to the helmet, but a broken chin strap means a helmet might not stay in place in the event of a fall.
We contacted Cannondale to share our test results in December, and the company disputed our findings, stating that it stands by its third-party independent test results. Cannondale also said its helmets are "tested in accordance with the required [CPSC] protocol and have passed all testing" and that it had not received any reports of injuries. When we asked Cannondale whether the company would consider giving Teramo owners a refund or credit for the helmet, it said, "No issues with buckles or breakages exist." We attempted to contact the company again before press time, but it did not respond to our requests for comment. If you have concerns, we suggest you contact the company at 800-245-3872.