BMW i3 is the most energy-efficient car yet
Someday, geeks will rule the world, and this electric car will be their ride
Published: April 30, 2015 06:00 AM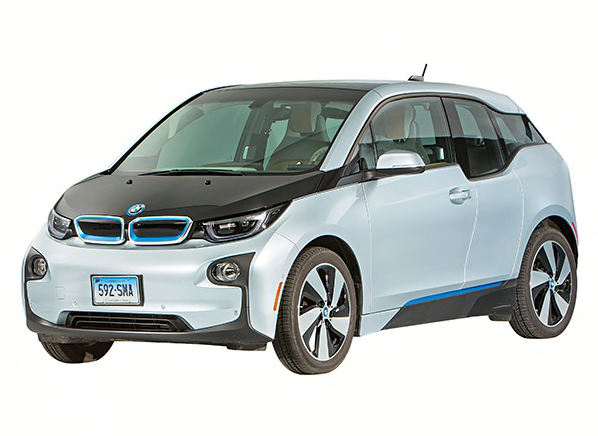 With its quirky looks, space-age construction, tree-hugging electric powertrain, and luxe-Ikea interior, the BMW i3 has shocked the automotive design world. This narrow, Picassoesque city car is the first widely available vehicle to have its underpinnings mostly constructed from carbon-fiber-reinforced plastic.
The i3's exotic lightweight construction helps make it the most energy-efficient car we've tested—the equivalent of 139 mpg when battery powered. That trumps the 84 MPGe of the Tesla Model S and zaps the Nissan Leaf's 106 MPGe.
Still, the i3 has the limitation of most electric cars, running only 75 miles before the charge runs out. Like training wheels for electric-car newbies, BMW offers an optional range-extending, two-cylinder gasoline-engine generator, which continues to provide electricity to the i3's 127-kilowatt motor.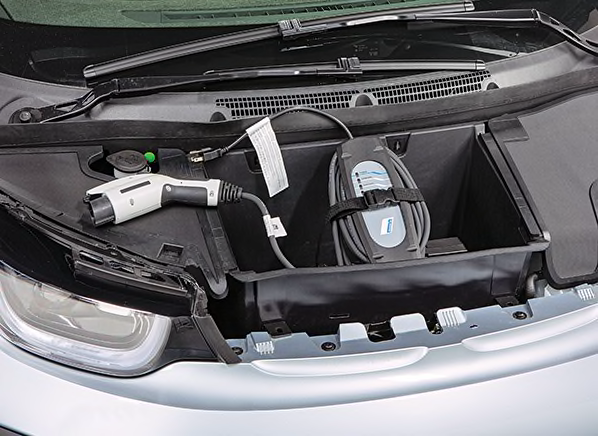 That doesn't entirely relieve you from dreaded "range anxiety," as the minuscule 1.9-gallon gas tank provides a mere 50 additional miles of travel. It's designed to get you home, but not much more. Motor running, it returns only about 30 mpg—on premium fuel—so this is not a car for cross-country trips. So far, most buyers are opting for the range-extending REx engine, for an additional $4,000. The i3 works with some DC fast-chargers that can bring it to 80 percent battery level in 20 minutes.
In the i3, BMW brings its Teutonic dynamism to an electric car, with a spookily silent 0-60 time of 7.5 seconds. The aggressive regenerative braking drops anchor the instant you ease off the accelerator. And it wouldn't be a BMW without uncanny stability in corners—although its occasionally abrupt ride isn't befitting a $50,000 car.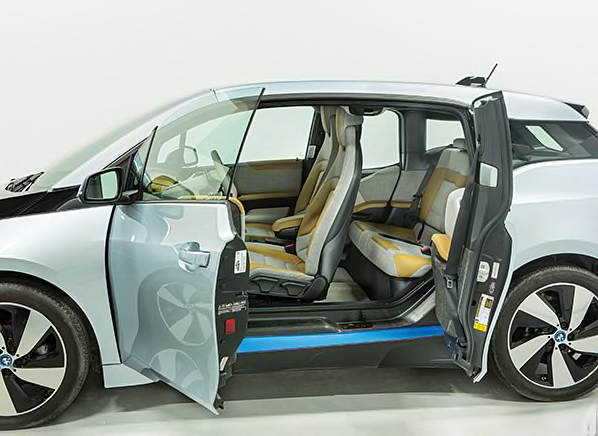 The i3 fits four inside its compact dimensions. But the rear-hinged back doors won't let out rear occupants until the driver or front passenger removes his own seat belt and opens a front door. Just the same, the i3's minimalist teak, leather, and tweed interior is sure to tickle the hearts of Dwell readers.
The future doesn't come cheap. Before a $7,500 tax credit, the i3 starts at $43,350, or $47,200 with the REx engine.
Given its price, Playmobil exterior design, and short cruising range, it's easy to be skeptical about the i3. But its originality, impressive road manners, and pure efficiency give it a certain geeky charm.
Check our complete BMW i3 road test.
| | |
| --- | --- |
| Highs | Energy efficiency, acceleration, agility, reduced range anxiety with optional gasoline engine |
| Lows | Requires frequent top-ups, seats only four, awkward rear-seat access, scant cargo space |
| Battery | 22 kWh lithium-ion |
| Engine | 170-hp electric motor; plus 34-hp, 647-cc, 2-cyl. gas generator |
| Charge time | 4 hours (240 volts) |
| Fuel | 139-mpg equivalent (4.1 miles/kWh) |
| Price | $43,350-$50,250 |