Safe shrimp prep
Here's how to handle and prepare shrimp safely
Published: April 24, 2015 06:00 AM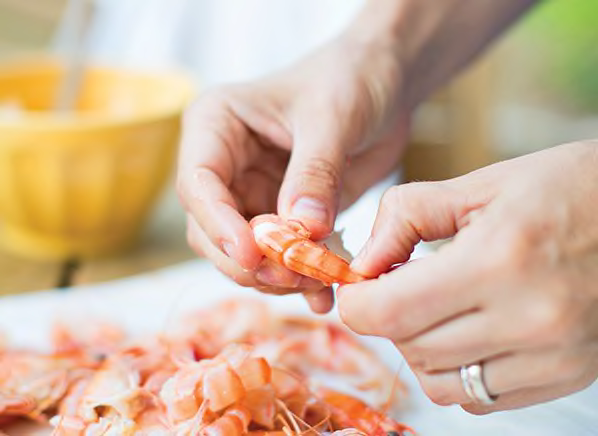 Even with the best possible shrimp, proper kitchen handling is important. As part of our special report, "How Safe Is Your Shrimp?," Consumer Reports tested 342 packages of raw and cooked frozen shrimp purchased at large chain supermarkets, big-box stores and "natural" food stores in 27 cities across the U.S. We found bacteria on 60 percent of the raw shrimp samples we tested, such as vibrio and e. coli, which can potentially make you sick. (Consumer Reports is calling on the federal government to make shrimp safer for American consumers.)
From store to stovetop, oven, or barbecue, here's how to handle and prepare it safely:
Keep it cold
Bacteria multiply at temperatures above 40° F, so don't let shrimp warm up before cooking. Make them one of the last items you place in your grocery cart. And if you're buying shrimp at the seafood counter, ask for a bag of ice to keep them chilled. Consider keeping a cooler in your car for the ride home. Then put the shrimp on ice or in the fridge until you're ready to cook them.
Work quickly
Try to work fast when shelling or deveining so that shrimp spend less time in your warm hands. Keep them on ice or in a bowl of ice water whenever possible.
Throw away the shells
Dispose of uncooked veins and shells so as not to spread any bacteria that may be on them.
Clean up
Immediately wash your hands and any kitchen utensils that have come in contact with raw shrimp. That reduces the risk of spreading bacteria from the shrimp to any other food you're serving.
Editor's Note:
This article also appeared in the June 2015 issue of Consumer Reports magazine.
Funding for this project was provided by The Pew Charitable Trusts. Any views expressed are those of Consumer Reports and its advocacy arm, Consumers Union, and do not necessarily reflect theviews of The Pew Charitable Trusts.