Jeep Renegade review
When style wins out over substance, is it still really a Jeep?
Published: August 27, 2015 06:00 AM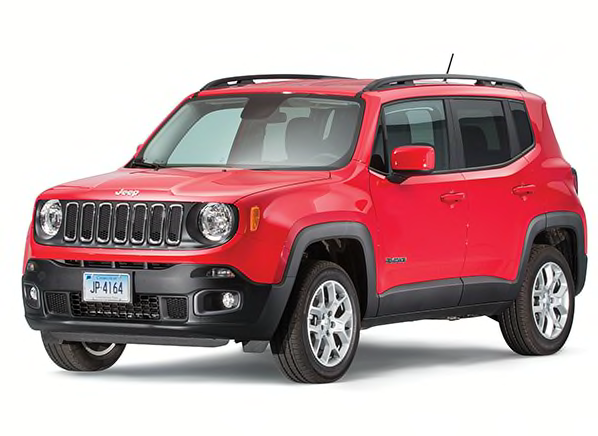 Judged on appearance and presence alone, there's plenty to like about the Jeep Renegade. Cute as a button and sporting the proud Jeep brand, what's not to like? Throw in a respectable amount of rear cargo space, a newfangled nine-speed automatic transmission, and a ton of upscale options—including crash-avoidance technology—and it seems like an attractive package.
Alas, it doesn't take long for the Jeep's charms to wear thin. Sharing its underpinnings with the Fiat 500X, its handling is cumbersome, the transmission woeful, the ride choppy, and the front seats uncomfortable.
At idle, the 184-hp, four-cylinder Tigershark engine vibrates nervously. Things don't get better when you hit the gas; this Jeep takes almost 10 seconds to accelerate to 60 mph.
What's more, that aforementioned nine-speed automatic transmission? It doesn't have its gear-juggling act together. It's neither smooth nor responsive, and feels almost reluctant to downshift when you prod the gas pedal, leaving the car feeling lethargic—not something you'll appreciate when passing slower vehicles.
You would think that a vehicle wearing the Jeep badge would have the agility of a gecko, but the Renegade leans and bobs on winding roads, and its ride is stiff, abrupt, and jostling. Its one dynamic plus is excellent braking performance, especially on wet pavement, although the touchy pedal made it feel grabby in slow-and-go traffic.
The interior materials have some appeal, but the front seats are wide, flat, and stiffly padded, a shortcoming that's most apparent on long trips. The engine's coarse tone and the intrusion of wind noise and road rumble make for plenty of din inside the cabin.
Many competitors are going for the cool "fastback" sloped roof—which robs you of cargo space—but the Renegade's squared-off back end provides good capacity for bulky items.
Properly equipped, the Renegade is true to the Jeep off-road DNA. Its Trailhawk version (about $30K all told) can tackle some wild country. Underbody cladding, more ground clearance, gearing that allows for crawling over tough terrain, and traction tweaks make it surprisingly capable for a car-based vehicle.
And there's a love/hate branding quirk: The word "Jeep" and a pictograph of its headlights and seven-slot grille adorn almost every surface, from the rearview mirror to the trunk mat.
The Renegade has potential but needs a better powertrain, agile handling, cushier seats—and maybe a $3,000 price cut.

Read the complete Jeep Renegade road test.

| | |
| --- | --- |
| Highs | Styling, upscale features |
| Lows | Transmission, ride, visibility, front-seat comfort, grabby brakes, idle vibration, price |
| Powertrain | 184-hp, 2.4-liter 4-cyl.; nine-speed transmission; all-wheel drive |
| Fuel | 24 mpg |
| Price | $18,990-$26,990 |