5 cutting-edge TVs that will rock your world
Some you can buy, others are prototypes, but all will be expensive
Published: January 14, 2014 06:06 PM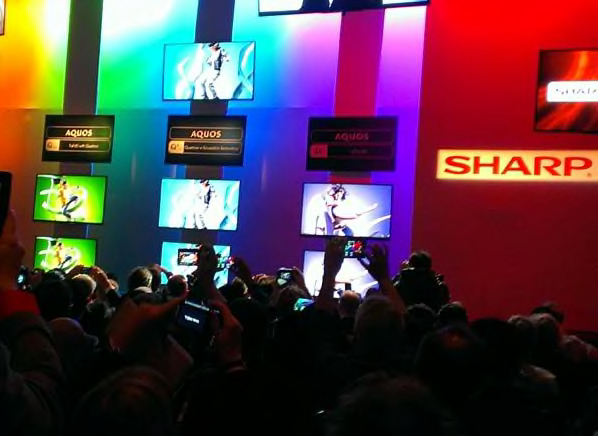 Covering a show such as last week's CES 2014 can be something of a double-edged sword: You get to see state-of-the-art products, generally months or years before they hit stores, but the experience can leave you dissatisfied with what you own.
In the TV area at CES 2014, we saw 100-inch-plus Ultra HD (UHD) TVs, OLED models in larger screen sizes, more sets with curved screens, and even prototypes of big-screen sets that promise glasses-free 3D. These TVs will probably be priced beyond the means of most of us. Still, it's fun to dream about these sets—imagine how much fun it would be to watch the Super Bowl on a 105-inch UHD TV with a gently curving screen.
Here's my list of the five TVs that captured my attention at CES. A few of them will be available for purchase later this year; others give us a glimpse of where TV technology could be headed. Either way, they're fun to look at.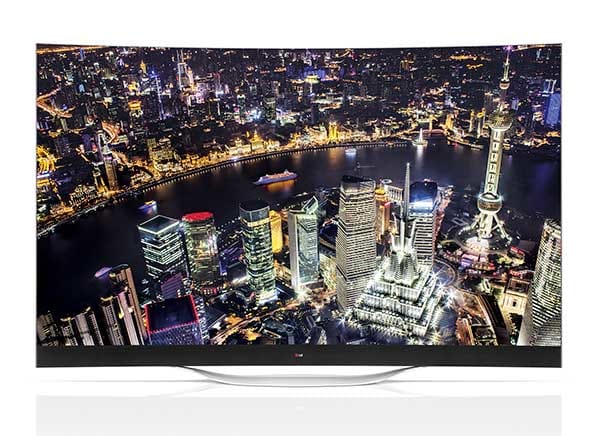 LG 77-inch OLED TV. As I've said before, I love the way that OLED TVs look; UHD TVs are really just LCD TVs with higher-resolution screens. But with the LG 77EC9800, which has a curved, UHD-resolution screen, you don't have to choose. It's also the largest OLED TV we've so far seen, which means that few of us will be able to afford it. Still, props to LG for pushing the OLED technology forward, even with sets that most of us can only gawk at.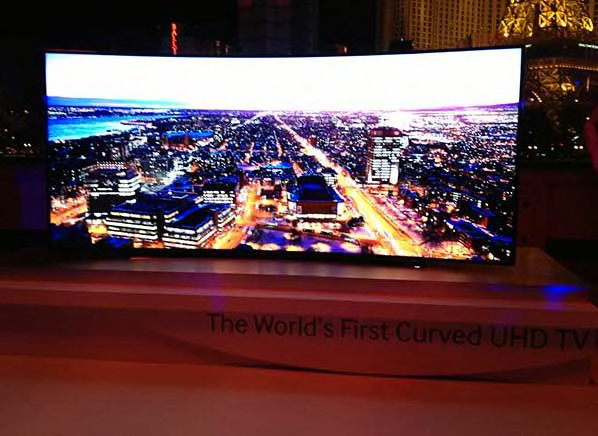 Samsung 105-inch Ultra HD TV. We've reviewed a few curved-screen sets before in our labs—notably the Samsung's KN55S9C OLED and the Sony KDL-65S990A, a curved 1080p LCD set—and haven't felt the curve did anything much for the viewing experience. Because of this set's giant size (just 5 inches smaller than the front-projection system in my own dedicated home theater) the curve—and its wider 21:9 aspect ratio—seem to deliver a more cinematic viewing experience. LG also has a 105-incher, but I liked Samsung's design a bit better. The company claims it will actually be selling this TV later in the year, but again I don't expect many of us to be able to afford it.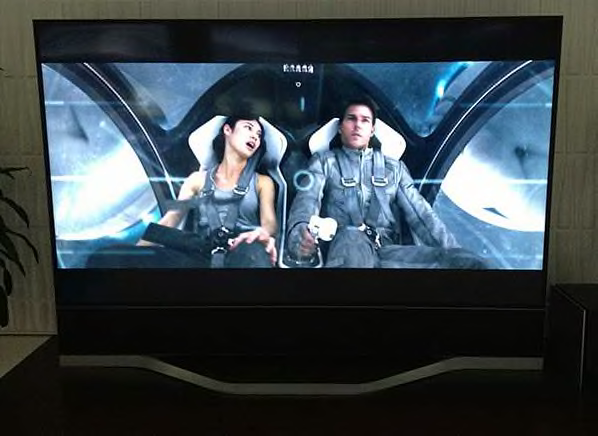 Vizio 120-inch Ultra HD TV. Vizio says this set is real, and that it will be available late in the year at an undisclosed price. Part of a new Reference series—there's also a 65-inch model—the TV is huge, and includes a full-array LED backlight with 384 zones that can be separately dimmed, which theoretically should help improve black levels and contrast. Even better, this set packs a substantial sound-bar-style sound system across the length of the bottom of the set, which when mated with the included separate powered subwoofer, serves up significant sonic oomph.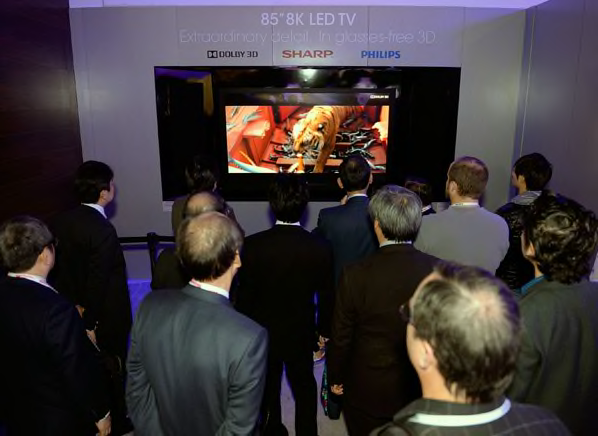 Sharp 85-inch 8K 3D prototype. Yes, 4K hasn't even taken hold and there are some companies already talking up its successor. Sharp showed 8K panels—yes, a 7680x4320 screen resolution, 16 times that of a regular 1080p set—last year, but this year it added a new wrinkle: glasses-free 3D. That means you get 3D in UHD (4K) resolution, an effect that can be quite impressive, provided you're standing in the right spot. Yes, viewing angle is still an issue with glasses-free 3D—with the Sharp set, you have to align two white lines on the bottom of the screen to know you're getting the best picture. (Though it's an improvement over many demos we've seen where the manufacturer tapes an "X" to floor where your feet have to be placed.) Sharp claims there are 28 "sweet spots" where you'll get a great 3D image; in the past I've viewed sets with just nine, so this is an improvement. Still, with the clips I saw—from "Life of Pi" and "Frozen"—images on the screen are incredibly detailed, and it's a look at the glasses-free future where many hope 3D will eventually reside.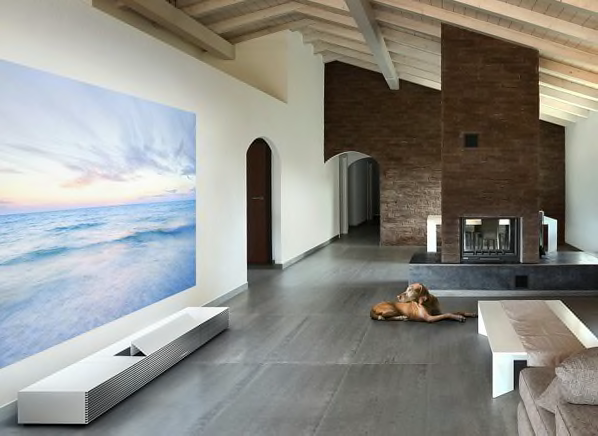 Sony short-throw UHD projector. Sure, technically it's not a TV, but I was still wowed by Sony's new ultra-short-throw projector, which can be placed as close as 20 inches to a wall and still kick out a 147-inch UHD image. The system looks like a flat piece of furniture that sits near a wall, but harnesses Sony's LCoS-based SXRD projection technology and a laser-based light source to turn the nearby wall into a projection screen. Last year LG introduced a similar concept with its Hecto projector—which it updated at this year's CES—but that model has 1080p, not UHD, resolution. Now for the bad news: a price tag in the neighborhood of $30,000 to $40,000, a neighborhood in which few of us can afford to live.
There's a chance we'll test a few of these sets. I might not be able to bring one home, but for at least a few hours in a darkened lab I'll get a chance to live with TV that I otherwise would never be able to experience. I'll let you know how that feels.
—James K. Willcox