Smart LED system lets you turn on lights from afar
Never come home to a dark house again
Published: January 31, 2014 02:45 PM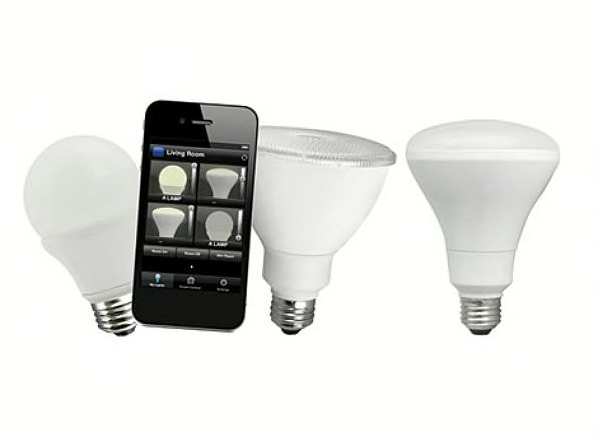 If you could control your home's lighting from anywhere using your smart phone or tablet, would you? Several manufacturers now offer remote-control LEDs and the lightbulb experts at Consumer Reports are testing Connected by TCP a smart lighting system for the home. Here's what we've found so far.

We paid $50 at Home Depot for a Connected by TCP system that includes two LEDs and a gateway that enables you to control the bulbs. In our initial tests, it was easy to set up the hardware, install the app, and navigate the menus. The system was fairly intuitive but if you get stuck we found that the TCP website was helpful and so was their customer service when we had a question. You can use a smart phone, tablet, or personal computer and your wireless router or you can buy TCP's battery-powered remote control for $20 to control the LEDs while you're home. TCP says the remote works within 150 feet of the bulbs.

Remote control away from home, using a smart device, was a cinch to set up and worked smoothly. We were able to turn the lights on and off and dim them to low from wherever we were. The app provides timers so you can set up the bulbs to go on and off at different times and different days. TCP says you can control up to 250 bulbs, including the company's smart CFLs. To buy more LEDs for this system you'll pay about $17 for a 60-watt replacement for lamps and ceiling fixtures (A19 LEDs in lightbulb lingo) and $25 for a BR30 reflector that replaces a 65-watt incandescent.

As replacements for 60-watt incandescents, these LEDs were just as bright and cast a warm light while using about 12 watts each in our initial tests. And when it comes to accurately showing the colors of objects, the LEDs were good at it and in line with others we've tested. They appear to evenly cast light in all directions but we haven't tested them for this yet. And they're supposed to last about 23 years when used 3 hours a day.

The TCP Connected LEDs are the pragmatic cousin to the Philips' Hue smart device-enabled LEDs, which are fun and party ready and allow you to change the colors of the lights. Think of the possibilities. You're too tired to go upstairs and turn off the lights. You don't like coming home to a dark house. You're on vacation but want to give the impression that your house is occupied. Your elderly parents or a disabled sibling have a hard time moving about. Remote controlled lighting is here.

In addition to testing these systems, Consumer Reports has lightbulb Ratings of the best replacement LEDs, CFLs, and halogen bulbs.
—Kimberly Janeway