Who should get a routine cholesterol test?
Published: March 27, 2014 04:00 PM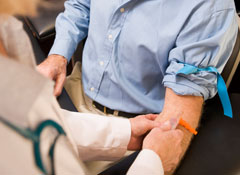 Not as many people as you may think, and who should get it isn't so simple. All men 35 and older should get a cholesterol test, according to the U.S. Preventive Services Task Force. Women 45 and older who have risk factors for heart disease—diabetes, obesity, smoking, or a family history of heart attack before age 50, should also have regular screenings. Our medical consultants recommend getting the test at least every five years if you fall into those categories.
For women 20 and older and men between the ages of 20 and 35 who do not have one or more of those risk factors—it's up to the person and his or her doctor whether a cholesterol test is worth it. That's because for women and men who have a low risk of heart disease, it's unclear whether the small benefit they would get from a cholesterol-lowering drug would outweigh the risk of side effects.

Want to know more details about statin medications used to treat high cholesterol? Check out our latest free Best Buy Drugs report on those drugs.
Cholesterol tests—the best is a blood test at your doctor's office—usually include measures of your total cholesterol, HDL or "good" cholesterol because it helps ferry cholesterol away from your blood vessels. Most tests also measure your level of LDL or "bad" cholesterol, which can clog arteries. For the more accurate results, be sure to stop taking any nonessential drugs. Also, don't do any strenuous exercise 12 to 24 hours before the test because doing so could falsely elevate your HDL.
If your cholesterol level is high (or your HDL level is low), it doesn't necessarily mean you need to take a medication. That would depend on whether you have other risk factors that can increase your risk for heart attack and stroke, such as high blood pressure, lack of exercise, older age, obesity, or if you smoke. You can calculate your 10-year probability of having a heart attack or stroke here. You'll need to know your total cholesterol level, your HDL level, and your blood pressure.
—Steve Mitchell
Editor's Note:
This article and related materials are made possible by a grant from the state Attorney General Consumer and Prescriber Education Grant Program, which is funded by the multistate settlement of consumer-fraud claims regarding the marketing of the prescription drug Neurontin (gabapentin).