5 ways to brighten and declutter your home
Spring cleaning tips from the experts at Consumer Reports
Published: April 11, 2014 05:30 PM
The trick to spring cleaning is not to cram it all into one weekend. Make a plan, either room-by-room or task-by-task, and work your way through the list. It may take until summer. To nudge each project along arm yourself with the right equipment—the best cleaners, vacuums, and closet organizers from Consumer Reports' tests. Lets get started.

Declutter your closets. The best time to clean your closets is when you're switching from one season to another. Toss or donate anything you haven't worn for awhile and organize the rest. If you're feeling ambitious you may want to install a closet organizer. In Consumer Reports' recent tests of closet organizing systems from Elfa, ClosetMaid, Martha Stewart, Ikea, and Rubbermaid, we found that some were easier to assemble than others. The system that took the least time (35 minutes), the Platinum Elfa Reach-In, $560, had clear directions, and required minimal drilling. But others had confusing directions or mislabeled or missing parts. The Ikea Algot, $170, was particularly vexing to assemble, taking nearly three hours.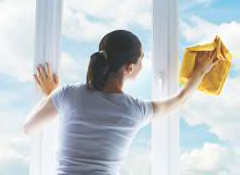 Let the sunshine in. Windows are at the top of almost everyone's spring cleaning list. To avoid streaking, tackle this job on a cloudy day or when the windows are in the shade. You can use a commercial window cleaner or a homemade solution of ½ cup ammonia and one pint rubbing alcohol mixed with enough water to make a gallon.
Blinds. Using a lambswool duster, cotton cleaning gloves, or the soft brush attachment of your vacuum cleaner, dust blinds from the top down on first one side and then the other.
Curtains. If your curtains are washable throw them in the washing machine with one of our top-rated detergents. The top powder is Tide Ultra plus Bleach Vivid White + Bright HE, the top liquid is Member's Mark Ultimate Clean from Sam's Club, and the top-performing pods are Tide Pods. If your curtains aren't washable you can vacuum them gently using a vacuum with suction control that lets you reduce the airflow. Or throw the curtains into the dryer on an air-only setting without heat.

Plump up your cushions. To keep your upholstered furniture from becoming dingy, you should vacuum it regularly using the proper attachments to get into the corners and crevices. Once the upholstery gets dirty, cleaning it can be a tricky proposition depending on the type of fabric. Check the care label to see what's recommended. If you can clean the chair or couch with a store-bought cleaner, try it on a hidden section before spraying the entire piece. Your other option is to call a professional.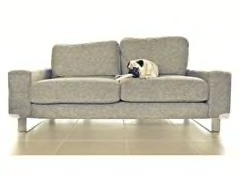 What lies beneath. Move your furniture so you can clean under it. Most floors can be damp mopped with water and a mild detergent. But check manufacturer's instructions before getting started as some types of flooring are prone to scratching and water damage. To protect bare floors, use a vacuum with a motorized brush that can be turned on or off when you need it. Many canisters have this feature. For carpeting, an upright vacuum is your best bet as the weight of the machine is over the head, making it more effective at pulling dirt out of the fibers. If you have area rugs, vacuum the backs as well.

Top vacuums from our tests
For carpet. In our tests of upright vacuum cleaners, the three that scored the best for carpets were the Miele S 7210 Twist, $475, the Kirby Sentria, $1,350, and the Miele S 7260 Cat & Dog, $715. Uprights from Hoover and Eureka also got top marks on this test.
For floors. The Kirby Sentria and Miele Cat & Dog also aced this test as did our top five canisters including the Kenmore Progressive 21714, $400, and three other Kenmore canisters as well as the Panasonic MC-CG937, $330. The Kenmore Intuition 28014, $500, also had excellent air flow for tools, making it a good choice for curtains and furniture.
—Artemis DiBenedetto