Two great LG smart phones for the price of an iPhone 5s
The F3Q and Lucid 3 offer a few advantages for a lot less money
Published: May 12, 2014 10:30 AM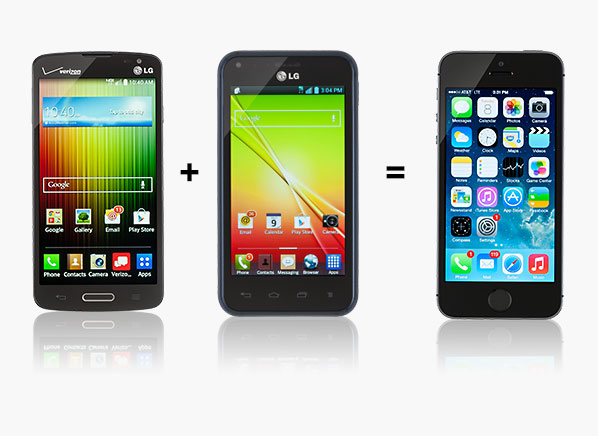 Most smart-phone coverage focuses on the premium-priced prima donnas of the mobile world, such as the Samsung Galaxy S 5 and iPhone 5s, each of which costs more than $600. But if you're willing to put up with a little more bulk and a bit less cachet (think the Chevy Impala versus the BMW 5 series), theses two LG smart phones, both strong performers, cost hundreds less.
The LG Optimus F3Q, available on T-Mobile for $360, is a great choice for those who still prefer the firm feedback only a real keyboard can provide. And this mid-level smart phone has a number of advanced features. For example, you can scribble notes on anything you see on the phone's display using your finger, simultaneously use two apps on one screen, and even use the phone as a universal remote to control entertainment gear. The 4-inch display is big enough for most tasks, but the phone itself is noticeably thick and heavy because of the physical keyboard.
The LG Lucid 3, available on Verizon for $300, crams lots of big features and capabilities into its pocket-friendly case, which measures 2.6 by 0.4 by 4.4 inches. That includes a well-proportioned 4.7-inch display and some clever ways to access, change, and control what's on it by poking it, speaking to it, and even staring at it. The display is easier to see in bright light and rear-facing main camera offers better image quality than on the Lucid 2. You also get some convenient LG features that allow you to perform a variety of common tasks with a simple gesture or by uttering a phrase.
These enhancements, which you can also read about in our free buying guide, are designed to save you a step or two when performing everyday tasks. For instance, when you plug a headset into the phone's jack, it automatically launches an apps tray that is related to "listening," such as a music player, phone, and videos. The camera has some intriguing features as well, such as the ability to take a picture by just saying "cheese"—just in case your subject's best pose happens before they say "cheese."
—Mike Gikas