Will my statin drug cause me to gain weight as a side effect?
Published: May 15, 2014 02:30 PM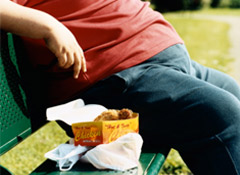 Maybe—in two surprising ways. First, taking pills such as atorvastatin, (Lipitor and generic), lovastatin (Altoprev, Mevacor, and generic), or simvastatin (Zocor and generic) may make you think you can eat as much as you like, new research suggests. Second, statins can cause muscle pain and weakness, which may make you less likely to exercise.
While the eating habits of people who didn't take statins stayed pretty much the same, those who did take the cholesterol-lowering drugs gradually consumed more and more over time, according to a 10-year dietary study of nearly 28,000 U.S. adults published online in JAMA Internal Medicine. Statin users consumed 9.6 percent more calories and 14 percent more fat in 2009-2010 than they did in 1999-2000, and (not surprisingly) gained an average of 6.6 to 11 pounds.
Statins appear to "provide a false reassurance" and a belief that the drugs can "compensate for poor dietary choices," wrote Rita F. Redberg, M.D., professor and director of women's cardiovascular services at the University of California, San Francisco, and the journal's editor.
Statins might also contribute to weight gain by causing muscle pain and weakness, which in turn can make you less physically active. Some experts estimate that as many as a third of people who take statins are affected. Other published materials suggest the number is closer to between 5 and 10 percent of people.
High-dose statins have been targeted by the FDA, which found that the 80-mg dose of simvastatin (Zocor and generic as well as the combination drug Vytorin and Simcor) was far more likely to cause muscle injury than the lower doses or other drugs in the same class, especially in the first year of taking them—and that it was particularly a problem for women, in addition to those also taking certain blood pressure drugs.
Based on those findings, the FDA recommended that people who start taking simvastatin, or who have been taking it for less than a year, start with a lower dose. Our consultants take that advice one step further and recommend that most people who start taking any statin medication begin with the lowest available dose, increasing slowly only if necessary.
Muscle pain associated with statins is most often not serious and typically can be resolved by switching to a lower dose, or different statin drug. If you're taking a statin and notice muscle pain, tenderness or weakness, dark or brown-colored urine, or unexplained tiredness, it's important to call your doctor right away as that could be a sign of a fortunately rare, but deadly, side effect.
—Teresa Carr
Editor's Note:
This article and related materials are made possible by a grant from the state Attorney General Consumer and Prescriber Education Grant Program, which is funded by the multistate settlement of consumer-fraud claims regarding the marketing of the prescription drug Neurontin (gabapentin).