Make your kitchen appliances last
How to protect a big investment in your large appliances
Published: August 27, 2014 12:30 PM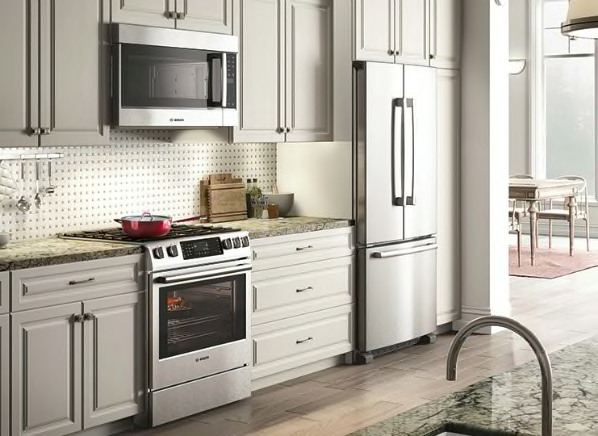 Replacing your major appliances doesn't come cheap so once you make the investment, you want to make sure they'll last. Keeping them in good running order is key as is frequent cleaning. Here are some simple maintenance tips from the experts at Consumer Reports as well as some of our top-rated kitchen appliances.

Clean compressor coils every few months. The coils are usually at the bottom of the refrigerator. (On some older models they're behind it, and on some built-ins they're behind a grille at the top.
Wipe door gaskets with mild detergent and water, not bleach. Check the seal by closing the doors on a dollar bill; replace gasket if the bill falls out or can be removed without opening the doors.
Be sure the refrigerator is level. If not, the door might not close properly. Most have adjustable feet or casters.
Maintain a stainless finish by using dish detergent, water, and a sponge to wipe off stains. (Rubbing alcohol and a soft cloth can remove tougher grime.) Buff dry with a dry cloth to prevent water spots; polish with a cleaner made for stainless steel.

Our top-rated French-door refrigerator: Samsung RF261BIAESR, $2,100
Top-rated bottom freezer: Kenmore Elite 79043, $1,510
Top-rated top freezer: GE GTS22KBPWW, $1,300
Top-rated side-by-side: Samsung RS25H5121SR, $1,900

Replace a dish rack that's worn or has rusted tines.

When loading, make sure silverware and dishes don't catch the spray arms to avoid damaging the arms.
Inspect the spray arms for paper, glass, or other debris, which can clog holes; remove any obstructions. If you find glass, inspect the pump housing for glass as well as any seals that it might have punctured.
If your dishwasher has a manual-clean filter, clean it regularly according to the manufacturer's instructions.
Run the dishwasher with a full load. You should scrape food from dishes but, as our tests show, you don't need to prerinse them. Doing so doesn't improve cleaning.
Our top-rated dishwasher: KitchenAid KDTM354DSS, $1,200.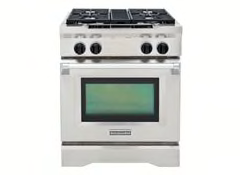 Place heavy pots and pans gently on smoothtop models to avoid breakage.
Never cover drip pans and bowls with aluminum foil, which can short-circuit the burner.
Keep reflector bowls beneath the burners shiny and clean to ensure that they reflect heat up to the pan efficiently. Replace them when they can no longer be cleaned.
Periodically clean burner ports with a needle.
Don't poke the igniter or spray it with oven cleaner.
Check door seals of the oven for damage.
If heat is escaping from an older oven, adjust or replace the gasket.
Don't line oven racks with aluminum foil, which will inhibit air circulation. Also, do not place foil on the bottom of the oven to catch drips because that may cause permanent damage to the interior finish of the oven.
For high-temperature self-cleaning ovens, wait to initiate the procedure until you have just used the oven to bake. That helps the self-clean process use less energy.

Our top-rated electric range: LG LRE3083W, $1,000
Top-rated gas range: LG LSRG309ST, $2,000
Top-rated pro-style range: KitchenAid KDRS407VSS, $4,000
Avoid turning it on when empty and avoid putting metal inside.
Regularly clean food particles and splatters.
Use a surge suppressor to protect your microwave's solid-state circuitry from voltage spikes.

Our top-rated countertop microwave: Panasonic Genius Prestige NN-SD681S, $180
Top-rated large countertop microwave: Panasonic Inverter NN-H965BF, $180
Top-rated over-the-range microwave: GE Profile PVM9215SFSS, $550

For more appliance maintenance tips, read "Keep your countertop appliances in tip-top shape."
—Adapted from Consumer Reports Appliance Buying Guide