Can I flush unused medication down the toilet?
Published: September 26, 2014 05:30 PM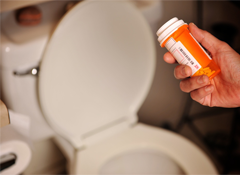 Flushing is not advised for most drugs because of concerns that trace amounts of drugs can end up in the water supply. The Food and Drug Administration suggests that most medications should be thrown out in your household trash by mixing pills or tablets with coffee grounds, kitty litter, or sawdust to obscure the drugs. Then, place the mixture in a sealable plastic bag or other container that won't leak. Also too, remove prescription container labels that show any personal information.
For a select few medicines that are especially harmful or even fatal if accidentally taken by someone else—particularly a child—the FDA does have a "flush list." It is short, and mostly contains potent narcotic painkillers known as opioids, such as Percocet (oxycodone and acetaminophen), Oxycontin (oxycodone hydrochloride) or Abstral (fentanyl)—that the agency suggests flushing.
About 45 people a day, more than 16,600 people a year, die from overdoses of these drugs. And many of these deaths were of people who were not taking a drug prescribed for them, according to a 2012 report by the national Centers for Disease Control and Prevention.
Starting next month, as part of widespread efforts to curb misuse and abuse, opioids will be harder to get—because of tighter prescribing rules—and easier to safely discard. Thanks to new regulations at Drug Enforcement Administration, starting Oct. 9, 2014, you'll be able to drop off unused drugs, including opioids, at pharmacies, hospitals, clinics, and long-term care centers, and other authorized collectors.
Meanwhile, the next National Take-Back event takes place on Saturday Sept. 27. To find a drop-off location near you, visit the DEA's website.
When in doubt about proper disposal of your leftover medicines, talk to your pharmacist or check with the online resource Dispose My Meds for pharmacies near you that accept and dispose of leftover medicines.
—Ginger Skinner
Editor's Note:
This article and related materials are made possible by a grant from the state Attorney General Consumer and Prescriber Education Grant Program, which is funded by the multistate settlement of consumer-fraud claims regarding the marketing of the prescription drug Neurontin (gabapentin).