iPhone 6 and 6 Plus gain on top Android models
Early test results show Apple continues to excel in camera performance, but can't match some Samsung and LG features
Published: September 19, 2014 05:20 PM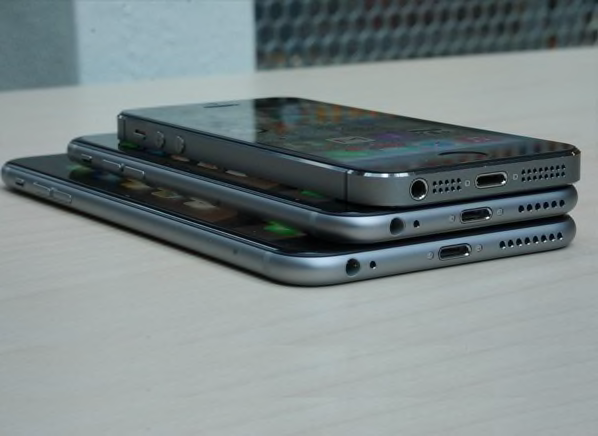 The Apple iPhone 6 and 6 Plus hit stores today. Consumer Reports buys the products we evaluate just like ordinary consumers do, without revealing our identities. So at 1:00 a.m., our secret shoppers arrived at four locations to get our hands on multiple versions of the phones. We've been testing them in the lab all day, and these are our first results.
Ergonomics
The most notable differences between these new models from the 4- and 5-class models that preceded them, besides larger dimensions, are their relatively thin, smooth, rounded edges. Both phones are comfortable to hold, but may not feel secure in the user's hand.
To facilitate one-handed operation on these taller, wider iPhones, Apple added a Reachability mode, which slides the phone desktop down to the middle of the screen, bringing the top apps and controls closer to your thumb. It's a nice idea except for one problem: To engage Reachability mode, you have to lightly double-tap the home button, which on the iPhone 6 Plus is just as unreachable with your thumb as the top row of apps is. Hitting the home button to engage Reachability on the smaller iPhone 6 is not a problem. In other words, where you need Reachability, it's hard to engage. Where Reachability is easy to engage, you don't really need it.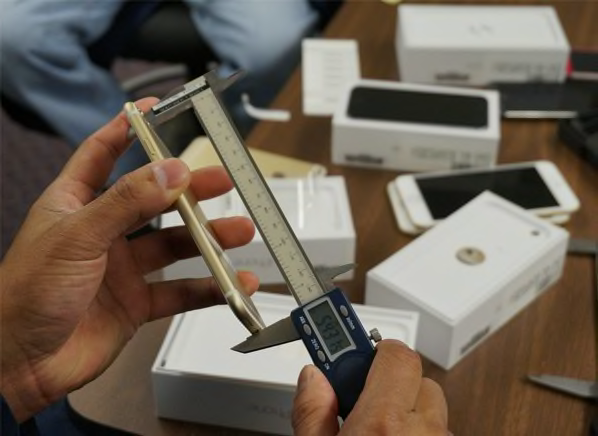 Display
We already knew from published specs that Apple had improved the display resolution of its new phones, to 1334x750 for the iPhone 6 and 1920x1080 for the iPhone 6 Plus. The displays on both phones were excellent, performing well in our tests of color accuracy and contrast, including in bright light. They are among the best displays we've tested. We'll be looking forward to comparing them with the super-sharp "quad HD" resolution of the Samsung Galaxy Note 4 and LG G3.
Pure image quality aside, the iPhone 6 Plus' display has a couple of neat tricks. When you turn the phone on its side, to its landscape orientation, the desktop reorients so that icons and controls maintain their right-side-up alignment. When you're using the e-mail app, landscape mode initiates a split-screen view that shows a list of e-mails on the left, and previews of individual e-mails on the right. It's worth noting that Android phones have been doing this for years.
Keyboard
All iPhones running iOS 8 get Apple's new predictive-text feature, which works quite well. The iPhone 6 and 6 Plus phones grow additional keys when you tilt the phones on their side to engage landscape mode. New keys include a comma and emoticon. On the righthand side of the display, you see left and right arrow keys, a period key, and a keyboard-hide button. The 6 Plus adds keys for bolding text, cutting, pasting, and copying text, as well as "!", "?", and "," buttons. While these new buttons are nice, number keys and a ".com" would have been even more useful—especially for the many people who frequently include numbers and websites in their communiqués. We also would have liked something akin to the mouselike text selection that's included on late-model Samsung and LG phones.
Camera

The iPhone has always been proof that you can have great photo quality without posting huge megapixel numbers. The camera resolution for both phones remains at 8 megapixels. That's a puny figure compared with some models, yet our initial tests confirm that these are among the best phone cameras available, particularly for video.
New capabilities include shooting 1080p video at 60 frames per second, which we found made the images look noticeably smoother when either the subject or the camera is moving. But there was a sacrifice: Video quality at 60 fps was noisier in low-light conditions than at 30 fps. (At 30 fps, the phone's video capability is similar to what the iPhone 5s delivered at the same frame rate.) Additionally, switching to 60 fps is a chore: You can't access these controls from inside the camera app; you need to go to general Settings.
The 6 Plus adds an optical image stabilizer. Our testing confirms that the feature works well to improve images in low-light conditions.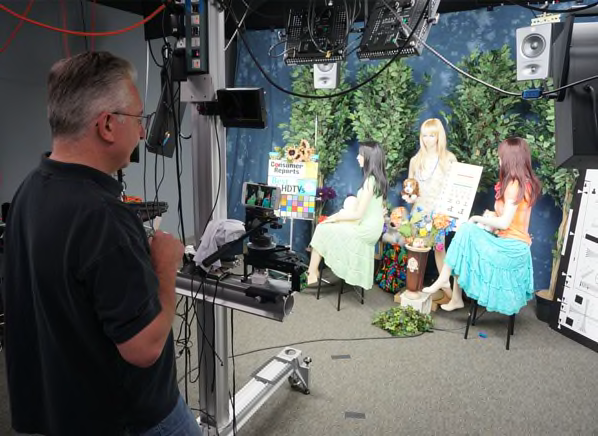 Bottom line
Fans of the iPhone will probably love an upgrade to the iPhone 6, and to the 6 Plus if they've been enduring phablet envy over the last couple of years. Both models benefit from improved displays, beautiful ergonomics, and outstanding camera capabilities. But consumers who are already happily living the high-end Android life won't find a compelling reason to switch.

Check back for more test insights
Stay tuned for test results on a traditional sore spot for iPhone: Battery life. (It takes awhile to drain a phone battery using our lab protocols.) We'll also have details on voice quality, more camera results, and other performance results.
—Mike Gikas