Pros and cons of high-efficiency washers
HE washers save water and energy, but there are some trade-offs
Published: September 24, 2014 05:45 PM
Front-loaders and high-efficiency top-loaders get clothes cleaner, use a lot less water, and spin faster than top-loaders with center agitators. That faster spin extracts more water and shortens drying time. So far so good, right? But these advances brought new challenges. Here's what to consider before buying a washing machine.
Problem: Long wash times
Many front-loaders tested by Consumer Reports were excellent at cleaning and high-efficiency (HE) top-loaders did a very good job, but both have longer wash cycles since they use less water.

Solution: Manufacturers keep increasing capacity so that you can do more laundry at once.

Consider: The impressive Samsung WA45H7000AW and LG WT1101CW HE top-loaders. Each is $700 and capacity rated very good in our tests.

Need to know: A washer has to hold about 25 or more pounds of laundry to earn an excellent capacity score in our tests. Very good indicates that the washer fit about 20 to 24 pounds of our laundry. A good score means the washer holds about 15 to 19 pounds. You'll also see cycle times for every model in our washer Ratings.
Problem: Waiting for your wash
When we say long we mean that most of the high scoring HE top-loaders tested took 60 to 90 minutes to do an 8-pound load using the normal wash, heavy-soil setting. Front-loaders took 75 to 100 minutes.

Solution: Besides increasing capacity, some manufacturers have added a time-saving option to trim normal wash time. Kenmore's Accela-Wash, LG's TurboWash, and Samsung's SuperSpeed options cut wash time of full loads by about 15 to 20 minutes without sacrificing performance.

Consider: The Kenmore Elite 41073 front-loader, $1,200, was excellent and is a top pick. It has the Accela-Wash option and capacity is excellent. The $900 LG WM3070HWA front-loader was impressive and has TurboWash.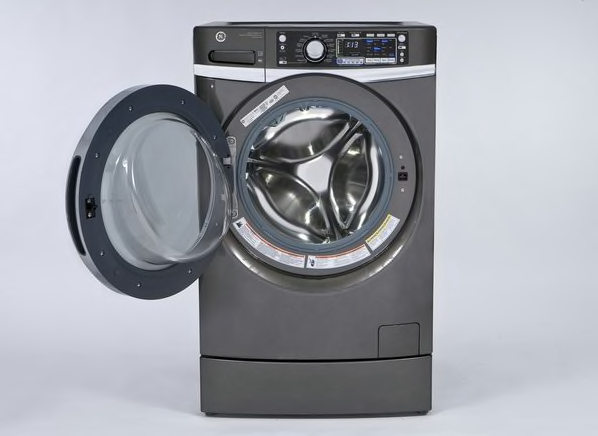 Problem: Loading the front loader
It requires lots of bending. Manufacturers sell pedestals to increase a washer's height, putting the door right where you'd like it. But the pedestal raises the price of the washer by $250 or so.

Solution: GE's RightHeight Design front-loaders and dryers have built-in risers that boost the machine's height by about 7 inches, making it easier to load and unload laundry. We're hoping other manufacturers add this feature to mid-priced models.

Consider: The GE GFWR4805FMC front-loader. It's $1,200 and was impressive overall. Capacity is very good.
Problem: Washing waterproof items
How's this for a modern wash woe? Some HE top-loaders come with a warning not to wash waterproof items. HE top-loaders spin faster to extract more water than traditional top-loaders, but waterproof items can increase the chance of loads becoming unbalanced in some washers and that can cause excessive shaking and even damage to the machine.

Solution: Samsung has added a waterproof cycle to its newest HE top-loaders. It slows the spin and in our tests prevented the washer from becoming unbalanced when we washed several waterproof jackets. See our report on the advice manufacturers give on how to handle waterproof items.

Consider: The Samsung WA45H7200AW HE top-loader. It's $800 and impressive overall, with very good capacity.
Our washing machine Ratings include dozens of washers and a feature that lets you compare up to five models side-by-side. And take a moment to look over the brand reliability data. It's based on a survey of nearly 73,000 of our readers who bought a washer between 2009 and 2013.
—Kimberly Janeway (@CRJaneway on Twitter)