The lowly bathroom goes high-tech
The latest features save water, money, and some of the dirty work
Published: January 22, 2015 02:30 PM
The home's hardest working fixture is taking on some pretty high-tech features. If you're remodeling the bathroom, check out these new toilets that Consumer Reports saw on display at Design & Construction Week in Las Vegas. We also found some other bathroom innovations including smart showers and heated flooring.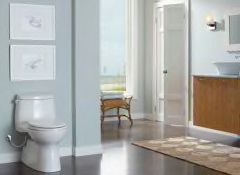 Hands-free flushing. Maybe you've experienced touchless toilets that flush by themselves in an airport lavatory. They work (sometimes) by sensing when you've walked away from the toilet. The new touchless toilet from Kohler gives you more control. You simply hold a hand over the tank lid directly above the sensor to activate the flush. That could help eliminate the spread of germs. Just remember to tell guests how it works. The touchless flush technology is available on several models from Kohler's Cimarron and San Souci lines; the one model we've tested, the Kohler Cimarron Touchless K-6418 toilet, delivered just so-so solid waste removal in our latest toilet tests. You can also buy a retrofit kit that works with most toilets, including models made by other manufacturers, for $66.

Extreme efficiency. The most water efficient single-flush toilets on the market use 1.28 gallons per flush. Toto is raising the bar with its launch of the Carlyle II 1G, which uses Double Cyclone technology to generate ultra high-efficiency flushing with only one gallon of water. If your home's toilets are a couple decades old, switching to this new Toto model could save you well over $100 per year. That may will help with the hefty $979 price tag.

Self deodorizing. Another innovation from Kohler, the Purefresh toilet seat is designed to keep bathrooms smelling clean. The seat has a built-in carbon filter that neutralizes odors, plus an integrated fan, activated when you sit down, that directs the filtered air over a scent pack located within the system. Optional scents include Garden Waterfall, Soft and Fresh Laundry, and Avocado Spa. Or you can leave the cartridge empty. The Purefresh seat, which also features an integrated night light, is available on most Kohler toilets.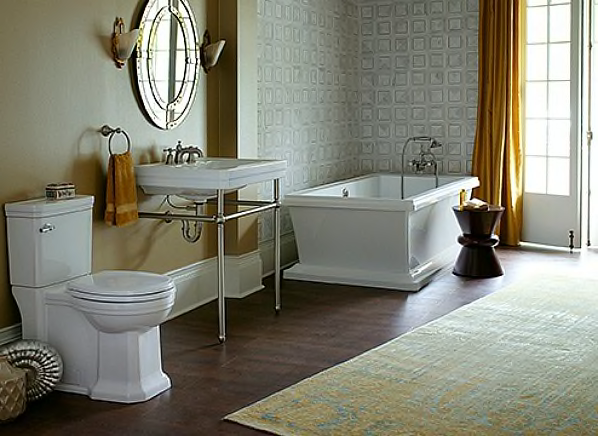 Bathroom remodeling guide