Should I use Flonase or Nasacort for my allergies?
Over-the-counter steroid sprays are a good first option for many
Published: May 17, 2015 06:00 AM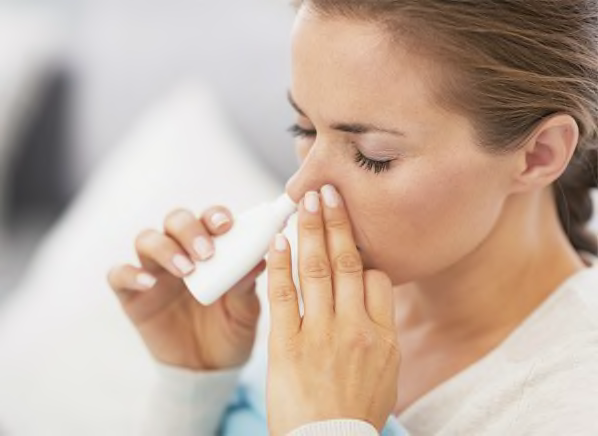 Both are good options. Research suggests that nasal steroid sprays like fluticasone (Flonase Allergy Relief) and triamcinolone (Nasacort Allergy 24 HR) are the most effective stand-alone medications available for relieving congestion, sneezing, postnasal drip and other allergy symptoms. For that reason, many experts consider them the best first option for allergy sufferers. Plus, Flonase and Nasacort are both available as over-the-counter medications.
One drawback of Flonase and Nasacort is that it can take several hours before you begin to feel some relief from your allergy symptoms. And it may take several days before you get the full benefit of the drug. This means to get the best results, you should use them every day during the allergy season and not just when you have a flare-up.
To get the most benefit from the steroid sprays, it's important to follow the proper technique to make sure the medication stays in your nose and doesn't run down the back of your throat. First, keep your head upright and don't tilt it backwards. Insert the tip of the device into your nose, aiming to the outside of your nasal passage (away from the cartilage that divides the two sides of your nose). A gentle sniff after your spray is enough. A powerful sniff could make it drain down your throat. If that happens, spit it out.
The steroid sprays are usually well tolerated, but some people may experience nosebleeds and nasal dryness and irritation.
If your child uses one of these sprays, another potential side effect is a slightly reduced rate of growth. To reduce the risk of that, don't allow them to use it for longer than two months a year. If their allergy symptoms last for longer than that, talk to your doctor about other options. And tell your doctor if your child also uses inhaled steroids to treat asthma or a topical steroid for itchy skin—using those with a steroid spray could increase the risk of slowed growth. Another option is to try a cromolyn spray instead. It's not as effective, but it is not associated with growth problems and is very safe for children.
If the steroid sprays don't provide enough relief for you, considering adding an antihistamine spray (such as azelastine or olopatadine). Those are available by prescription, but studies show the combination can provide more relief than the steroid spray alone. Another option is an antihistamine pill, like fexofenadine (Allegra and generic), loratadine (Claritin and generic), or cetirizine (Zyrtec and generic). And if you're already taking one of those and it's working to relieve your symptoms, our medical advisers say there's no need to switch or add a steroid or antihistamine spray.
Editor's Note:
These materials were made possible by a grant from the state Attorney General Consumer and Prescriber Education Grant Program, which is funded by a multistate settlement of consumer fraud claims regarding the marketing of the prescription drug Neurontin (gabapentin).