Best Decking From Consumer Reports' Tests
Our extensive tests expose aluminum, composite, and wood options to extreme conditions to see which ones hold up for the long haul
When you shop through retailer links on our site, we may earn affiliate commissions. 100% of the fees we collect are used to support our nonprofit mission. Learn more.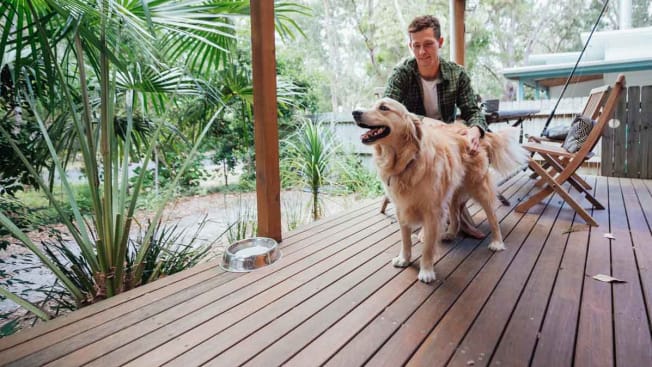 Pretty much any deck will look great when it's brand-new, but how materials hold up over time can vary considerably. A deck built with subpar materials will start showing its age in a year or two. Fast-forward a decade, and a wooden deck that was beautiful that first summer might have warped or cracked wooden boards. Even a composite deck might have a faded finish, or a span that sags between joists.
Historically, most decks were made from wood, such as pressure-treated pine or cedar. But a proliferation of new materials, including aluminum, composites, and vinyl, offer compelling alternatives—any of which might be extra-appealing against the backdrop of an ongoing lumber shortage.
But when it comes to picking a material, play the long game. Rather than making a choice based on short-term availability, consider performance, longevity, and maintenance.
For wood alternatives, we test individual product lines from brands such as Azek, Fiberon, and Trex. With wood, we simply test by species (like yellow pine, cedar, and ipe). Wood of a particular species should perform similarly, regardless of where it's milled or sold.
In our Yonkers, N.Y., test facility, we use specialized instruments to test each decking sample for resistance to flexing, to ensure that boards won't bow or bend if you're entertaining a crowd or if you park a heavy grill in a particular spot all summer long. Next, we size up which materials resist common stains, such as ketchup and mustard, and which offer some slip resistance—extra-important if you're installing a deck near a pool.
We also drop weights of various sizes on the surface of each board to see which samples dent on impact. And we send more than a dozen samples of each material to two areas with extreme climates: hot and dry Arizona, and Florida, where the humidity presents a different challenge to certain materials. We assess those samples yearly for three years, evaluating their appearance and retesting for all the attributes above, to see whether age and exposure to the elements affect overall performance. Wood products are tested without a stain or sealer.
For a look at all the considerations, start with our decking buying guide. CR members can also jump right to our ratings of 20 options, or read on for the very best decking from our tests.
Best Overall Decking Material