When you shop through retailer links on our site, we may earn affiliate commissions. 100% of the fees we collect are used to support our nonprofit mission.
Learn more.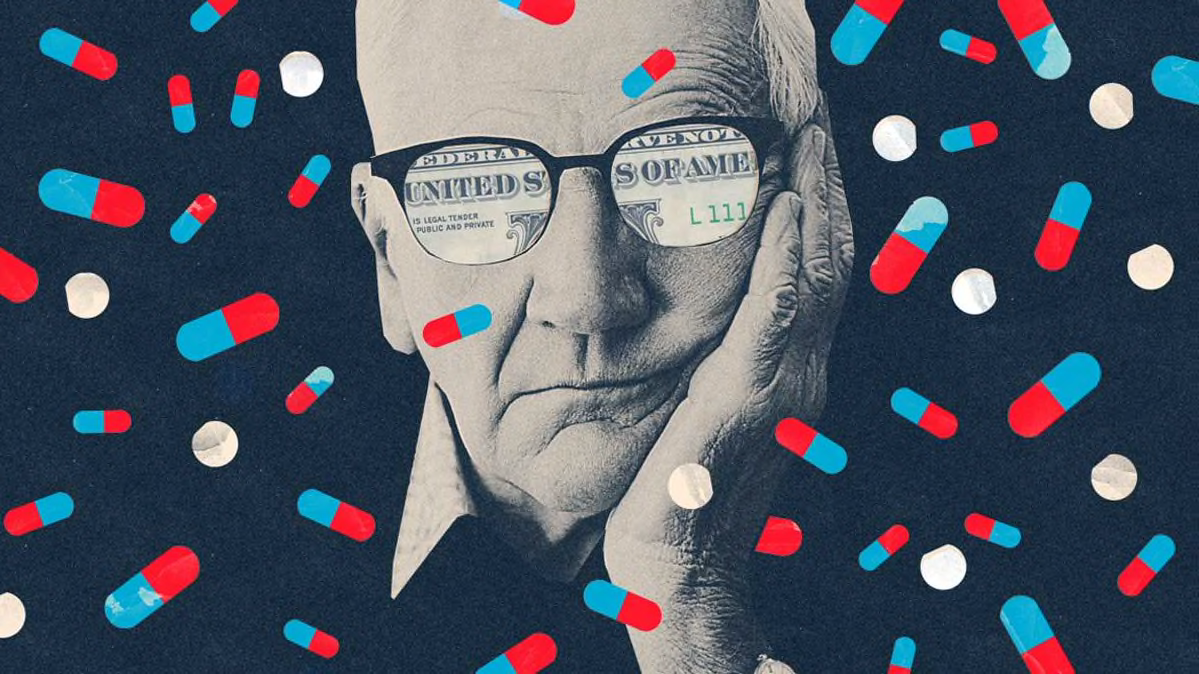 Illustration: Lincoln Agnew
Two people walk into the same Walgreens in Denver to fill their prescriptions, both armed with their Medicare Part D insurance cards. One pays $27, but the other shells out $153—for the exact same drugs.
That might seem unlikely, but it happens all too often, a Consumer Reports analysis suggests.
We investigated what Medicare beneficiaries might pay in 2019 for their prescription drugs in six U.S. cities by comparing three Part D plans identified by Medicare's Plan Finder tool as having the least expensive retail drug costs.
In each city we looked at two pharmacies and checked prices for generic versions of five common drugs: the cholesterol drug atorvastatin (Lipitor), the painkiller celecoxib (Celebrex), the antidepressant duloxetine (Cymbalta), the diabetes drug pioglitazone (Actos), and the blood thinner clopidogrel (Plavix).
We found that what you pay for your drugs can vary by hundreds of dollars. Worse, even small mistakes during the sign-up process—which runs until Dec. 7—can cost you big-time.
Take the Denver example above. Someone filling prescriptions for the five drugs we looked at, plus paying a $16 monthly premium, could pay as little as $524 for a full year. But another person—at the same store with the same prescriptions but a different plan—would pay $1,686.
We found sizable price variations in each of the cities we looked at: Dallas; Denver; Des Moines, Iowa; Pittsburgh; Raleigh, N.C.; and Seattle.
How can that be?
"Plans can basically charge consumers any price they want," says Stephen Buck, an industry consultant, a former executive of drug wholesaler McKesson, and a co-founder of GoodRx, a website that allows consumers to download drug coupons to use in local pharmacies. Plans do this, Buck says, by deciding how well they want to cover a drug—or if at all.
And earlier this year the Centers for Medicare & Medicaid Services gave insurers more flexibility when designing plans as a way to give consumers more options, says CMS spokesman Ray Thorn.
But, Buck says, the various plan options wind up being so complex that they are hard to compare, especially if you take multiple medications—and even if you use Medicare's tool.
Thorn acknowledges as much. "There still is overwhelming confusion among Medicare beneficiaries about their coverage choices," he says, adding that the agency is trying to make its digital tools easier to use.
Difficulty with the sign-up process may tempt you to not enter all the details in the requested fields. Or, if you already have a plan, to not bother checking to see whether last year's plan is still the best for you.
Both are mistakes, says Stephen W. Schondelmeyer, R.Ph., professor of pharmaceutical economics at the University of Minnesota in Minneapolis. He says to review plans every year. "What's the best deal for you might be different this year than it was last year," he says.
Complicated though it may be, using the Medicare.gov tool is still the only way for you—or someone helping you—to compare Medicare plans, says Frederic Riccardi, vice president of client services for the nonprofit Medicare Rights Center, which helps people sign up for plans.
Our analysis also found that in some cases you may be better off not using your insurance and paying cash instead. CR member Fred Hayes of Homer City, Pa., for example, told us that he used a drugstore discount card to get 30 tablets of the muscle relaxant cyclobenzaprine for $13. His Part D plan would have charged him $29.
"We pay entirely too much for medications in this country," says Hayes, sharing a concern echoed by millions of Americans.

What a Difference a (Part D) Plan Makes
How much you pay for prescription drugs—including deductibles, premiums, and copays—can vary dramatically depending on which Medicare plan you choose. Below, we show differences in annual costs among plans we found on the Medicare.gov website in six U.S. cities, for someone taking generic versions of five common drugs.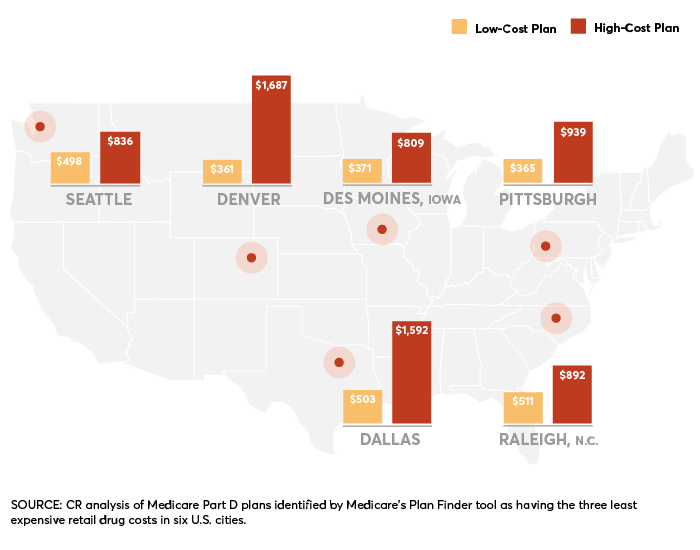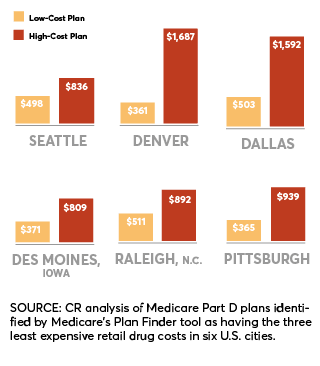 Signing Up for Drug Coverage
Here's our guide to what to consider as you move through the Medicare Part D sign-up process. (See why it's so important to sign up for a Medicare Part D plan, below.)

Note that while our analysis focused on regular Medicare Part D plans, the same advice applies if you enroll in a Medicare Advantage plan, a form of Medicare that provides coverage through a private plan, usually an HMO or a PPO. (To see which form of Medicare is better for you, read "How to Choose the Right Medicare Plan.")
Enter All Your Drugs
That includes all your prescriptions, plus the dosages and the amounts you need every 30 or 90 days. Skipping just one can dramatically change which plan is best.
In Des Moines, when we put in four of our five drugs, the annual drug cost came to $407 through a plan called Cigna-HealthSpring Rx Secure-Essential. When a fifth drug was added, the cost jumped to $2,948—seven times as much—with the same plan.
The problem? The drug we left off, generic Celebrex (celecoxib), is not on the formulary of covered drugs for that plan, so the plan would charge a person $212 each month for the medication.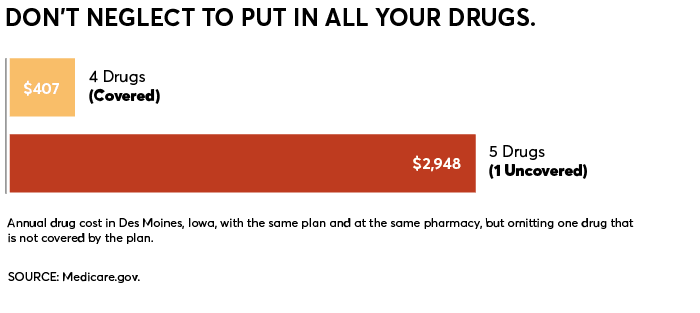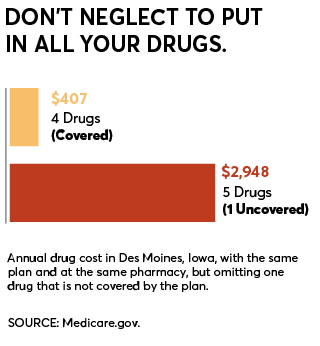 Look Beyond Your Nearest Pharmacy
Once you submit your drug list, you'll be asked to select up to two pharmacies to compare what the plans charge at each. The tendency, Buck says, is to select those that are most convenient. But beware: Prices can differ dramatically among drugstores, even within the same ZIP code.
In Denver, the total cost of our five drugs at independent Cherry Creek Pharmacy is $688 through a SilverScript plan. At a Walgreens about 4 miles away, the same drugs with the same plan cost $1,687, or $999 more.
Why? Because Part D plans typically negotiate special arrangements with certain pharmacies—called "preferred pharmacies"—that let them offer better deals in those stores, according to Adam J. Fein, CEO of Drug Channels Institute, an industry research firm.
Identifying which pharmacies are preferred isn't always easy. To know for certain, you have to scroll to the bottom of the Plan Finder comparison page. But the lowest-cost option in your area will usually be with a preferred pharmacy.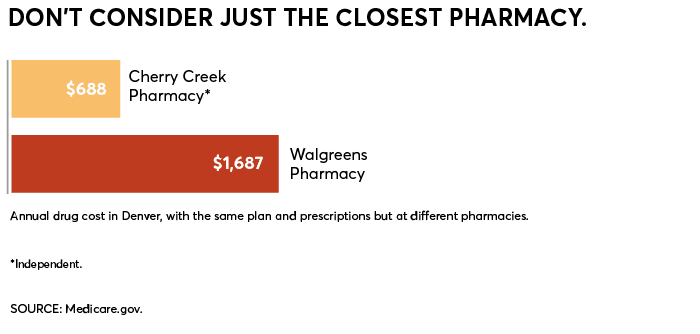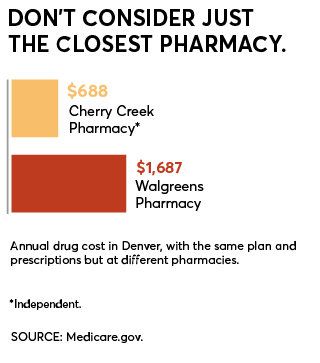 Consider Total Drug Costs, Not Just Premiums and Deductibles
All the plans we looked at had monthly premiums ranging from about $15 to $35 and annual deductibles from $100 to $415. Deductibles can be daunting because you must first pay that amount before insurance kicks in. But focusing just on the deductible may cause you to overlook plans that would cost you less over the long haul because they might have lower copays, or what you pay out of pocket when you pick up your drug.
In Dallas, for example, one plan with a low $100 deductible had the highest total annual costs of the plans we analyzed, at $1,592. By contrast, another plan in the area had a total annual cost of $574, even though it had a $415 deductible.
In each city, there were big ranges among the plans we looked at, after we factored in premiums and copays.
Even in Seattle and Raleigh, which had the smallest differences between the least and most expensive plans that we looked at, consumers could save more than $300 by considering their total annual drug costs (see map, above).
Determine What Goes Toward the 'Doughnut Hole'
In Medicare Part D, when your annual drug costs (not including premiums) reach $3,820, you enter the so-called doughnut hole.
That's a gap in coverage when you have to pay a larger share of your drug costs for the rest of the year: 25 percent for brand-name meds and 37 percent for generics. (Once total drug costs reach $5,100, you are out of the doughnut hole and your costs drop to 5 percent or $3.40 for a generic drug or $8.50 for a branded one, whichever is greater.)
To find out exactly how much of your drug costs go toward the doughnut hole, look at the section of the Plan Finder tool that says "Estimated Full Cost the Plan Charges Medicare for Your Drugs."
Note that because of the complicated ways that plans are designed, the amount shown there can be either more or, in some cases, less than what you pay out of pocket.
For example, in Raleigh, the Humana Walmart Rx plan charges $835 for the year when the prescriptions are filled at Hayes Barton pharmacy, but only $471 is charged to Medicare and counts toward the doughnut hole.
If you want to stay out of the doughnut hole, look for plans in which the total amount spent on drugs stays below $3,820, when the coverage gap kicks in.
In our analysis, which focused on low-cost generics, total costs were never high enough to put someone into the doughnut hole. Reaching it is more likely to happen, Riccardi says, when people take several brand-name drugs or need expensive medication.
See If You Can Save by Paying Cash
In our analysis, we found that our sample drugs were sometimes less expensive using a GoodRx coupon than with insurance.
Take Dallas. Depending on the plan and pharmacy, some people there will pay $47 per month for celecoxib after they meet their $100 deductible. But they can buy it for $16 at a local Tom Thumb pharmacy using a coupon from GoodRx.
In Denver, someone could pay $38.50 for duloxetine (generic Cymbalta) at Walgreens with insurance but only $13.50 with a GoodRx coupon at a Safeway pharmacy.
Paying cash can be especially useful if you add a drug midyear and it's not well-covered by your plan. Ask your pharmacist whether the drugstore offers any discount programs, or check Blink Health or GoodRx.
One downside of paying with cash: The money you spend probably won't be credited toward your deductible.
Also, some people think that because they can buy low-cost drugs through discount programs, they don't need Medicare Part D at all. That's not a good idea; for why, see "Do I Really Need Drug Coverage?" below.
Get Free Help
Choosing a plan is complicated, Riccardi says, so don't hesitate to seek help. Several resources are available.
Call Medicare at 800-633-4227.
All states offer free help through the State Health Insurance Assistance Program. Go to shiptacenter.org or call 877-839-2675.
Contact Medicare Rights at 800-333-4114 or medicarerights.org.
Note that if your annual income is below a certain amount—$18,210 for an individual or $24,690 for a married couple in 2018 (2019 numbers aren't yet available)—you may qualify for extra help from Mediare with drug costs.
Do I Really Need Drug Coverage?
Nearly 13 percent of people who are eligible for Medicare Part D drug coverage—about 7 million Americans—have not signed up.
Some may think the process is too confusing, expensive, or time-consuming. Or they think they simply don't need drug coverage, assuming they will be able to pay for any drugs they need in cash.
That's a mistake for several reasons, says Frederic Riccardi at the nonprofit Medicare Rights Center.
First, while it is possible to buy certain generic drugs for just a few dollars through a variety of discount programs, it's also true that many essential drugs—especially for serious conditions—can be catastrophically expensive. For example, the cash price for a month's supply of Humira, a drug used to treat rheumatoid arthritis, is about $5,000.
In addition, though you might not need an expensive drug when you first sign up for Medicare, you could develop a serious health problem later and need it then.
Finally, if you don't sign up for Part D when you first enroll in Medicare, you can sign up later—but you will pay a steep penalty for doing so.
Medicare charges an additional 1 percent on your monthly premium for each month that goes by when you don't have insurance. So if you go 12 months past your initial enrollment period, you will pay an additional 12 percent on your premium every month for life.
Editor's Note: This article also appeared in the January 2019 issue of Consumer Reports magazine.