When you shop through retailer links on our site, we may earn affiliate commissions. 100% of the fees we collect are used to support our nonprofit mission.
Learn more.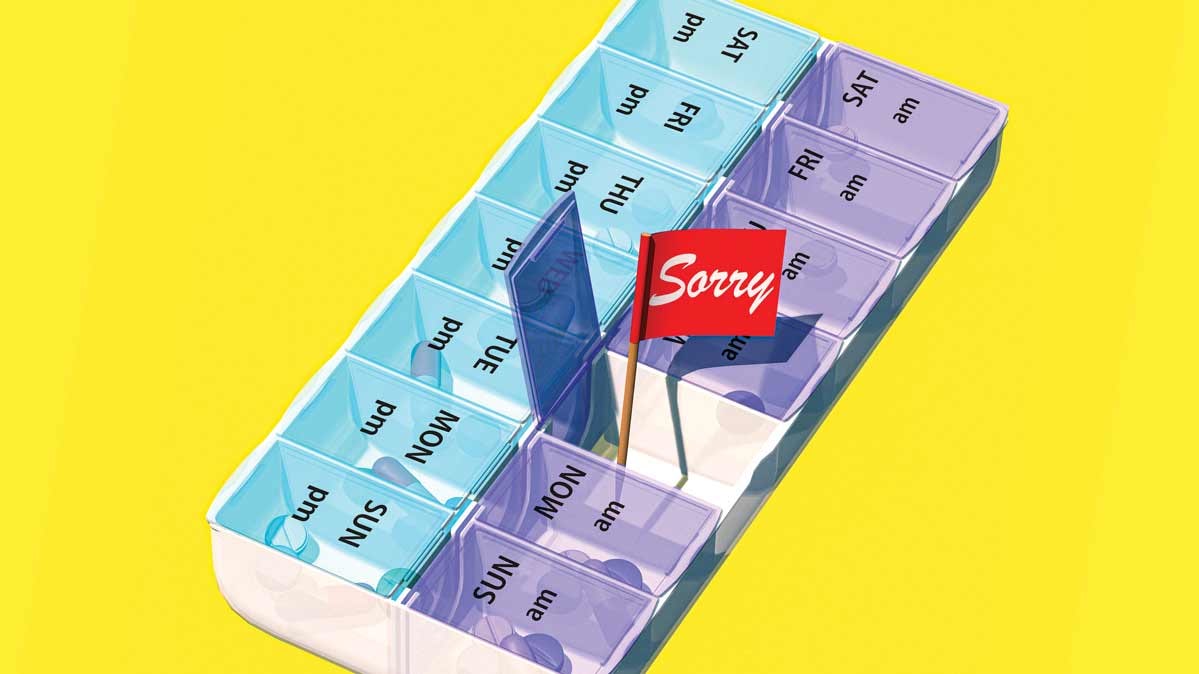 Illustration: Delcan & Co.
Every month for several years, April Flowers filled her 14-year-old daughter's prescription for antiseizure medication expecting to pay nothing once she met her deductible. Then just before Christmas in 2019, her Walgreens pharmacist had shocking news: Her out-of-pocket cost had gone up—to $1,700.
The family, which runs a small citrus business in McAllen, Texas, couldn't manage an astronomical price hike like that for long. And yet the drug was essential. "My daughter must take her medication at the same time every day," Flowers says. "If she misses even one dose, the seizures begin."
After several frantic phone calls, Flowers learned that her insurer had suddenly stopped covering the medication. With her doctor's help—and with just two days' worth of medication left—she applied for and was granted a last-minute exception.
More on Prescription Drugs
It's not uncommon to find out your insurer won't cover a drug you need. In a 2020 national poll by National Public Radio and two other groups, more than a third of people with insurance that covers drugs said they or a household member had experienced that problem in the previous 12 months.
The number of drugs that insurers exclude from coverage has risen significantly over the past nine years, especially the past three, according to Adam Fein, Ph.D., a drug-pricing expert at the Drug Channels Institute, a research firm. As a result, more people, like Flowers, may find that a drug that has long been covered by their insurance no longer is.
The Role Profit Plays
As with many matters having to do with how healthcare is paid for in this country, the reasons drugs are dropped by insurance are complicated.
To start, the formulary—the list of drugs an insurer covers—is decided by middleman companies called pharmacy benefit managers (PBMs) that your insurer contracts with. PBMs generally set formularies in the fall, in time for health insurance open enrollment.
That's why it's important when you renew coverage to see whether your plan will still cover a drug you need. But insurers and PBMs can drop drugs at any point during the year. And while in some cases consumers are given 30 to 60 days' warning, people often report not getting a heads-up, like Flowers.
Consumers are caught in the middle of a profit play. PBMs exclude or threaten to exclude drugs to negotiate better deals from competing drug companies with similar medications. That's because to get on a PBM's formulary, drugmakers offer rebates, says Stacie Dusetzina, Ph.D., an associate professor of health policy at the Vanderbilt University School of Medicine in Nashville, Tenn., who studies drug pricing. If a PBM gets a bigger rebate from one company, it may include that company's drug in its formulary, Dusetzina says.
Dropped Drugs Are on the Rise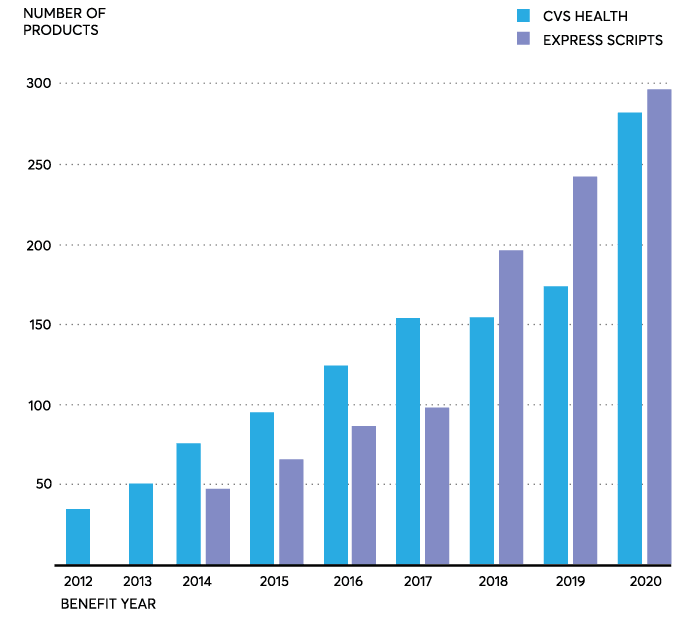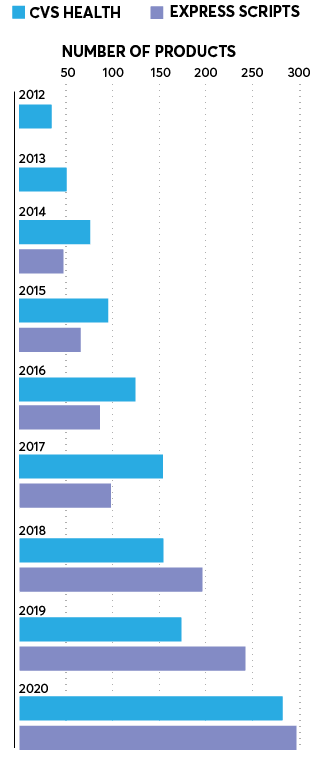 Source: The 2020 Economic Report on U.S. Pharmacies and Pharmacy Benefit Managers, Drug Channels Institute, Exhibit 84. Note that some data have been restated due to midyear additions to exclusion lists. Note: Express Scripts did not publish exclusion lists for 2012 and 2013.
Bait and Switch
Some drug exclusions can save consumers money, such as when a low-cost generic version becomes available and the insurer stops covering the more expensive branded one, Dusetzina says.
But drug exclusions can also leave consumers vulnerable, especially those with chronic conditions, says Aaron Kesselheim, M.D., a professor of medicine at the Harvard Medical School in Boston who studies pharmacoeconomics.
Three in 10 adults said they didn't take a drug as prescribed in the past year because of the cost, according to a 2019 poll by the nonprofit Kaiser Family Foundation. Of those, 3 in 10 said their conditions worsened.
"It's unfair to spring these changes on consumers at the pharmacy counter, especially when a consumer's health is at risk," says Chuck Bell, programs director for advocacy at Consumer Reports. "People sign up for health plans expecting that the drugs they need will be covered. Insurers should be required to honor those promises."
The American Medical Association, which represents doctors, has described midyear formulary changes as a bait and switch. Consumers chose their plan "because their drugs were going to be covered and affordable," the association said as part of a recent campaign critical of PBMs' role in setting prescription drug availability.
Some states have limited midyear formulary changes. Nevada and New Mexico have curtailed the practice, and Texas banned it outright. But similar bills in Florida and New York failed.
As a result, many consumers across the country may still find themselves at the pharmacy counter with a prescription their insurer suddenly won't cover. If that happens to you, here are some steps you can take to get drugs affordably without using insurance or to get your insurer to reconsider its decision.
Enlist Your Pharmacist
Because the process of getting your insurer to reconsider its decision to exclude your drug can be complicated, it's best to start at the pharmacy counter. The pharmacist may clear up confusion about what caused the plan to reject your drug, or help you get your drug at a price you can afford.
• Make sure the pharmacy has your up-to-date insurance information. Sometimes claims are denied simply because the drugstore computer system has old insurance information for you, says Brian Caswell, Pharm.D., owner of Wolkar Drug in Baxter Springs, Kan., and president of the National Community Pharmacists Association, which represents independent pharmacies. So take your insurance card and make sure the pharmacy has current information, he says.
Also make sure that another pharmacy doesn't have a duplicate prescription for you, as can happen when you're transferring prescriptions from one pharmacy to another, and that any drug discount coupons you used in the past are deleted. Either situation could lead to claim denial.
• Confirm that the drugstore is in your insurer's network. Most health plans, including Medicare Part D plans, encourage you to use a specific network of pharmacies to fill prescriptions. If you go outside that network, your insurer may require you to pay more, or all, of the cost, Caswell says. Note that an insurer's list of in-network pharmacies can change at the beginning of each year, so check when you renew your plan each year.
• See whether you must use mail order. About a quarter of plans require you to fill certain prescriptions through mail-order pharmacies, according to the Pharmacy Benefit Management Institute, an industry research group. So if your drug suddenly went up in price or stopped being covered, check to see whether coverage would be better through mail order.
• Look into whether you can get your preferred drug at a better price without your insurance. That's possible more often than you may think, especially if discounts are available. Websites such as Blink Health, GoodRx, and RxSaver are good resources for discount coupons.
If you can't find a coupon for your medication, ask the pharmacist what the lowest cash price he or she can offer is. Independent pharmacies in particular have more leeway than bigger chain pharmacies to negotiate, Caswell says.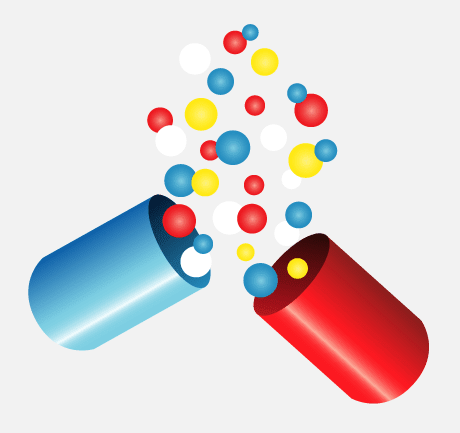 SPECIAL CASE:
You Prefer a Time-Release Drug
Sometimes insurance drug formularies exclude certain versions of particular medications. For example, in its 2020 formulary Express Scripts said it would not cover a branded, extended-release version of Lyrica, a drug used to treat pain from diabetes and other ailments, which allows a patient to medicate just once a day. But it would cover pregabalin (the generic version of Lyrica), which requires a patient to take the pills multiple times a day.
Insurers typically make this change because it helps them save money; the original version costs much less than the newer one, says Stacie Dusetzina, Ph.D., who researches drug pricing at Vanderbilt University School of Medicine in Nashville, Tenn.
What to do: Before you ask your insurer for an exception allowing you to stick with the extended-release version, talk with your doctor about whether the standard version could work for you. Using strategies such as pill timers and pillboxes can make it easier to track when you need to take your medication.
Appeal to Your Insurer
If the above steps fail to make the price of your preferred medication affordable, it's worth trying to get your insurer to cover your drug. Here's how.
• Request an exception. The first step is to ask your insurer to help cover the cost of a drug that's not on the formulary. It's best that your doctor, not you, make the request, to establish the medical need and ensure that key health information—such as your diagnosis, other treatments tried, and why they were stopped—is included.
In some cases, your doctor may have already been notified by your insurer that a drug was dropped, and provided information about how to file an exception request, says Trey Hollern, a spokesperson for CVS Health, the largest PBM in the U.S. If your doctor doesn't have the information, he or she should contact the insurer for details.
Hollern recommends that your doctor request an expedited review if you need an answer within 72 hours.
If your drug coverage is through Medicare Part D, answers to exception requests typically come within 72 hours, according to Medicare Rights, an organization that helps seniors find and use Medicare plans. If you need it faster, ask for an expedited review. And with these plans, your doctor might not need to submit any paperwork and might be able to at least start by simply making the case over the phone.
If you have an Affordable Care Act plan purchased through HealthCare.gov or from your state, you can first ask your insurer for a one-time refill, which will give you time to enlist your doctor's help to request an exception.
• Consider hiring a patient advocate. If you need help navigating the appeals process and can afford it, you could consider hiring a professional for help.
One option is a patient advocate, a professional trained in helping consumers deal with insurers and healthcare providers. Patient advocates' fees can start around $125 per hour, according to Trisha Torrey, founder of the Alliance of Professional Health Advocates.
You can find patient advocates in your area on the APHA's website. Then confirm that the advocate is certified by searching on the Patient Advocate Certification Board's certificant list.
If you have an ACA plan, you can also use a health insurance agent or broker who works with marketplace plans. Find one in your area by going to localhelp.healthcare.gov. Some but not all may be free, so be sure to ask about cost.
• Contact your employer. If you don't get immediate traction with the insurance company, your employer's human resources department may be able to help.
That's especially true if your employer self-insures, meaning it pays its employees' healthcare costs with its own money and contracts with an insurer to perform administrative functions. About 60 percent of U.S. workers with employer insurance are in self-insured plans.
Those employers have more leeway in determining individual coverage decisions, says Adam Brackemyre, vice president of state government relations at the Self-Insurance Institute of America, which represents employers that self-insure.
The best-case scenario: Your HR plan administrator approves your coverage or works with your company's insurance broker to get approval.
That's what finally worked for April Flowers, who had to pay more for her daughter's seizure drug after her insurer dropped it.
• File a formal appeal. If your insurance company denies your request for an exception, you can file a formal appeal, first to the insurance company and, if that fails, to an external review board.
In both cases, your doctor should again take the lead, providing even more detailed information about your medical history and why you need this specific drug, says Dianne Savastano, founder of Healthassist, a company that helps consumers navigate the healthcare system.
The Patient Advocate Foundation, which helps consumers with health insurance problems, recommends that you and your doctor include any medical studies or other documents that establish the need for your requested drug.
An appeal made to your insurer takes up to a week for Medicare Part D plans and up to 30 days for an ACA plan or most employer plans. In all cases, you can ask for an expedited review if your medical situation is serious.
For ACA plans, some states offer help with the formal appeal process through a consumer assistance program. To find one, go to the Centers for Medicare & Medicaid Services's Consumer Assistance Program page. And for Medicare Part D plans, contact your state's Health Insurance Assistance Program (800-633-4227).
If that appeal to your insurer fails, you can ask for a review with an external review board. By law, your insurer must provide information on how to take this step, Savastano says.
Certain employers who self-insure don't have to offer these appeals, though yours might—be sure to ask. The decision on whether to grant an exception can be influenced by the employer, so the Patient Advocate Foundation suggests that your appeal go directly to senior leadership.
If you have a Medicare Part D plan and your previous requests for exceptions have been denied, it's time to file for something called a "redetermination." Your plan should provide instructions on how to do this. A standard redetermination takes up to seven days; an expedited one, 72 hours.
If that doesn't work, you have several more options. First, appeal to an independent review board, then to the Office of Medicare Hearings and Appeals (if your drug costs $170 or more). Next, try the Medicare Appeals Council, then, finally, appeal to the U.S. District Court in your area (if your drug costs at least $1,670). Medicare Rights suggests getting legal help for any appeal after the independent review board.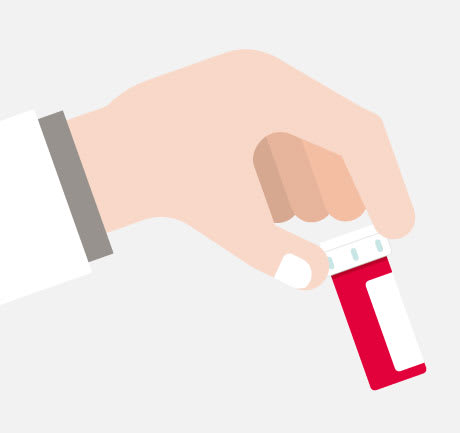 SPECIAL CASE:
You're Asked to Try Another Drug First
Before an insurer agrees to cover a newer and more expensive version of a drug, it sometimes requires that you try an older medication first. This is called "step therapy" in insurance lingo, and one example involves medications called TNF blockers, used to treat rheumatoid arthritis.
These drugs, which include Cimzia, Humira, and Simponi, are typically injected and can cost more than $4,000 per month. Before agreeing to pay for them, insurers might require patients to see whether an older drug called methotrexate—which costs under $20 per month—works well enough.
What to do: If you've recently received a diagnosis, talk with your doctor to see whether the older treatment makes sense in your case, says Aaron Kesselheim, M.D., professor of medicine at Harvard Medical School in Boston.
If you switch plans during open enrollment, your new insurer might ask you to try step therapy even if you've already tried and failed with the drug in the past. If that happens, you and your doctor should appeal to the insurer to allow you to stay on the newer drug.
Search for Financial Aid
If you've exhausted all the ways of getting your insurer to cover your drug, you may be able to get it at a reduced cost. But these are generally steps to take as a last resort, in part because they typically don't provide a long-term solution.
• Search for prescription assistance programs. These are special programs that offer low-cost drugs based on income levels and other criteria. They're run or funded by drug companies. These programs may limit how many prescriptions you can fill, or have expiration dates. And there's no guarantee that the program will remain in place for as long as you need it, says Rich Sagall, M.D., president of NeedyMeds, a nonprofit that connects consumers to drug and healthcare affordability programs.
To find a patient assistance program, go to needymeds.org or another nonprofit service, at rxassist.org.
• Consider a charitable pharmacy. There are about 50 such pharmacies and nearly 700 charitable clinics with on-site pharmacies in the U.S., often run by charities such as the Society of St. Vincent de Paul, which offer low-cost or free drugs to people in need.
Some require information about your income or insurance status. To look for charitable clinics, go to the National Association of Free & Charitable Clinics.
—Additional reporting by Donna Rosato
Editor's Note: This article also appeared in the August 2020 issue of Consumer Reports magazine.