When you shop through retailer links on our site, we may earn affiliate commissions. 100% of the fees we collect are used to support our nonprofit mission.
Learn more.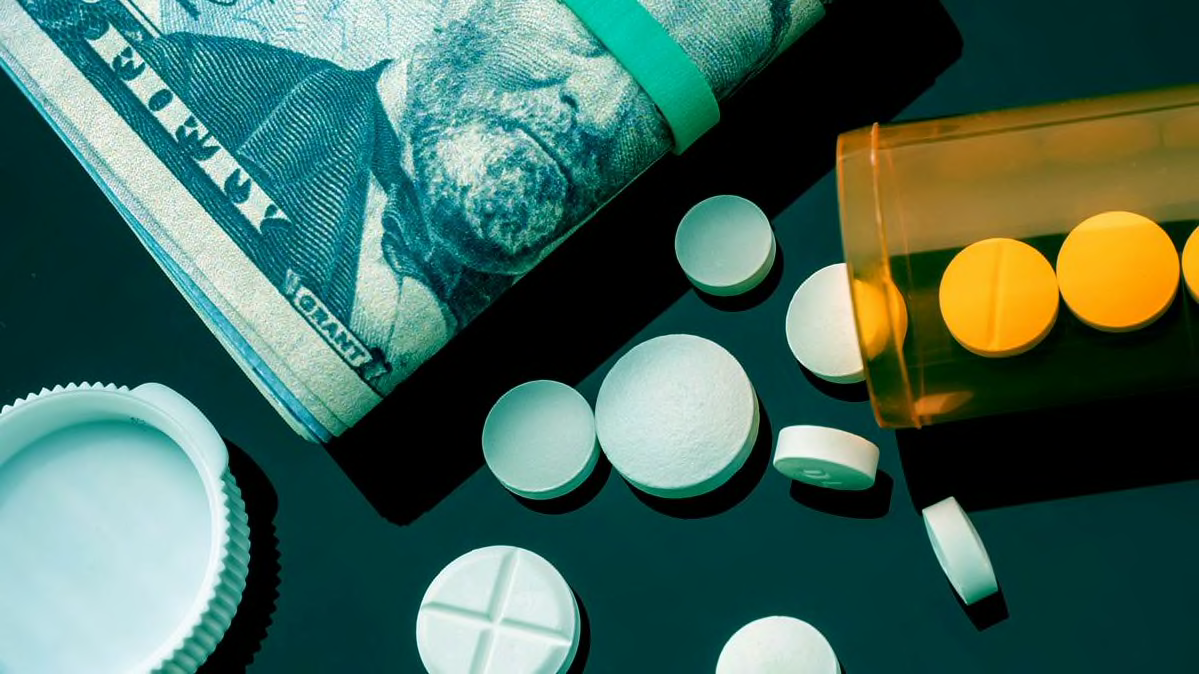 Update: A federal court on July 8 ruled against President Trump's mandate that drug manufacturers must show the price of their drug in any TV ad. Drug companies Amgen, Eli Lilly, and Merck sued in June to stop the rule from going into effect. (This article was first published July 3.)

Starting next week, the drug ads you see on TV will have to include not just the familiar list of possible side effects but also the price of that medication. That's when a new mandate from President Donald Trump's administration to include that information goes into effect.
"American patients deserve to know the prices of the healthcare they receive," said Health and Human Services Secretary Alex Azar in May when the rule was finalized.
The new rule is part of a larger effort by Trump to increase price transparency in healthcare and to control costs. Last week, Trump signed a new executive order that would require hospitals to make the "cash price" of a medical service or procedure available to a consumer beforehand in an easy-to-read format. And last October, he signed bills that ended the "gag clauses" in pharmacy contracts that prohibited pharmacists from offering a consumer a lower cash price when it was cheaper than their insurance.
"Patients who are struggling with high drug costs are in that position because of the high list prices that drug companies set," Azar said. "Making those prices more transparent is a significant step in President Trump's efforts to reform our prescription drug markets and put patients in charge of their own healthcare."
More on Saving Money on Your Meds
Some companies have already embraced the idea, including Johnson & Johnson.
In March, it began to include both the "list price"—or full price of a drug and the out-of-pocket costs a consumer could expect to pay with insurance for their most-advertised drug, Xarelto, which is used to prevent blood clots. In April, ads for two other drugs—Tremfya and Stelar—began directing consumers to visit the websites of each drug for more on pricing information. "We heard from more than 2,200 consumers and patients that including list price and typical out-of-pocket costs would be helpful and informative," Johnson & Johnson told CR. "Ultimately, we wanted to provide a simple way to show what most patients pay for their medicines at the pharmacy counter—which is often very different from the list price."
But some other companies chose to fight the mandate. In June, three pharmaceutical manufacturers—Merck, Eli Lilly, and Amgen—sued HHS in federal court to stop the rule from going into effect. In a statement released by Merck about the lawsuit, it noted, "We believe the new requirements may cause patients to decide not to seek treatment because of their perception that they cannot afford their medications, when in fact many patients do not pay anything near list price."
Eli Lilly and Amgen did not respond to requests for comment.
Some experts say showing the price of a drug overlooks other problems. "It doesn't tell you anything about alternative treatments that might be more affordable," says Stacie Dusetzina, Ph.D., associate professor of health policy at Vanderbilt University School of Medicine, who studies drug prices and last week spoke at the Aspen IDEAS Festival on the problem of high drug costs.
And, showing the price may not affect drug prices overall, since the new mandate applies to drugs advertised on TV, which is around just 50 drugs in June, according to Kantar Media, a firm that tracks television advertising. Dusetzina says that it could also be misleading because "TV ads won't give most people an accurate idea about how much they will pay if they are using their insurance."
While it's still unclear if including prices will ultimately lead to lower drug costs, some Americans currently do have to pay the full price for their drugs, or close to it, depending on their health insurance. Here are the situations where that happens, and what you can do about it.
If You Have a High Deductible
For the 47 percent of Americans with a health insurance plan that requires them to pay a minimum of $1,300 out of pocket for an individual and $2,600 for a family before their benefits kick in—often considered a "high deductible plan"—showing how much a drug will cost is important because "the price they'll see in ads essentially is the price, until they hit their deductible," Azar says.
Even if you don't have a high-deductible plan you still may have to fork over some cash before your insurance benefits take effect. A 2018 survey of employers by the Pharmacy Benefits Management Institute, an industry group that tracks prescription drug coverage trends, found that 44 percent of employer-provided health plans have some kind of deductible for their medication; the average for a single person was $408, and $1,023 for a family.
And a quarter of employers said that next year they're considering increasing their drug deductible or adding one if they don't already have it.
If You Have Co-Insurance
In some cases, even if you don't have a deductible or have already met it, you may also need to pay a portion of the drug's cost. About 38 percent of people with insurance through their employer have this kind of co-insurance, according to the PBMI.
"Paying the full list price or a percentage of the list price has become more common on health plans over time," Dusetzina says. And worse for the consumer is that "co-insurance is often used for drugs with high list prices."
On average, people with co-insurance have to pay 33 percent of the cost of brand-name drugs and 16 percent of the cost of generic drugs, according to the PBMI.
Knowing ahead of time what the list price of a drug is could help you budget your money before you head to the pharmacy counter to fill a prescription. A 2017 Consumer Reports nationally representative survey of 1,200 adults who were taking a prescription drug found that of those who experienced an increase in the cost of their drug, one-third of people chose to not fill the prescription.
If Your Drug Is Not Covered
Scary as it sounds, this scenario seems increasingly common; 69 percent of employers surveyed by the PBMI said they don't cover certain drugs. In some cases, that included several drugs used to treat diabetes, heartburn, high cholesterol, asthma, and depression. You may not learn about a coverage change until you try to fill your prescription.
For consumers, this could mean that even with insurance, you may have to pay the full price of a drug out of pocket. In CR's survey, 9 percent of people said that their insurance stopped covering their drug, so their out-of-piocket costs increased.
Ways to Save Money on Your Meds
If you find yourself in any of those situations, here's some advice on how to control costs and shop around.
Don't rely on drug advertising. It's not a good way to learn about new treatments, says Dena Mendelsohn, senior policy counsel at CR. "Those who find themselves footing the bill for their drugs should keep in mind that these ads usually promote the newest and most expensive drug. High sticker prices do not mean better results," she says.
Raise the issue of cost with your doctor or pharmacist. That's because some doctors may not raise the issue, so it could be up to you. A survey of more than 600 internal medicine physicians by the American College of Physicians, published in the Archives of Internal Medicine in May, found that nearly a third said there were instances in the past year when they wanted to discuss out-of-pocket prescription drug costs, but did not. So be your own advocate and bring up the issue of cost yourself.
If a drug is too pricey, ask if there is an alternative. It is a good idea to ask your doctor or pharmacist about treatment options to make sure you are getting the best treatment at the best price, Dusetzina says.
Drug ads don't tell you the balance between the benefits of the drug and its risk of side effects, says Steve Woloshin, M.D., at the Center for Medicine and Media at the Dartmouth Institute, who has studied drug advertising. "So you can't decide whether or not it's worth spending a certain amount of dollars, unless you know what you're getting for that money," he says.
Best thing to do is ask your doctor about how well other treatments stack up against the one you're considering. "Consumers should talk with their providers about whether the treatment is appropriate for them, the effectiveness of that drug and any downsides, and explore whether there are lower-cost comparable alternatives," says CR's Mendelsohn.
If you must pay the full price of a drug, shop around. That's because the price of the same drug can vary dramatically among pharmacies even in the same city. CR secret shoppers called more than 150 pharmacies in six cities around the U.S. asking for their retail cash prices for a one-month supply of five commonly prescribed drugs.
Shoppers found they could get a month's supply of 20 mg of generic Lipitor (atorvastatin) at CVS/Target for $270 or for $16 at Costco. And even less expensive was ordering online at Healthwarehouse.com for just $12.
Shoppers found, too, that when they asked pharmacists for any in-store discounts or if they asked about using coupons from GoodRx or Blink Health, they could get bigger savings. (Read more about how to shop around for prescription drugs.)