When you shop through retailer links on our site, we may earn affiliate commissions. 100% of the fees we collect are used to support our nonprofit mission.
Learn more.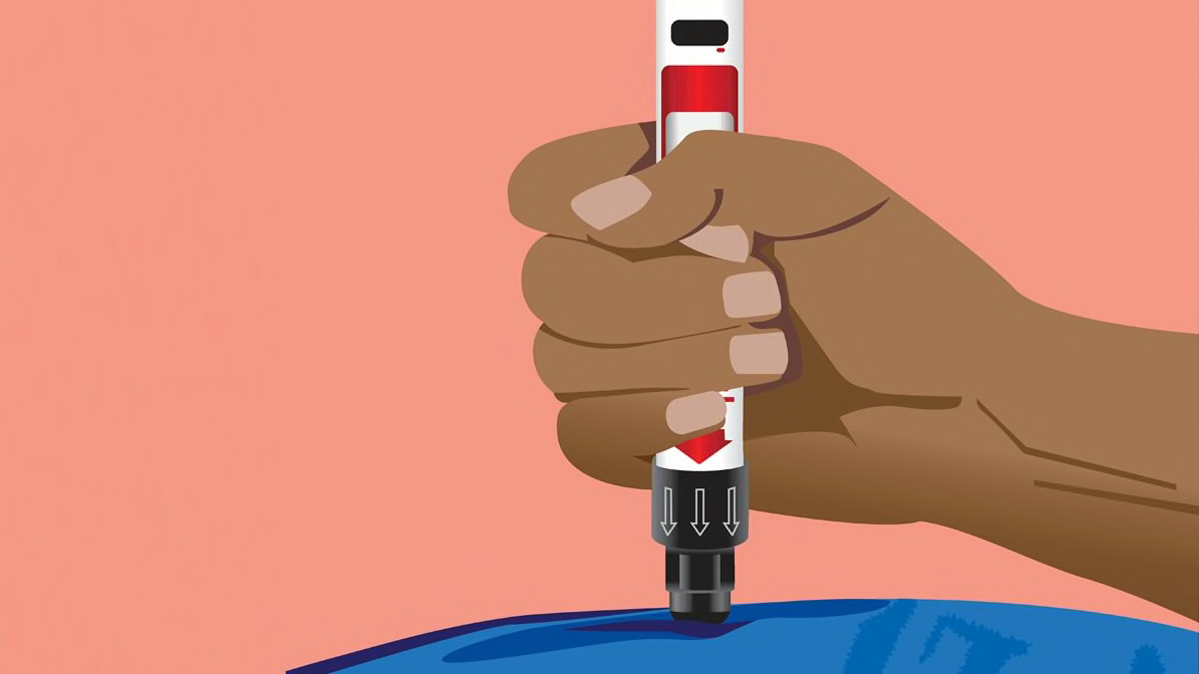 As parents scramble to find auto-injectors for kids with serious allergies who are heading off to summer camp or, soon, back to school, the best known product, EpiPen, remains in short supply. That's also true for the generic EpiPen, made by the same company, Mylan. But two recent developments may help shoppers find other options, which could be more affordable.
Last week, the drug maker Novartis announced the release of Symjepi, a new type of epinephrine injector. Soon after, Walgreens said it now carries the full line of a different epinephrine auto-injector, called Auvi-Q, at no cost to consumers who have commercial insurance. And the manufacturer of that injector, Kaelo, said it would ship the product to other consumers, also at no cost, who aren't near a Walgreens.
The developments are good news for consumers. That's because widespread manufacturing problems still plague the branded and generic versions of the EpiPen, causing ongoing shortages at pharmacies across the U.S., according to Nathan Arnold, a spokesperson for the Food and Drug Administration. Last week's announcements mean consumers will have several other good options when shopping for an epinephrine injector.
EpiPens Are Still Tough to Find
Angela Jamieson, an Arlington, Va., resident who needs to keep an EpiPen with her in case she gets stung by a bee, says that earlier this year "it was almost impossible" to find a pharmacy that could fill her prescription for a generic EpiPen.
Lauren Kashtan, spokesperson for Mylan, says its supplier "continues to experience manufacturing challenges" that could limit supplies of both its branded and generic products through the summer.
The problem reached such a critical point that last August Mylan and Pfizer, along with the FDA, announced that consumers could keep some products four months longer than the expiration date listed on the injector. (See the new schedule). The FDA says its data shows generic and branded EpiPens remain stable for four months after the expiration date.
Costco, CVS, Healthwarehouse.com, and Walgreens all confirmed to Consumer Reports that EpiPens and their generic version are still either on back order or in short supply.
As a result, CVS spokesperson Michael DeAngelis says that its pharmacies have ordered other epinephrine products to shore up inventory.
And Vic Curtis, vice president of pharmacy at Costco, says that while generic EpiPens are still available, the chain can no longer even order branded EpiPens. So he says consumers should allow for extra time when they fill prescriptions for these products.
Joseph Peters, CEO of HealthWarehouse.com, says the online retailer still does receive some EpiPens and their generic version each week. But it's first come, first served, he says. So check with HealthWarehouse customer service (800-748-7001 or support@healthwarehouse.com) to confirm that it has the product in stock before you order.
Here's a closer look at the options and deals you might find for you or your family when looking to fill an epinephrine auto-injector.
EpiPen: Branded and Generic
EpiPens release the drug epinephrine during a life-threatening allergic reaction. To use one, a person places it on the side of his or her thigh and clicks a button, triggering a syringe that automatically injects the drug.
Retail price (without insurance): EpiPen (0.3 mg), about $650; generic EpiPen (0.15 mg), about $350.
Discounts and coupons: For branded EpiPens, Mylan offers an Access and Savings Program, which covers up to $300 of a patient's out-of-pocket costs for up to three two-packs per coupon. But the program is available only to people with commercial insurance, not those with any type of government-funded health insurance, including Medicare Part D, Medicaid, or coverage through the military or Veterans Affairs. Other restrictions may apply.
For Mylan's generic EpiPen, the company offers a $25 savings card for people who have commercial insurance. Similar restrictions apply.
If you don't have commercial insurance of if you are paying entirely out of pocket, check out GoodRx, a website that offers discount drug coupons you can use at some pharmacies. We were able to find a generic EpiPen two-pack for $123 at Walmart and $125 at Rite Aid. The price may vary based on where you live.
And if you don't have insurance at all or very limited drug coverage through a commercial plan, and your annual income is below $104,000, Mylan offers a patient assistance program [PDF]. You'll need the help of your prescribing physician to fill out the form, and have tax documents to prove your income. Note: This process could take several days, or possibly longer, once you submit all the required paperwork.
Availability: If you can't find an EpiPen or its generic nearby, try calling Mylan's consumer hotline (800-796-9526, 8 a.m. to 7 p.m. Eastern time Monday through Friday). That's what Jamison, in Virgina, said she did. The company representative was able to locate a generic EpiPen at another nearby pharmacy.
Auvi-Q
The Auvi-Q, made by Kaleo, is similar to the EpiPen, in that it is an auto-injector triggered by pressing a button. But it has some differences. Notably, it has a step-by-step voice instruction to help a person through the injection process, says Michael Frei, a spokesperson for Walgreens.
Note that unless you get a doctor's approval, your pharmacist won't be able to substitute it for the EpiPen. To make getting the prescription filled easier, ask your doctor to write it for an "epinephrine injector" and to not specify a brand name.
Retail price (without insurance): about $4,900.
Discounts and coupons: Despite a very high retail price, Caryn Durham, a spokesperson for Kaleo, says the company's focus is on what the patient pays. So the company has partnered with Walgreens to offer Auvi-Q at no cost to people with commercial insurance—even for those with a high-deductible insurance plan. But those with Medicare Part D or any other government insurance don't qualify.
If you have commercial insurance but can't get to a Walgreens, Kaleo will ship you the auto-injector, at no cost to you. Fill out Kaleo's form [PDF] with the help of your physician. Note: This process could take several days.
If you don't have any insurance and your annual annual income is less than $100,000, you can also obtain Auvi-Q at no cost through the company's patient assistance program [PDF], Durham says.
Availability: Walgreens says all its stores now carry all doses of Auvi-Q, including the 0.1 mg dose Auvi-Q for infants and toddlers.

Generic Adrenaclick
This is another epinephrine auto-injector similar to EpiPen, though to use it you must remove two caps instead of one.
Retail price (without insurance): about $270.
Discounts and programs: For those paying the full price, CVS and Target sell generic Adrenaclick for $109, no coupon required. Generic Adrenaclick's manufacturer, Impax Laboratories, offers those with commercial insurance a $25 discount copay coupon [PDF] that can be used at any pharmacy. That same $25 coupon can also be used by those without any insurance or who are paying full price in cash. People who have coverage from Medicare Part D plans, VA plans, or other government insurance don't qualify for the discount.
Availability: The concern over ongoing shortages of other epinephrine injectors prompted the FDA and Impax Laboratories last October to extend the expiration date on certain lots of the product by two months. See the FDA's list to see whether yours is among them.
CVS has extra generic Adrenaclick on hand, DeAngelis says. Costco's Curtis says that if the pharmacy doesn't have generic Adrenaclick in stock, the pharmacy can order it to be delivered in a day or two.
Symjepi
Symjepi is not considered an auto-injector like EpiPens or others on this list. Instead, users manually inject themselves. That distinction is important to know not just when you use the device but also when you get a prescription. That's because if your doctor writes a prescription for an auto-injector, your pharmacist won't be able to substitute with this product without first checking with your physician. So for the most flexibility in filling your prescription, ask your doctor for a prescription that says "epinephrine injector" and that does not specify a brand name, says Allison Schneider, a spokesperson for Novartis, the drug's manufacturer.
Retail price (without insurance): about $250.
Discounts and coupons: Novartis offers a Symjepi Savings Program, which allows people with commercial insurance to pay as little as a $0 copay for claims up to $300 per month and a maximum of $1,000 per year. Those with Medicare Part D, Medicaid, insurance through the VA, or any other government program can't participate.
Those without insurance can receive a coupon from Novartis for $100 off.
Availability: Symjepi is now widely available in U.S. pharmacies, Schneider says. But some major retailers, including Costco and Walgreens, say they don't typically stock it, so you'll need to call ahead if you want to purchase it.
Shopping, Storage, and Use Tips
Ask for an Rx without a brand name. Given that inventory of EpiPens and other epinephrine injectors is so spotty, give yourself greater flexibility by asking your healthcare provider for a prescription that doesn't specify a brand name.

Call around before you buy. Retail pharmacies emphasized to CR that store inventories vary, so call ahead to make sure they have the epinephrine injector you want.

Ask for deals and discounts. All of the products we highlight have manufacturer coupons or other deals that can lower your costs if you have commercial insurance or if you aren't using insurance and paying entirely in cash. And it's always a good idea to ask for the lowest possible price on any medication because it can prompt the pharmacist to make sure you're getting any available coupons or discounts.

Store your injector properly. Keeping the injector at room temperature or cooler will ensure that it has the longest shelf life possible. When storing the device at home, keep it in a dry, dark place. If your child is storing the device at school, ask the nurse to keep it. Many schools have special storage areas for medications to ensure their efficacy.

Don't use discolored medication. The FDA says, if necessary, it is okay to use EpiPens and generic Adrenaclick beyond their expiration dates. But do so only if the liquid is clear. If the epinephrine liquid is cloudy, pink, or brown (rather than colorless), or if it contains particles, it can mean the product has decayed and is unsafe.

Editor's note: This article, originally published on July 16, was updated to clarify that last August the FDA extended the expiration date on some branded and generic EpiPens.