When you shop through retailer links on our site, we may earn affiliate commissions. 100% of the fees we collect are used to support our nonprofit mission.
Learn more.
With age comes experience, wisdom . . . and a lot of medication: A Consumer Reports Best Buy Drugs national telephone poll found that three-quarters of Americans 65 and older currently take an average of six prescription drugs. (By comparison, only half of people younger than 65 regularly use medication, and when they do, they take about four drugs on average.) Despite having insurance coverage such as Medicare, our poll also found that one-third of people 65 and older experienced cost hikes in the previous 12 months and paid an average of $53 more for at least one of their drugs—though others may have increased as well.
The perfect storm of taking more medications, having them spike in price, and living on fixed incomes means that seniors especially feel the price pain, says Joe Baker, president of the Medicare Rights Center, a nonprofit organization that provides information and assistance to people with Medicare. "Even with Medicare, many people wind up paying substantial out-of-pocket costs," he says. "We hear stories about people mortgaging their house just to afford their medications."

Insurance is Charging You More
Seniors with Medicare coverage for medication have another worry: hitting the "doughnut hole," an odd accounting system that tallies how much money the person and the plan spend together.
In 2016 a senior would hit the doughnut hole if she and her plan together spent $3,310. Once that happens, all of her drugs switch to a complex "cost sharing" formula. She'll pay 45 percent of a discounted price for branded drugs, or 58 percent for generics. Her costs won't drop back down until she's out of the "hole," when spending reaches $4,850. Fortunately, the coverage gap is gradually narrowing and will be closed by 2020.
Insurers are also passing on the rising cost of garden-variety drugs to Medicare patients. For example, Judy Robbins, 75, of Boston, Massachusetts says her costs for Elmiron, a drug she has taken for bladder pain for many years, shot up from $95 for a three-month supply in November, 2015 to $335 in February, 2016. "I called the insurance company to ask what's going on," says Robbins. "They told me that I'm still paying the same percentage of the cost—about half—but that the price of the drug had risen to over $600." Robbins says that she has now cut back on how much of the drug she takes to stretch her supply.
Expensive drugs are another concern because Medicare usually covers them differently. In 2016, drugs to treat hepatitis C, multiple sclerosis, rheumatoid arthritis, and cancer, for example, can cost a person on Medicare $4,000 to $12,000 for one drug alone, according to the Kaiser Family Foundation, a group that tracks insurance plans.
"These rising prices quickly become overwhelming when people take multiple drugs or take them for chronic conditions, meaning that they will need them for the rest of their lives," says Baker.
Even for garden-variety drugs, research shows that coverage varies dramatically. For example, out-of-pocket costs for 10 commonly prescribed brand-name medications were up to 14 times higher with certain Medicare plans than with others, according to the Kaiser Family Foundation study.
Avoid the problem by scrutinizing your plan during open enrollment, Oct. 15 to Dec. 7, 2016. Says Baker: "Look beyond the premium to see how well a plan covers your particular health conditions and medications."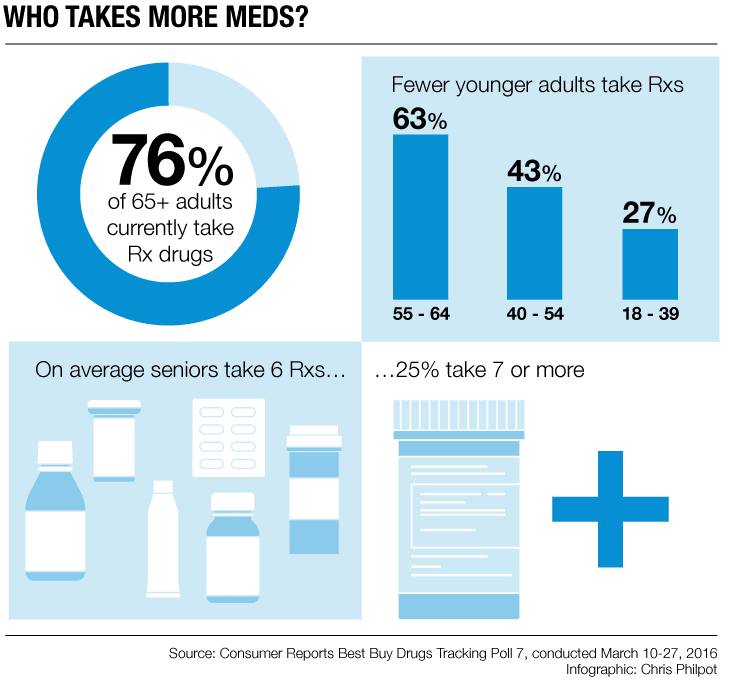 More on High Drug Prices
The Way To Save On Your Prescription Drugs: Speak Up
Editor's Note: This article also appeared in the August 2016 issue of Consumer Reports magazine.
Funding for the preparation of this article was provided in part by the Atlantic Philanthropies and by a grant from the state Attorney General Consumer and Prescriber Education Grant Program, which is funded by the multistate settlement of consumerfraud claims regarding the marketing of the prescription drug Neurontin (gabapentin).