When you shop through retailer links on our site, we may earn affiliate commissions. 100% of the fees we collect are used to support our nonprofit mission.
Learn more.
Familiarity is part of the appeal of fast food franchises—you always know exactly what you're going to get. Surprisingly, what works well for cheap burgers holds true for pricey luxury sedans. Drive almost any current Mercedes sedan—from the small C-Class to the lofty S-Class—and the same qualities of ride comfort, solidity, agility, and quietness shine through. Redesigned for 2017, the E-Class upholds family virtues while making some concessions to modern influences.
Mercedes-Benz has a lot on the line with this next-generation car, given that the E-Class is the brand's top-selling sedan and the best seller in its class. Following its bookend siblings, the E-Class' new styling is more curvaceous, losing some of the more rectilinear sharpness of its 2010-16 predecessor. Unfortunately, it also sacrifices the terrarium-like outward views that the previous car enjoyed, due to smaller windows and roof pillars that intrude more into your sight lines.
Then again, the stunning cabin does everything possible to draw your attention inward. Stretches of padded and stitched panels are punctuated by expanses of glossy wood and Steampunk-inspired vents. Inside the glove compartment is a perfume dispenser, keeping the cabin smelling fancy. (Our car's scent: Freeside Mood.) At this price point, Mercedes tops the charts when it comes to cabin ambiance and quality.
But something more insidious inside also draws your attention away from the road. Each new version of Mercedes' Comandinfotainment system grows more cumbersome, overwrought, and bewildering. Finding what you want is a distracting maze. And adjusting lumbar support through the screen? Seriously? (By comparison, the latest versions of Audi's MMI and BMW's iDrive have grown more approachable.)
Despite having lots and lots of controls—a controller knob, steering-wheel controls, buttons, a trackpad—some vital basics are missing. Instead of having several configurable ways to skip audio stations or tracks, we'd love to have a simple dedicated audio forward/back button, like in every other car. Our kingdom for a simple lower-back-support adjuster button on the front seats; instead you're forced to dive into onscreen menus. Two tiny touch-sensitive capacitive pads adorn the steering wheel spokes, making for a lousy idea. Just steering the car forces you to accidentally brush across them, inadvertently changing settings.
Technology can giveth, and technology can taketh away. While the controls rob your attention, a wide variety of advanced driver systems can help avoid crashes and assist the driver. We commend Mercedes for making forward-collision warning with automatic braking standard, way in advance of a 2022 government agreement. Many luxury brands, including BMW, Cadillac, and Lexus, still make this potentially life-saving equipment an expensive option.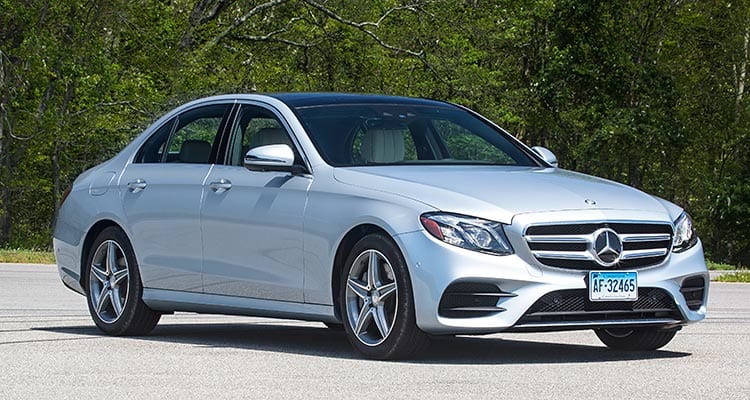 Mercedes has been at the forefront of technology since the very beginning of the automobile age, and it strives to deliver advanced tech. Highly optioned cars offer Drive Pilot, incorporating active cruise control and lane-keeping technology to guide the car down the road, changing lanes when the turn signal is activated. Unlike Tesla's Autopilot, this system is a gentle assist; while it can keep you in your lane on a highway, you can easily steer over its corrections. On the surface, this doesn't sound like a big benefit, but the rewards become evident when you're fatigued, reducing some mental workload and adding a belt-and-suspender level of security.
That doesn't mean you can check out completely when using Drive Pilot. Mercedes tells you to keep your hands on the wheel, although it lets you take them off for as much as 30 seconds before displaying a warning. (We think this is too long.) Some manufacturer ads have called it "a self-driving car," but that is far from the truth, as noted in accompanying disclaimers. (Read "Mercedes Pulls Ad that Made New E-Class Appear to Drive Itself.") It's painfully obvious that the E300 can not drive itself, made evident as the car heads straight off the road if you try to (mis)use the system on a gently curving off-ramp.
Thing is, for all of the talk about the computers doing the work, it's nice to see that Mercedes still cares about the actual driving part. The E300 proves nimble and composed. Direct steering makes the E300 a willing backroad companion that defies the dignified Burgermeister-mobile image associated with the brand.
And yet, patrician though it sounds, the term "motorcar" applies here. The supple ride smothers bumpy pavement, even with the lowered suspension option; the exception being of some harder-than-expected impacts. (Tip: Stick to the 18-inch wheels, rather than going with a bigger and flashier size that will make for a stiffer ride.) Cabin noise is kept to a whisper, but like a church mouse with a snoring problem, engine noise seems bipolar. You hear almost nothing from under the E300's hood while underway, but it sounds like a raucous diesel at idle from outside, as if it were a European taxi.
Here marks another nod to the times. A 2.0-liter, 241-hp turbocharged four-cylinder replaces the six-cylinders that have been an E-Class mainstay for years. Sure, competitors such as the Audi A6 and Cadillac CT6 offer turbo-fours as low-volume curiosities here in America; instead, this is the E-Class's main engine.
Beyond the diesel-like clatter, the lower cylinder count doesn't bring much sacrifice. Hearty response to the throttle pedal means the sizable E300 never feels stressed, even taking into account the added weight of the 4Matic all-wheel-drive system. Response and fuel economy are aided by the nine-speed automatic transmission, which shifts smoothly but perceptibly.
Mercedes-Benzes might feel similar to one another, but unlike a mass-produced road burger, they don't come cheap. (Trust us, you don't want a "cheap" Benz. The CLA feels like a cut-rate exception to the brand standards.) The E300 4Matic starts at $55,575, and most versions hover in the low-$60,000 range, with the tab climbing quickly with options.
Getting the Premium 3 package includes the aforementioned Drive Pilot and perfume dispenser, plus massaging front seats, surround-view camera system, blind-spot monitoring, wireless smartphone charging, and so much more. No wonder it costs $10,400—the price of an entire used car. Adding metallic paint, the sport wheel package, and a panoramic sunroof pushed the price for our new test car to $69,585.
No question, the cosseting and rewarding E300 upholds the brand's family values. Loyal Mercedes buyers are likely to feel right at home. We only wish the redesign would sidestep modern trends such as overcomplicated controls.