When you shop through retailer links on our site, we may earn affiliate commissions. 100% of the fees we collect are used to support our nonprofit mission.
Learn more.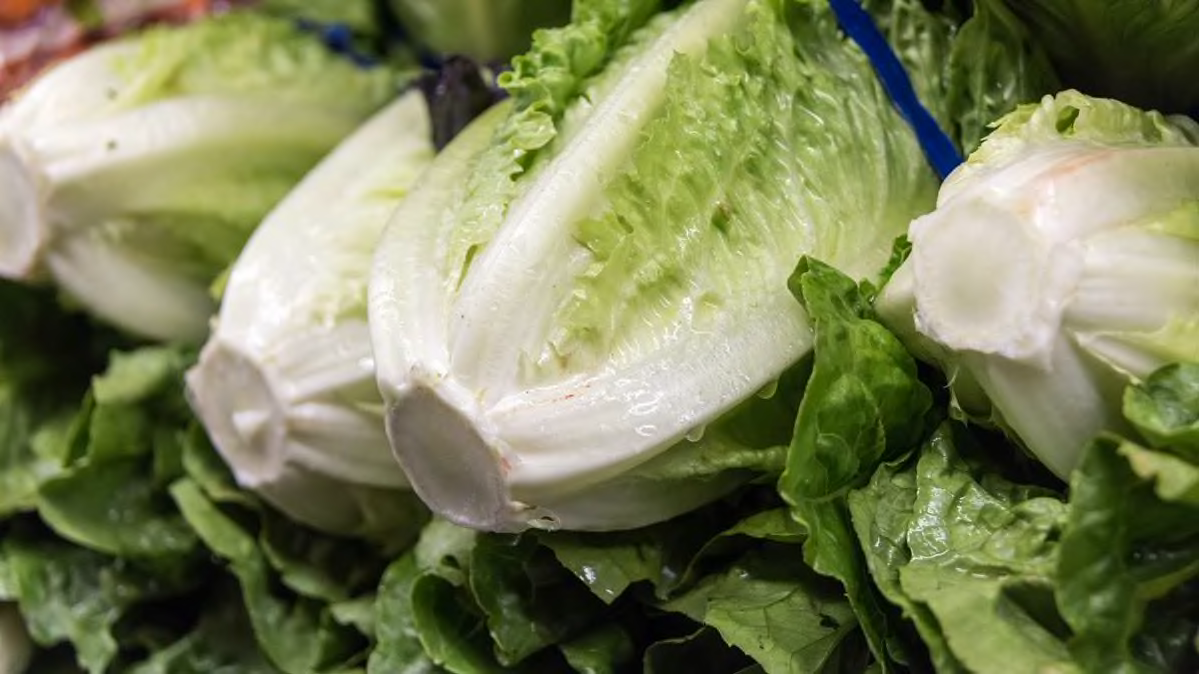 Update: On June 28, 2018, the Centers for Disease Control and Prevention declared this E. coli outbreak officially over.
The Centers For Disease Control and Prevention (CDC) Friday said consumers should not eat any romaine lettuce from Yuma, Ariz.—where much of the romaine on the market now is from. The agency's move follows advice Consumer Reports gave Monday, when it said to avoid all romaine lettuce because of an E. coli outbreak.
The CDC's new guidance includes romaine heads and hearts. The CDC and Food and Drug Administration (FDA) had originally warned against eating chopped and bagged romaine from the Yuma growing area.
The outbreak has infected at least 53 people in 16 states, with 22 requiring hospitalization. The symptoms of E. coli typically start one to three days after eating contaminated food but may occur as late as 10 days afterward. Symptoms of infection with E. coli O157:H7, the strain suspected in this outbreak, include severe stomach cramps, diarrhea (often bloody), and vomiting. Some people may have a slight fever.
The CDC and FDA in their updates Friday cited new E. coli cases in Nome, Alaska, where according to Alaska state officials, eight people at a correctional facility were sickened after eating whole-head romaine lettuce from Yuma.
"There is a reporting lag and we may still see cases come in," said Brittany Behm, a spokeswoman for the CDC. "The outbreak is ongoing and that's why we are constantly evaluating new information to give the best advice to the public."
More on Romaine and E. Coli
The CDC's advice throughout has been for consumers to determine for themselves if the romaine lettuce at the grocery store or at a restaurant is from Yuma.
"We continue to believe that consumers should avoid all romaine lettuce for now. It is not realistic to expect consumers to ask restaurant servers where the lettuce in that Caesar salad comes from, nor is it likely that they would know," said Jean Halloran, director of food policy initiatives at Consumers Union, the advocacy division of Consumer Reports.
Nor is it easy for consumers to tell where the lettuce is grown by checking bags or signs at the grocery store, especially now that the warning has been extended to loose heads of lettuce.
Indeed, one of our staffers visited his local grocery store to see how easy it was to identify where lettuce comes from. He looked at bagged chopped salad offerings in the produce section that contained romaine—including mixtures—conventional and organic. Except in one case, he could not find any information about where the greens were grown. Some packages had a city or state indicated, but that could be the location of the distributor, not the grower.
The CDC says that no common grower, supplier, distributor, or brand still has been identified.
"Consumers may get a false sense of security if they see another location besides Yuma on a label," says Halloran. "That's why we think the best advice is still to avoid all romaine for now."