Dangerous E. Coli Found in Ground Beef Sold at Fred Meyer Supermarkets Owned by Kroger
Consumer Reports found the harmful bacteria in a sample from a store in Seattle, but our experts say that for now everyone should avoid the product from the plant that processed it Update: On Jan. 6, 2022, the Department of Agriculture announced the recall of 28,356 pounds of ground beef, including Kroger-branded ground beef sold at Fred Meyer supermarkets, as well as products sold at Albertsons, Walmart, and WinCo grocery stores. The products all include the EST number 965 on their labels and were shipped to retail locations in Arizona, California, Nevada, Oregon, Utah, Washington, and Wyoming.                       
Original Article: Kroger-brand ground beef purchased at a Fred Meyer supermarket in Seattle and tested by Consumer Reports was found to have a deadly strain of E. coli called O157:H7. The tested package of 93 percent lean ground beef is marked with an "Establishment" (EST) number of 965, representing Interstate Meat, the plant where the meat was processed, and a "use or freeze by date" of 1/11/2022. (See the product label below.)
Kroger spokesperson Kristal Howard told CR that the company has initiated an investigation and that Interstate Meat supplies its Fred Meyer supermarkets in the Pacific Northwest. Fred Meyer has locations in Alaska, Idaho, Washington, and Oregon. The chain is owned by Kroger.
At this time, there is no recall of this ground beef, and no illnesses have been linked to the product. But CR's food-safety experts warn consumers who might have purchased the Kroger-branded 93 percent lean ground beef from any Fred Meyer grocery store to check their packages and to throw away the product if it contains that establishment number and "use or freeze by" date.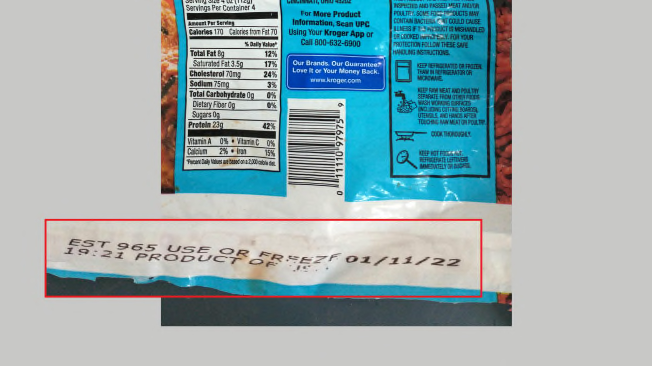 "The most pressing concern is that consumers could have this ground beef in their freezer, and very cold temperatures don't kill this bacteria," says James E. Rogers, PhD, director of food safety testing and research at CR. "And there's no way to tell if the ground beef contains the harmful bacteria by just looking at or smelling it." 
CR's test was part of a broader, ongoing effort to test ground meat purchased from several U.S. supermarkets. The contaminated ground beef was purchased by CR on Dec. 30, 2021, and tested positive for E. coli O157:H7 after a series of confirmation tests.
"It's pretty surprising for us to have found this in a routine safety test of ground beef at retail." Rogers says. "The meat-processing industry has really reduced its pathogenic E. coli contamination rates in recent years." 
This is because in the 1990s, after a deadly outbreak, the USDA designated E. coli O157:H7 as an adulterant in ground beef. As a result, beef with that strain can no longer be legally sold. And after that change, the number of people sickened by that type of bacteria was cut almost in half.
E. coli, including this dangerous strain, can end up in ground beef during processing if the animal that the meat comes from carries the bacteria, Rogers says.
"Ground meat is riskier than whole cuts of meat because it can be made from multiple animals—so if one carries E. coli, it can contaminate an entire batch," Rogers says. "And in the grinding process, any bacteria present can get mixed throughout the meat." On steaks and roasts, the bacteria is likely to be on the outside of the cut, and so is more easily killed by cooking.
An estimated 95,000 people are infected each year in the U.S. with E. coli O157:H7, according to the Centers for Disease Control and Prevention.
This strain of bacteria releases a toxin that can damage the lining of the intestine, leading to bloody diarrhea and, in some cases, a condition called hemolytic uremic syndrome, which can cause life-threatening kidney damage. 
More typical symptoms, which usually appear two to five days after ingesting contaminated food, can include vomiting, stomach cramps, fatigue, nausea, a low fever, and diarrhea without bleeding. 
Most people will get better without any treatment other than rest and hydration, according to the CDC. Avoid anti-diarrheal medication, which can slow your digestive system and prevent your body from getting rid of the toxin. Antibiotics also aren't recommended, as they don't help treat the infection and actually increase the risk of serious complications. 
If after a week or so your symptoms don't get better, or they start to worsen, contact your healthcare provider. In severe cases, hospitalization may be needed to provide IV fluids, blood transfusions, or even kidney dialysis. 
Editor's Note: This article has been updated based on new information clarifying that Fred Meyer is the only Kroger-owned supermarket that received ground beef potentially contaminated with E. coli from Interstate Meat. QFC supermarkets were not affected.