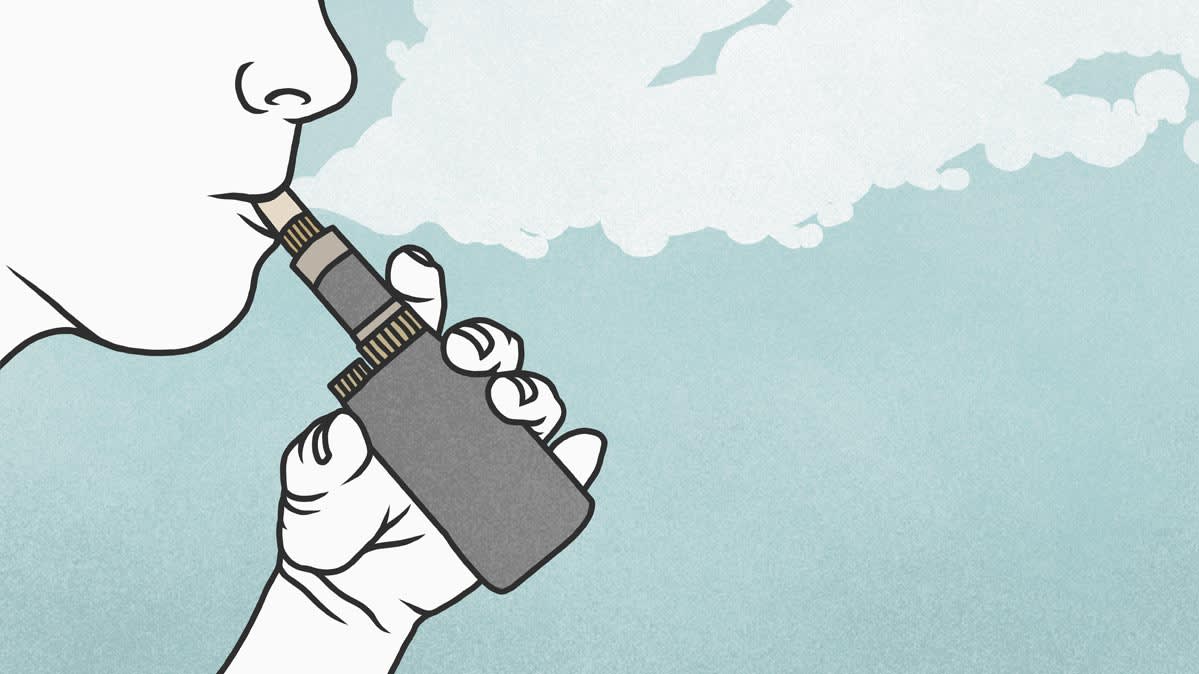 In November, the Food and Drug Administration announced new restrictions on the sales of flavored e-cigarettes and proposed a ban on menthol cigarettes and flavored cigars.
This week, the agency issued a formal proposal outlining the potential e-cig policies, opening up the new guidelines to comments for 30 days.
A ban on the sale of flavored e-cigarettes (with an exception for menthol and mint flavors) in stores that don't have areas prohibiting kids under 18. The agency says that should keep e-cigs off the shelves of most convenience stores and gas stations.

New age-verification standards for online stores selling e-cigarettes and plans for redoubled enforcement of any e-cigarette marketing directed toward minors.
An outright ban on menthol cigarettes and flavored cigars (which is not addressed in the guidelines proposed in March).


The draft proposal released this week would also move up a critical deadline to 2021. Companies would have until then to submit any flavored e-cig products that remain on the market—despite the new restrictions—to the FDA for premarket approval. (The agency had previously given companies until 2022, after pushing back a deadline originally set for 2018.)
"The bottom line is that these efforts . . . would dramatically impact the ability of American kids to access tobacco products that we know are both appealing and addicting," FDA Commissioner Scott Gottlieb said in a November statement.
Here's what you need to know about the new policies and the thinking behind them.

Will the New Restrictions Be Effective?
It's too soon to say.
But the plans to ban flavored cigars and menthol cigarettes "will have a greater impact in reducing tobacco use by youth and the African-American community than any regulatory measure ever undertaken by the federal government," the Campaign for Tobacco-Free Kids said in a statement.
In November, vaping groups said the e-cigarette restrictions would be harmful to smokers trying to quit.
"This reported move by Commissioner Gottlieb will only make it harder for adult smokers to switch to a far less harmful alternative," said Gregory Conley, president of the e-cigarette group American Vaping Association.
The rules on e-cigarettes actually don't go far enough, according to anti-smoking groups.
"Taking some flavors out of some stores and putting some of the flavors behind a curtain or in vape shops is not enough to protect young people," said Robin Koval, CEO and president of Truth Initiative, an anti-tobacco nonprofit organization. "We urge the FDA to eliminate the flavors, not just to hide them behind a black curtain, and to eliminate online sales."
William Wallace, senior policy analyst for Consumer Reports, says the new proposals are welcome, but he also called on the FDA to go further.
"The FDA is taking some necessary steps designed to protect children and teens, but the agency's success or failure will rest on how aggressively it continues to crack down on manufacturers and retailers," he said. "We urge the FDA to make use of its statutory authority and take enforcement actions to the fullest extent under the law."
How Dangerous Are E-Cigarettes?
E-cigarettes are often promoted as a means to stop smoking.
Yet while they're in most ways less harmful than traditional cigarettes, according to a report released last year by the National Academies of Sciences, Engineering, and Medicine (NASEM), they are not risk-free.
The primary concern most experts have about youth e-cigarette use is that most of these products contain nicotine, which is addictive, says Jonathan Klein, M.D., M.P.H., a professor of pediatrics at the University of Illinois at Chicago.
Nicotine alone is not carcinogenic, but it's not benign, he says. Over time, it can increase the risk of heart disease and stroke, and young people who use e-cigarettes are significantly more likely to try cigarettes or to become smokers.
E-cigarettes also expose users to toxic heavy metals, according to the NASEM report, as well as cancer-causing chemicals—though in most cases at lower levels than traditional cigarettes.
With poorly made e-cigarettes, there's also the risk they could explode—something a 2016 study published in the New England Journal of Medicine found was rare but more common than previously thought.
Still, most scientists say e-cigarettes are far safer than traditional cigarettes, says David Abrams, a behavioral and population health researcher who studies tobacco control at New York University.
"If the choices are between being addicted to a toxic smoke product like a cigarette or being able to be addicted to nicotine, then I'd much rather you were addicted to nicotine in a less harmful delivery like an e-cigarette," he says.
How Much Are Kids Using Them?
Gottlieb, the FDA commissioner, has described youth e-cigarette use an epidemic, and CDC data released in November shows that rates of vaping among minors continue to rise rapidly.
In 2011, 1.5 percent of high schoolers (220,000) reported being current e-cigarette users. This year, more than 20 percent of high schoolers (3.05 million) report being current users, a 78 percent increase from just last year. About 5 percent of middle school students (570,000 kids) report being current e-cigarette users, a rise of 48 percent over the past year.
These skyrocketing rates are concerning because kids are more susceptible to nicotine addiction, according to Klein, and because kids who use e-cigarettes are more likely to try regular cigarettes, according to Koval.
Despite those concerns, scientists have questioned whether using e-cigarettes directly causes kids to smoke regular cigarettes. The kids who try e-cigarettes are the same ones who experiment with other harmful behaviors, Abrams says.
But experts agree that the safest thing for kids and teens is to not use any nicotine products in the first place. They suggest that parents talk with kids about these products, and explain that e-cigarettes aren't risk-free even if they aren't the same as combustible cigarettes. (See here for more about what parents should know about e-cigarettes.)
Gottlieb, who announced recently that he would be leaving the FDA sometime in April, said last year that the agency would monitor the market and consider additional steps if youth vaping rates don't decline after the new restrictions are implemented.
What's the Problem With Flavored E-Cigarettes?
The FDA targeted flavored e-cigarettes in particular because kids find the ones with candy, fruit, or mintlike flavors particularly appealing, research has found.
"The issue with flavorings in both traditional combustible cigarettes and in e-cigarettes is that the flavorings are deliberately structured to appeal to young people and to teens," Klein says.
Anti-tobacco groups say that having any flavors available in some stores and online is problematic because they'll still be appealing for youth. "By only addressing e-cigarette flavors at some points of sale, it doesn't really address the fact that those flavors are still out there in the market and still likely to be attractive to young people," Klein says.
And existing restrictions haven't kept kids younger than 18 from obtaining these products.
Vaping groups and scientists focused on harm-reduction, however, say that smokers may be more likely to stop smoking completely if they switch to flavored e-cigarettes instead of tobacco-flavored e-cigs.
What's the Problem With Menthol Cigarettes and Flavored Cigars?
Young users are more likely to smoke both menthol cigarettes and flavored cigars, which often means these products are the first introduction to nicotine addiction, according to the FDA's November announcement.
Menthol cigarettes are also especially popular among African-Americans, according to the CDC. "For decades, data have shown that the tobacco industry has successfully and intentionally marketed mentholated cigarettes to African-Americans and particularly African-American women," the NAACP said in a statement applauding the proposed ban.
The group also cited research suggesting that for some smokers, quitting menthol cigarettes may be even harder than quitting regular cigarettes.
Consumer Reports is an independent, non-profit organization dedicated to helping consumers. We make it easy to buy the right product from a variety of retailers. Clicking a retailer link will take you to that retailer's website to shop. When you shop through retailer links on our site, we may earn an affiliate commission – 100% of the fees we collect are used to support our mission.
Learn more.
Our service is unbiased: retailers can't influence placement. All prices are subject to change.