Samsung Galaxy Z Flip4 and Z Fold4 Review
Samsung's latest foldable smartphones are thinner, lighter, and more durable than ever, the company says. Is it time to buy one? Three years ago, Samsung introduced the first folding smartphone in the U.S. Priced at a record high of $1,980, the Galaxy Fold seemed like an extravagance—a phone designed for the most ardent early adopter.
In 2020, the company added the more compact Galaxy Z Flip for a nearly as steep $1,380. 
The concept of unfolding a screen was interesting, but seemed like an expensive solution in search of a problem. Did the world really need a phone that turns into a tablet?
That was then. This is now.
Samsung just unveiled the Galaxy Z Fold4 and the Galaxy Z Flip4, and these days it's easier to see the appeal of these options. With this latest round of hardware and software tweaks, they feel like finished products, rather than clever curiosities. Both provide a touch of magic, too, when you open the device and see the inner display spring to life.
Let's start with the less expensive and more pocket-friendly Flip4.
When closed, the model fits neatly in the palm of my hand—more snugly than even a Klondike bar. It is, dare I say, incredibly cute, an adjective I don't often use to describe smartphones.
Better yet, it invites you to make it your own, with color and software choices that reflect your style.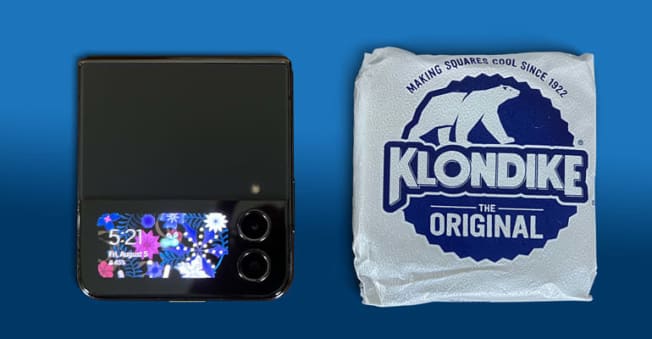 As with the Flip3, you can go to Samsung's website and choose from up to 75 color combinations for the front and back panels. The small front cover display, which provides handy information like the time, weather, calendar events, and notifications, provides lots of opportunity for personal expression, too. Samsung has expanded the clock styles, for example, to include graphic designs that will be familiar to Galaxy Watch4 owners.
You can't interact much with the phone through that small screen, but there are widgets you can add to start a phone call, play music, and start a timer without opening the device. I found myself imagining how much more discreetly I could monitor notifications with the Flip4 during meetings than with my 6.8-inch Samsung Galaxy S21 Ultra.
When I first held the Flip4, it immediately felt familiar to me because the device unfolds much like a makeup compact. I'm not a selfie-taking sort of person, but I can easily see how someone who is would love this phone because it's so simple to plop it down on a table or hold in the palm of your hand and angle the screen upward with the 10-megapixel front camera aimed at your face.
You can even preview shots from the main camera on the front cover screen, giving friends and family members in front of the lens a chance to adjust their hair or their smiles before you tap the shutter button.
Samsung has updated the Flex Mode feature, letting you use the bottom half of the folded phone like a trackpad or an easy way to access shortcuts for responding to notifications, taking screenshots, and adjusting the brightness and volume settings. I didn't find the Flex Mode all that useful for the larger Fold4—preferring to take advantage of the full touch screen instead—but it did come in handy when using the Flip4 one-handed.
Because the phone is much more comfortable to hold when the screen is unfolded at a 90-degree angle—distributing its weight better than a typical smartphone—you can maneuver the device with more precision, almost like a smartphone gimbal, and use the bottom half of the screen to control the camera. It's a great way to take shots of gorgeous meals to share with your foodie friends on Instagram.
The Flip4 has essentially the same rear camera setup as the Flip3: a 12-megapixel camera with a wide lens and a 12-megapixel camera with an ultrawide lens. Samsung says the pixel sensor in the wide-lens camera is significantly brighter than that on the previous-generation model, which helps you get better photos in low-light situations. There's still no optical zoom, which I did miss when I was at a concert trying to get a closer shot of the stage.
I was impressed when taking videos with the Flip4, though. Samsung says it has improved the cameras' image stabilization. I took videos while walking around a park and they actually came out steady. 
When unfolded completely, the Flip4 measures 6.7 inches. It's thin and tall, allowing you to hold it in one hand with ease. The AMOLED display has a high, 120-hertz refresh rate that makes for smoother scrolling and animations, but it can automatically dial the refresh rate down to 1Hz to save battery life. That's a small improvement from the previous generation Flip3, whose adaptive display went down to 10Hz.
Like the Flip3, the Flip4 has an aluminum frame and an IPX8 water-resistance rating, which means it should survive for 30 minutes at a depth of up to 1.5 meters (about 5 feet). But the Gorilla Glass Victus+ on the display should be more scratch-resistant and more capable of surviving drops than the standard Gorilla Glass Victus on the Flip3, according to Corning. 
Samsung shrank the aluminum hinge to make room for a 3,700-milliamp-hour battery. The 3,300-mAh battery in the Flip3 lasted 23.5 hours on a single charge in CR's labs, so theoretically, the Flip4's battery should exceed that. We'll report back after testing the battery life, durability, and overall performance.
If you'd rather go bigger—as big as a phone can get—the Fold4 is here to impress you.
It's an engineering marvel. When closed, it looks like a typical smartphone, albeit one almost a half-inch thick and slightly more than half a pound. But when you unfold it, like a book, it transforms into a mini tablet with a screen that stretches 7.6 inches diagonally. 
That extra real estate is nice for web browsing, scrolling through photos, reviewing spreadsheets or presentation slides, as well as playing games and streaming videos.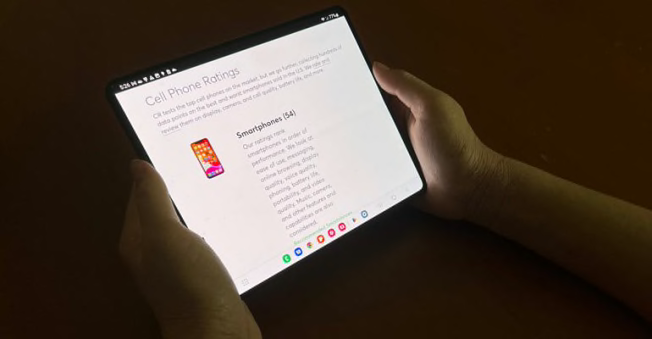 While the Flip4 is designed for portability, the Fold4 is more about productivity. You can split the screen to view two apps side by side, writing an email while consulting your calendar. You can open an app on the outer screen and then watch it spring to life on the larger inner screen when you open the phone. Starting a YouTube video with the phone closed and then opening the device to tablet size in front of my daughter was like performing a magic trick.
The Fold4 even supports Samsung's S Pen stylus, but you have to pay separately for that and there's no built-in silo to stash it in. Samsung does sell a standing cover with the S Pen for $90, as well as an S Pen Pro that has Bluetooth for controlling the device.
When the phone is closed, you can use the display on the front cover just like that on a regular smartphone. It measures 6.2 inches diagonally. Samsung shrank the bezel on the left side of the phone to make it a few millimeters wider than the screen on the Fold3. The company also redesigned the aluminum hinge to make the model thinner and a few grams lighter than the Fold3, but it can still be a strain to use one-handed.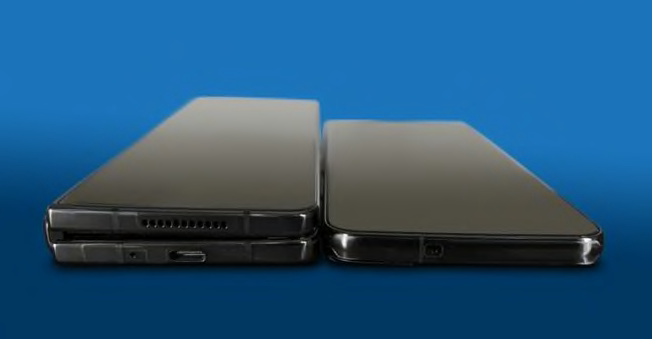 When the screen is unfolded 90 degrees, the Fold4 is almost like a mini laptop, complete with keyboard. It even has taskbar-like icons running across the bottom half of the screen for your most used apps. The digital keyboard spans a wide 5.5 inches—not large enough to touch type like you would on a laptop, but ample enough to compose error-free texts and emails.
The crease that inevitably appears in the middle of the folding screen was a distraction for me, but I learned to live with it. I couldn't help but wonder about the durability of the screen and the hinge as well—as these were concerns with the early iterations of the phone. However, Samsung engineers assured me that both phones have been redesigned and tested to withstand normal everyday abuse.
To confirm that, the company subjected each model to an apparatus that opens and closes them 200,000 times. It also put the phones through a saltwater spray and immersion test.
We'll do our own durability testing once we buy the phones, submitting them to our rigorous tumbler (in both the open and closed positions). For now, I'll just say that the hinge did feel sturdy to me, enough to unfold the phone to various angles and hold those positions.
Samsung once again installed a 4,400-mAh battery in the Fold. In CR's tests a year ago, the battery in the Fold3 clocked in at 25.5 hours—enough for at least a full day of use but still on the shorter side compared with the competition.
The Fold4 has the same cameras found on Samsung's flagship Galaxy S22 and S22+ models: a 50-megapixel main wide camera, 12-megapixel ultrawide camera, and 10-megapixel telephoto camera with 3X optical zoom. Last year's triple-rear-camera system was 12 megapixels across the board. The Fold4 has a 10-megapixel selfie camera.
What can you do with all that? Here are two quick examples: photos I took with the phone at an evening concert. Norah Jones was about 100 feet away from me, but I got what I think are decent zoomed-in shots despite the poor lighting conditions and lack of a tripod.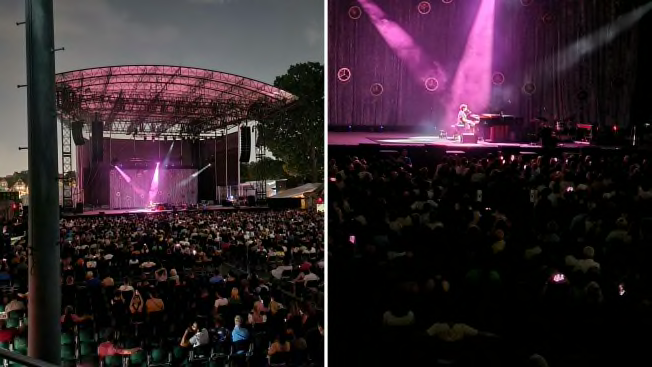 Should You Buy a Flip4 or a Fold4?
As someone who thinks about, uses, and reviews smartphones on a daily basis, I admit that choosing a model these days can be kind of boring. Aside from small differences in specs and software capabilities, they all do the same thing, more or less. 
But the Galaxy Flip4 and Fold4 now represent a clear step forward, with camera, battery, and durability improvements for both this year. Folding and unfolding the phones is a joyful experience you might not expect when looking at photos of the devices. You're interacting with the phone in a whole new way, doubling the screen real estate with what seems like a sleight of hand. 
When I showed my daughter and husband the phones, they immediately said, "I want one." (Note to self: Stop giving the family a sneak peek at shiny new devices.)
This is a good time to confess that I am the sort of person who would buy a Fold4. At least, I used to be. My first smartphone, way back in 1998, was the Nokia 9100 Communicator, a bricklike clamshell model with a physical QWERTY keyboard and a monochrome LCD display. It was super-advanced for the time (you could send a fax from it, browse the web at a snail's pace!) and mighty expensive, too, at about $900.
The Fold4 reminds me of that phone—impressive though perhaps still ahead of its time. It could certainly make me more productive, tackling tasks once reserved for the laptop or tablet left behind in my home. But it's expensive. You need a bag to carry it. And if you want to use it with an S Pen, you have to buy the stylus separately and make sure you don't lose it.
Over the course of my evaluation, though, I found myself reaching again and again for the Flip4 instead of the Fold4 or even my Galaxy S21 Ultra. The compact size just felt right, open or closed. I'm at the point in my life where downsizing is very appealing.
That's not to say the $1,000 gadget isn't lacking some of the premium features found in other phones in this price range. The iPhone 13 Pro, $1,000, and Galaxy S22+, $1,050, both have a telephoto lens and larger batteries. Of course, they can't fold into a neat square.
Should you buy one of these folding phones? That's up to you. As for me, I'm sold—well, just about. I'll wait on CR's test results before I rush out and buy one, but just to be safe I've already registered on Samsung's site to snag a $100 preorder credit.