When you shop through retailer links on our site, we may earn affiliate commissions. 100% of the fees we collect are used to support our nonprofit mission.
Learn more.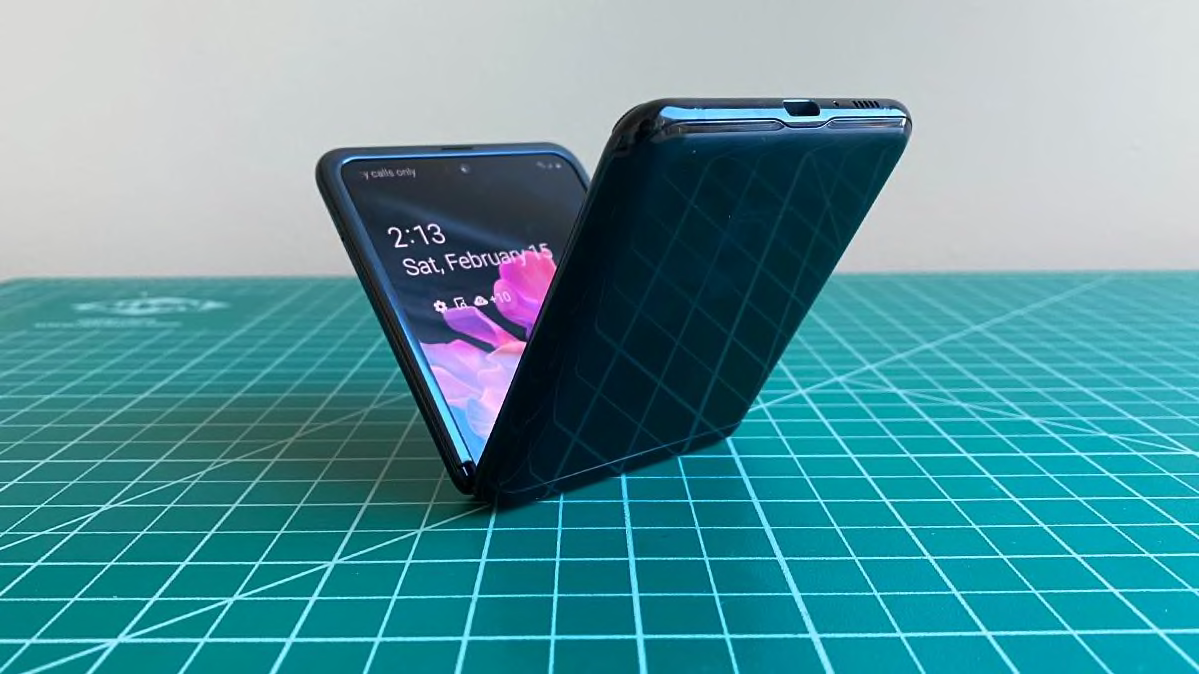 For its size, the Samsung Galaxy Z Flip packs in a lot. For its price, not so much.
The Z Flip, which hit stores Friday, only days after being introduced, is a clamshell-style phone with a folding screen that opens up to become a 6.7-inch OLED display.
With a sticker price of $1,380, it's one of the most expensive smartphones on the market. But stores have few, if any, of the devices to sell. So even our professional shopper had a tough time finding one to buy Friday morning.
Technically, the Galaxy Z Flip is the successor to last year's Galaxy Fold, though the similarities are limited. While the Fold is geared toward those looking for a device with a giant display—7.3 inches when measured diagonally—the Galaxy Z Flip is designed with minimalists in mind.
It's for those who yearn for a super-sharp, super-bright touchscreen, but long for the days when a smartphone fit in your front pocket.
And the Galaxy Z Flip delivers on those desires in spades. When closed, it looks more like a square makeup compact than a phone. And it fits neatly into the front pocket of my jeans.
But in exchange for that super-slim design, you give up a lot. In some ways, the Galaxy Z Flip has the kind of hardware you'd expect on a midpriced phone, but it's sold at a premium price.
Unlike Samsung's upcoming S20 phones, there's no 5G connectivity and you're limited to just three cameras—two main and one selfie. In comparison, the Fold had six.
And, even combined, the phone's two batteries (one in each half) provide far less power than those found on most similarly priced smartphones.
Until the Galaxy Z Flip passes through our labs, though, we won't know for sure how much streaming, game-playing, and photo-taking it can handle before needing a charge. In our testing, we'll look at how well the cameras, display, and processor stack up against the competition, too. Look for full results in a few weeks.
Until then, here's a look at what the Galaxy Z Flip has to offer.
The Look and Feel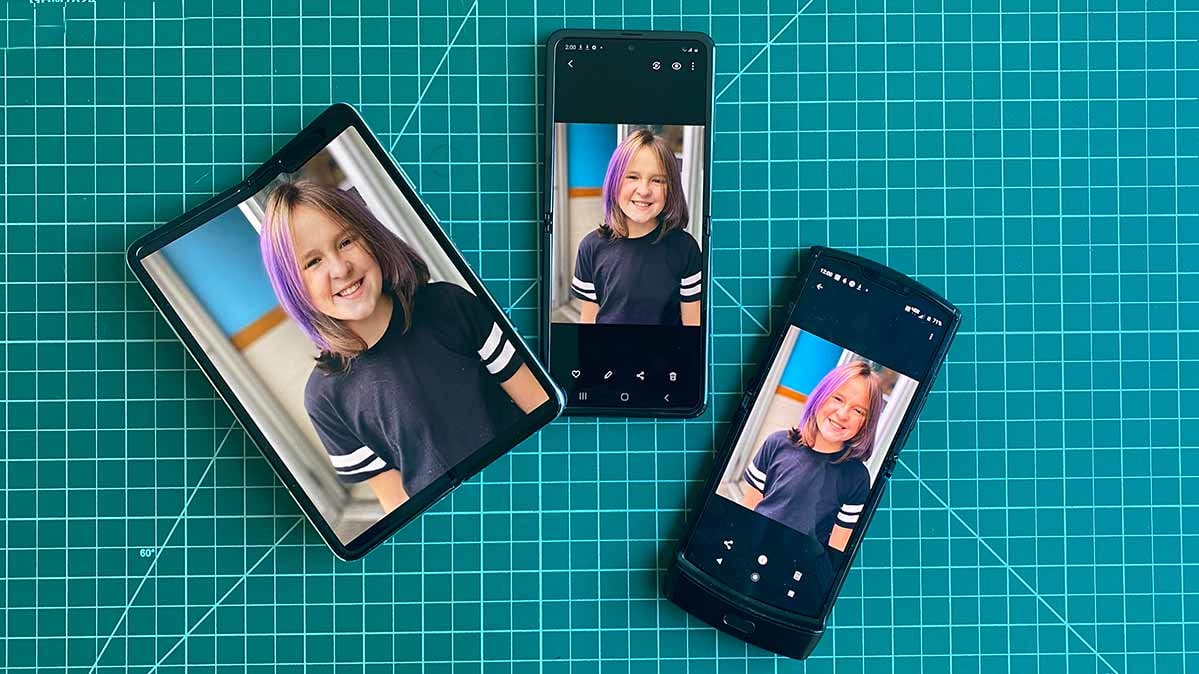 There's no denying that the Galaxy Z Flip is a marvel of engineering. The design is smooth and elegant, especially when you compare it with that of the Fold and the Motorola Razr, a similarly styled phone that went on sale a week ago.
The Galaxy Fold is chunky and utilitarian, particularly when closed into a thick, candy bar shape. And the Razr—which costs $120 more than the Galaxy Z Flip—has a largely metal exterior that makes it feel heavy and bulky.
In comparison, whether you get it in black or purple, the Galaxy Z Flip has a shiny, all-glass exterior. That makes it a bit slippery, so if you buy one, get a case to go with it as soon as you can find one.
The outside of the phone has a pill-shaped screen about an inch wide that shows you the date, time, and battery percentage, as well as your notifications. Incoming text messages scroll across the window like a stock ticker.
The hinge between the upper and lower half of the phone closes smoothly. As with the Fold, there is a bit of a gap between the device's two sides when the unit is closed, but you can barely see it.
Samsung has also clearly made some improvements in the materials used to create the folding inner display. The soft plastic of the Fold has been replaced by a flexible glass that, at least to the touch, seems harder and more resilient.
There's still a visible crease where the phone folds, but it's more like a dent than a noticeable line. Only time will tell if repeated foldings deepen it.
The Inner Magic
One of the beauties of this new form factor is that you can use the hinge to prop the Galaxy Z Flip's camera up for selfie snapping or Google Duo video chats.
As you fold the phone, it shifts into a split screen mode—a feature not available on the Razr—allowing you to set the device on a table top and, using controls that appear at the bottom of the display, set a timer and gaze into the lens for a hands-free picture.
When the phone is closed, that tiny notifications screen on the front serves as a selfie viewfinder, too. Just click the power button twice to activate the feature and your image pops up in the window. Press the volume up button to snap the shot.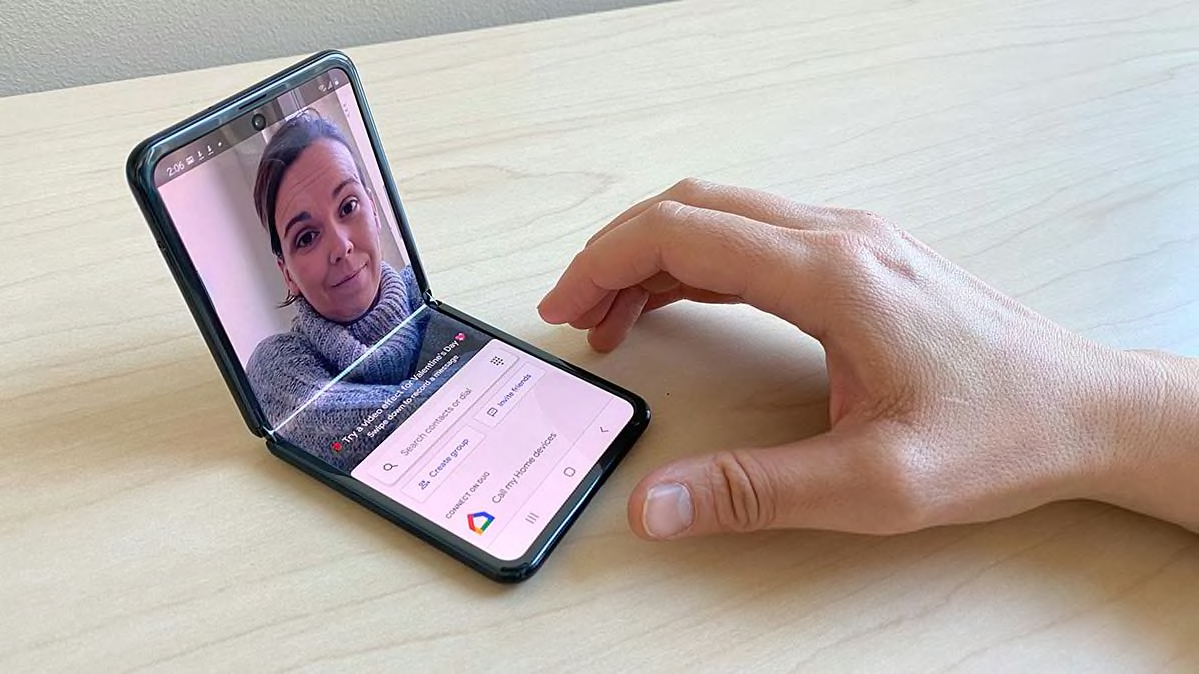 While this could be useful at times, it's hard to frame a shot in the tiny space, especially given that it's rectangular and the resulting photo is square. If you have a tough time focusing your eyes on things up close, forget about it.
In the end, though, the phone isn't likely to appeal to photo connoisseurs. It doesn't have the over-the-top sort of camera setup traditionally found in Samsung's flagship phones. While the new S20 models all contain potentially game-changing optical zoom lenses—a 3X in the S20 and S20+ and a whopping 10X in the S20 Ultra—the Galaxy Z Flip has no close-up camera.
If you want to zoom in on a child on the far side of a soccer field, you have to rely on the phone's software to do it. In our experience, that often results in distorted images.
That's not to say the Galaxy Z Flip's cameras are bad. There are plenty of great phones with this kind of setup in our ratings. But people looking to spend $1,380 on a phone are accustomed to getting more sophisticated photo features.
Should You Buy the Samsung Galaxy Z Flip?
As with all smartphones, that decision depends largely on your needs. For some people, the idea of a phone that folds and fits neatly into your pocket will be very appealing. For others, that $1,380 price tag is going to be a great big turnoff.
It's not just about what you want today; it's also about what you'll need a few years down the road.
In the last 12 months, 5G networks have gone from being a visionary idea to a mounting reality. They don't yet blanket the U.S., but they're getting there.
The technology's speeds will pave the way for the instantaneous response times required to safely perform robotic surgery and operate self-driving cars. And, yes, they will eventually allow users to download a movie in 5 seconds.

Do you really want to be stuck with a $1,380 4G phone when 5G speeds reach your town in a year or two?
If flexible phones start to catch on, the price of the hardware is sure to fall. And 5G versions are certain to follow.
Folding may be fun, but it might be too soon to flip over the Galaxy Z Flip.