When you shop through retailer links on our site, we may earn affiliate commissions. 100% of the fees we collect are used to support our nonprofit mission.
Learn more.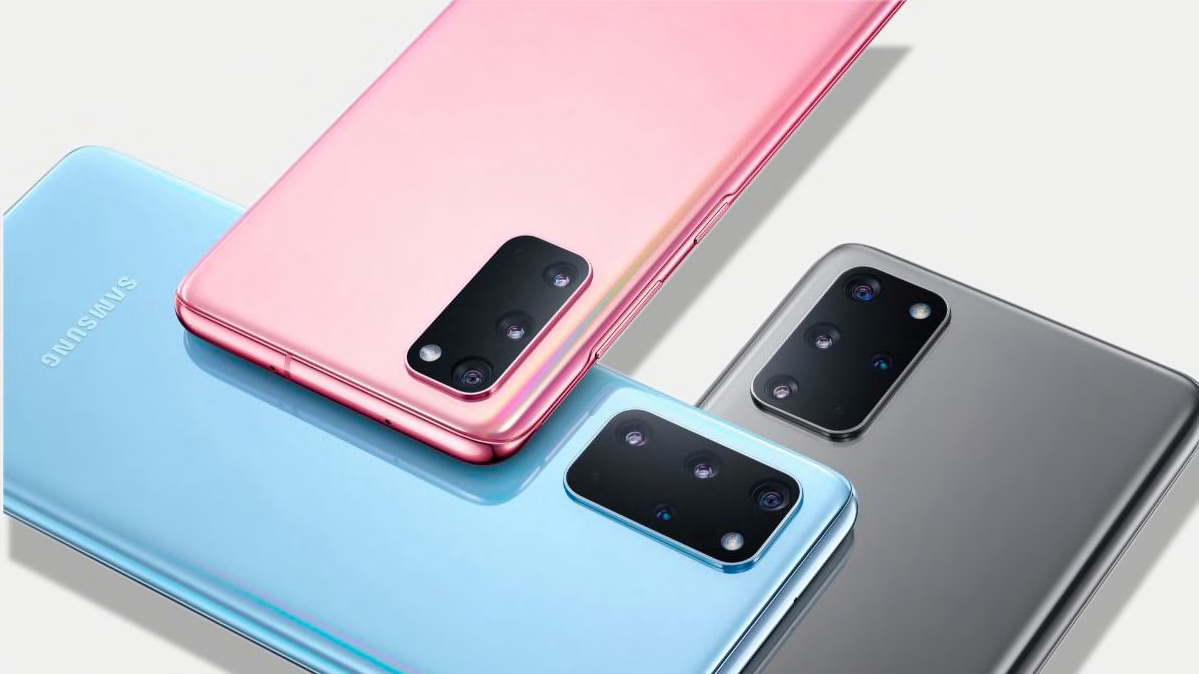 Samsung's new flagship phones are officially on sale, and wireless carriers are offering deals to entice you to buy one.
The Galaxy S20, S20+, and S20 Ultra feature 5G connectivity, displays slightly bigger than their predecessors' (thanks to even skinnier bezels), and what could be game-changing camera hardware.
The S20 and S20+ offer cameras with 3X telephoto lenses, and the S20 Ultra comes with a 10X optical zoom. All three models shoot video in 8K. That's something we haven't seen on a smartphone before, though it's debatable how useful that tech actually is, even on a TV.
Just like in past years, the phones are pricey. The cheapest option, an S20 with 128 gigabytes of storage, will set you back $1,000. And the starting prices for the S20+ and S20 Ultra are $1,200 and $1,400, respectively.
Don't think we've forgotten about the folding-screen Galaxy Z Flip. That phone, which went on sale in February for $1,380, is available only at select stores.
Because of the limited availability, it seems, there just aren't many discount offers out there right now. But we've included some tips below to help you find the phone, even if it's at full price.
You can expect full ratings on all four models in the coming weeks. Consumer Reports doesn't test advance press samples. It buys phones at retailers, just like you do, to make sure we evaluate the models available to all shoppers.
Here's a quick look at the deals we've found so far. We'll update this article as new offers emerge. And, as always, CR members can browse our ratings to get the full story on the dozens of smartphone models currently on the market.
Whether you purchase your new phone from Samsung or a cellular carrier, be sure to read the fine print before you fork over the cash. Many offers come with a catch or two. If you're trading in your phone, it needs to be in good working condition, and financing deals often require good credit.
Offers like these usually don't last long, so be prepared to move fast.
AT&T
This carrier says it will sell you a S20 for $10 per month, for a total of $300. But, as you might imagine, there are a few catches.
To start, you have to activate a new line of service on an unlimited data plan costing at least $75 per month before discounts. And you have to finance the phone over a period of 30 months. Each month, you'll receive a bill credit worth $23.34, leaving you with just a $10 installment for the phone.
Cancel your AT&T service before the 30 months is up and you lose the remaining discounts and have to pay off the phone.
Interested in an S20+ or an S20 Ultra? In that case, AT&T will give you $1,200 off one phone (essentially canceling the cost of an S20+), if you switch to AT&T from another carrier and trade in a qualifying device.
Already with AT&T? Current customers who set up a new line of service and trade in a phone can receive a credit of up to $500 off an S20+ or S20 Ultra.
In either case, you also have to finance your new phone with AT&T and the discount will come in the form of monthly credits. Qualifying trade-ins include iPhones dating back to the 7 and Samsung phones as old as the Note8.
AT&T says it's selling the Z Flip, though supplies are limited. At the moment, the carrier isn't offering deals for that specific phone.
Sprint
Sprint is offering a free 18-month lease on the S20 if you add a new line of service.
The free lease comes in the form of a monthly credit. Cancel your Sprint service early and you're on the hook for the balance. Once the 18 months are up, you can either pay the phone off or trade it in for something else.
If you're looking for an S20+, you can lease it for $8.33 per month (for a total of $150). Leases for the S20 Ultra are available for $16.67 per month (for a total of $300).
Sprint has also started selling the Z Flip, but it's currently not offering any discounts and quantities are limited.
T-Mobile
This carrier has a buy-one-get-one offer, but it's available only to customers who switch to T-Mobile.
Buy any of the S20 phones and set up at least two new lines of service, and you can get $1,000 off a second phone, canceling out the cost of an S20. If you want the S20+ or S20 Ultra, you simply pay the difference.
Just like with other two-for-one offers, if you cancel the service early, you lose your discounts and will need to pay off the phone.
The deal also applies to last year's Galaxy Note10 and S10 phones.
Verizon
This carrier doesn't appear to be selling the S20 model.

Buy an S20+ and you can get $150 off, whether you purchase the phone outright or finance it through Verizon. Either way, the $150 will come in the form of monthly credits spread over 24 months.
If you finance the phone and add at least one new line of service with an unlimited data plan, Verizon will offer you a buy-one-get-one deal, too.
Buy a S20+ at the regular price and you get a second at $1,200 off, essentially canceling the cost of the other phone. (Note that the $150 in credits still applies to the first phone.)

If you opt for a S20 Ultra, you get a similar buy-one-get-one offer. The downside? No $150 in credits and only $1,050 off the second phone.
In both cases, you're required to finance the phones through Verizon, and the discounts come in the form of monthly credits spread over 24 months.
Consumers who don't want to set up another phone line can get an additional $300 off the purchase of an S20+ with a qualified trade-in. (The trade-in offer applies to S20 Ultra purchases, too.)
Phones eligible for the full amount include Apple models dating back to the iPhone 8 and Samsung Galaxy phones as old as the S9+ and Note9. Other models are worth lesser amounts.