When you shop through retailer links on our site, we may earn affiliate commissions. 100% of the fees we collect are used to support our nonprofit mission.
Learn more.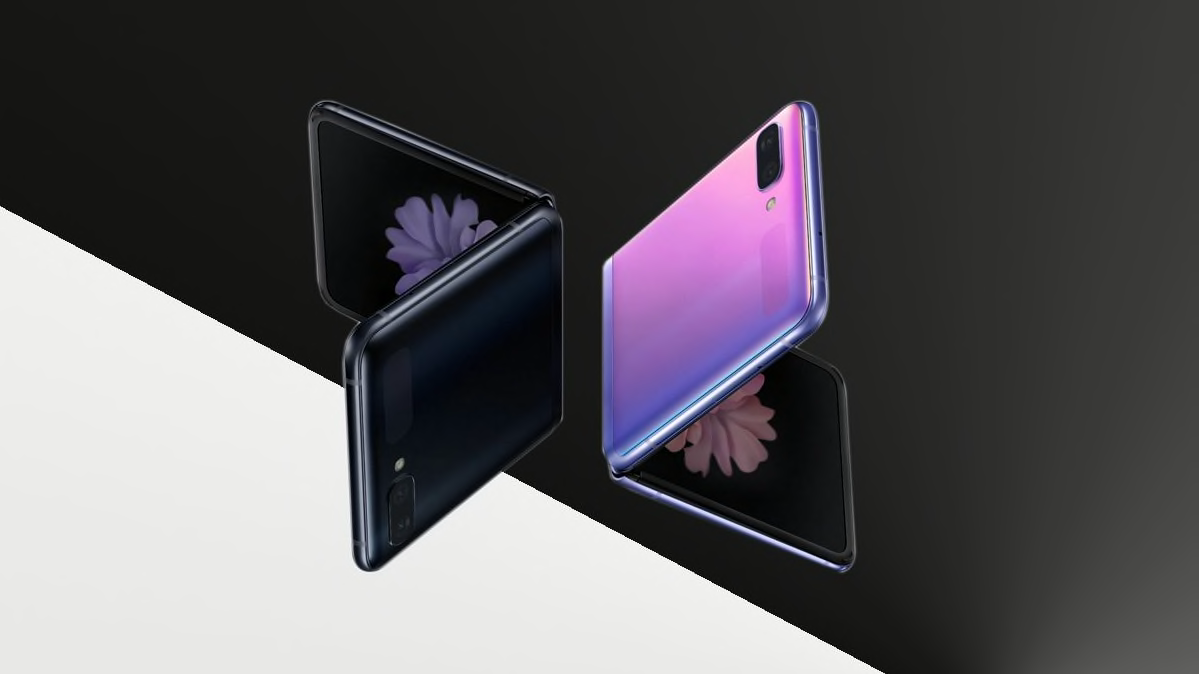 Calling it a "giant step forward" for mobile devices, Samsung on Tuesday officially unveiled the Galaxy Z Flip, a clamshell-style, folding-screen phone geared toward trendsetters looking for the latest in pocket-friendly technology.
The news is no surprise. Consumers actually got their first look at the Galaxy Z Flip on Sunday during the Academy Awards broadcast, when Samsung aired a 30-second commercial showcasing the new device.
The phone, which sells for $1,380, will hit select stores this Friday, along with the manufacturer's new Galaxy Buds+ earphones, $150. Samsung also rolled out three new Galaxy S-Series phones—the S20, $1,000; S20+, $1,200; and S20 Ultra, $1,400—which are all 5G-compatible and arrive in stores March 6.
The Galaxy Fold, Samsung's previous attempt at a flexible device, opens and closes like a book. The Galaxy Z Flip weighs a little more than half as much and closes like flip phones of the past into a wallet-sized package—a design that slips easily into a jacket pocket.
"The Galaxy Z Flip is a statement smartphone," Rebecca Hirst, head of Samsung marketing in the U.K., said in announcing the new device. "It's for trendsetters, trailblazers."
It arrives about a week after the similarly styled new Motorola Razr went on sale in the U.S. for about $100 more. But compared with the Z Flip, the Razr is heavy and bulky.
Much like with the Razr, however, the cutting-edge design results in a pared-down experience. Though Samsung's new Galaxy S20 devices come with supersized displays and a slew of cameras, the Galaxy Z Flip offers just two main cameras (with wide and ultra-wide lenses) and one front-facing selfie camera.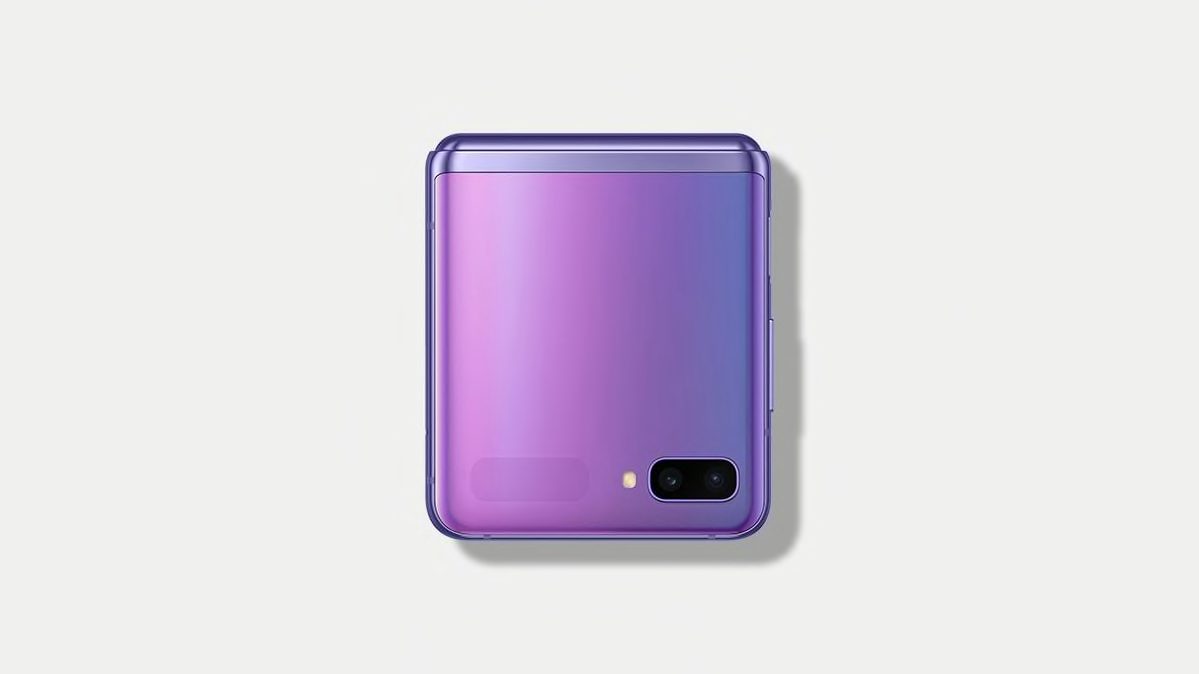 Samsung's other new models are aimed straight at those who think bigger is better.
When measured diagonally, the displays of the Galaxy S20, S20+, and S20 Ultra stretch 6.2, 6.7, and 6.9 inches, respectively. That puts them among the biggest displays out there.
They also feature what could be game-changing camera hardware that might prompt more people to leave their DSLRs at home.
The S20 and S20+ offer cameras with 3X telephoto lenses, and the S20 Ultra comes with a 10X optical zoom. From an engineering standpoint, that's pretty amazing, given the model's slim physique and the fact the cameras lie almost flush with the surface of the phone.
It's also worth mentioning that cameras on all three of the S20 models shoot video in 8K; something we haven't seen on a smartphone before. (For most shoppers, though, 8K barely makes sense for TVs right now, let alone smartphone cameras.)
We'll be testing all of those features in the coming weeks when we get the phones into our labs. In the meantime, here's a closer look at what the new Galaxy Z Flip and S20 models have to offer.
A Phone Worth Flipping Over?
Consumer Reports got a quick preview of the Galaxy Z Flip a few days before today's launch. Though we didn't do any formal testing, we did get to play around with the phone, getting a feel for its size, weight, and basic features.
It may not come with a 7.3-inch display like the Galaxy Fold, but the phone's 6.7-inch screen makes up for that by folding into a much more pocket-friendly profile.
And though there is a tiny gap at the hinge when the phone is closed—you can just barely see through it—it's a lot less noticeable than that on the Fold.
The Galaxy Z Flip scores points for being lighter than the Razr and having a less clunky, more streamlined design. It has a nearly all-glass exterior, which reduces weight, while also allowing for wireless charging.
The phone's 3,300mAh battery isn't very big by today's standards, but you can share that power with earbuds, phones, and other devices compatible with wireless charging.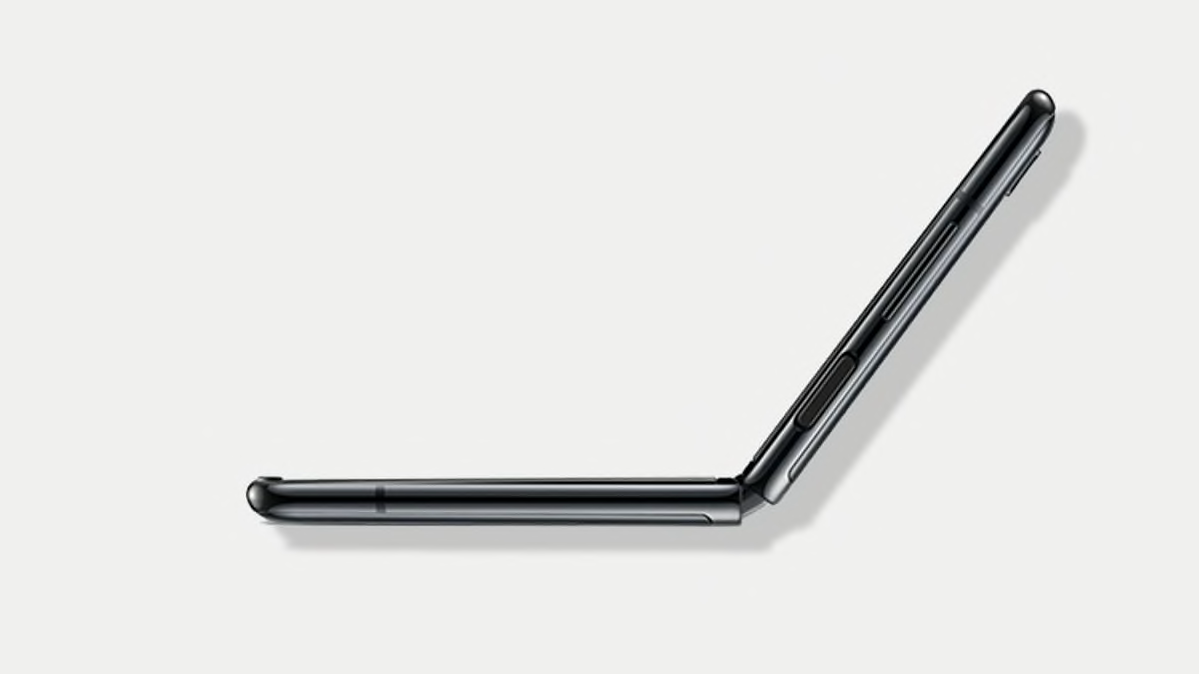 And when you fold the phone into the angle seen in the photo above, the display shifts to a split-screen mode, allowing you to rest the phone on a desk and gaze into the camera for hands-free selfie-taking or video chatting.
It remains to be seen whether the Galaxy Z Flip will run into the same hardware malfunctions and durability issues that delayed the Fold's launch for months. Consumer Reports' testing of the model that finally reached consumers yielded mixed results.
Samsung says the Galaxy Z Flip features improved hinge technology, as well as a new flexible glass that can survive being folded more than 200,000 times.
Three New S20 Flagships
Samsung says it opted to give the phones the S20 name, rather than hold fast to convention and call them S11, because they're such a big departure from last year's models.
In the end, though, the leaps are mostly confined to 5G compatibility and advanced cameras.
Standard 5G. While the new network technology was a novel concept a year ago, Samsung says consumers will learn to expect it this year, especially when it comes to premium phones.
And so, 5G compatibility comes standard on all three S20 models. No more paying a premium as consumers did with the Galaxy S10 5G and Note10+ 5G, which months after their launches still set you back about $1,300.
All of that is great but kind of useless to you if there's no 5G service where you live. Though the technology is spreading, coverage remains spotty and varies depending on the carrier.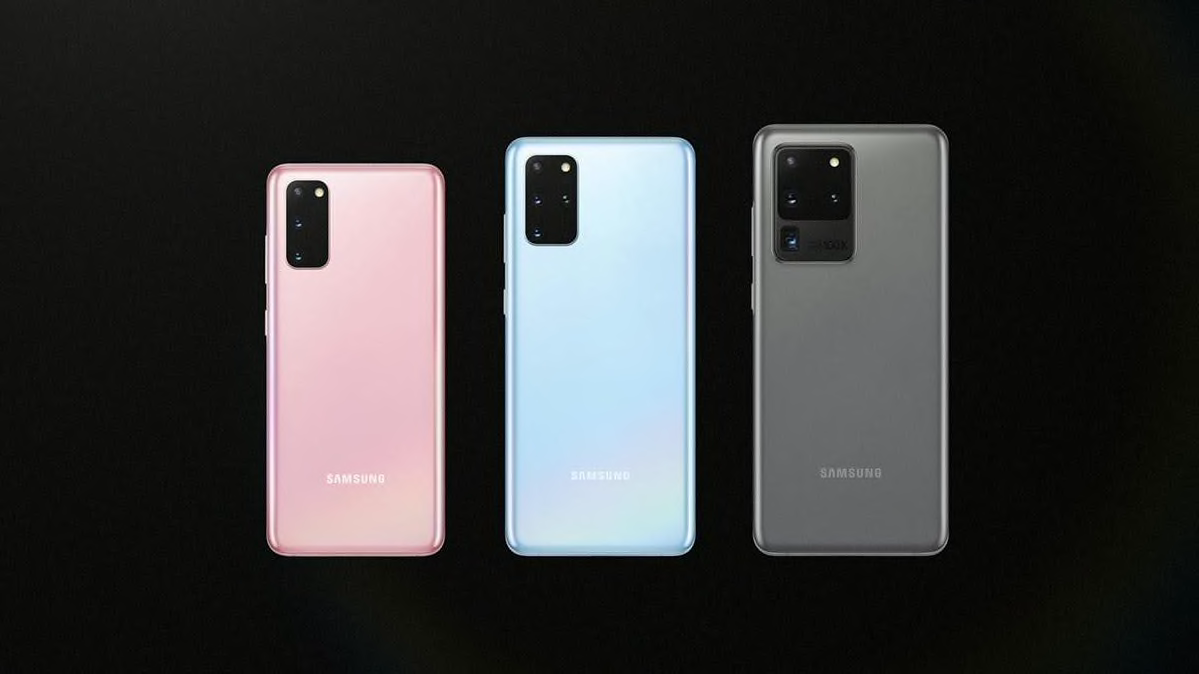 New camera capabilities. Samsung pulls out all the stops with the hardware on the S20 phones.
The 2X zoom lenses on prior models are nice, but the S20 and S20+ take you a step closer with 3X. And the S20 Ultra leaps all the way to 10X. What's more, Samsung says, with the help of software, those magnification abilities can be pushed to 30X and 100X, respectively.
In past phones, though, we've found that software wizardry like that tends to result in grainy, distorted images, so we'll be testing that claim.
Regardless, packing in 3X and 10X lenses is sure to excite many smartphone photographers.
As for shooting video in 8K, you're going to need one of Samsung's new 8K TVs to screen footage in that resolution beyond your phone.
Another cool trick? You can take still photos while shooting that 8K video. Just tap the screen to grab your snapshot.
Other new camera features include an improved Super Steady mode, designed to take more of the bounce out of action videos, and a Highlight Reel option that creates a music video with up to 60 of your pictures.
There's also a Smart Selfie mode that automatically zooms out when the front-facing camera detects more than one face in a shot.
Bigger batteries and more powerful chargers. The S20 comes with a 4,000mAH battery, the S20+ with a 4,500mAh battery, and the S20 Ultra with a massive 5,000mAh battery.
In comparison, the S10 features a 3,400mAh battery and the S10 5G features a 4,500mAh battery.
And bigger batteries require more juice, so Samsung is including 25-watt chargers with all three phones. Need more power faster? The S20 Ultra also works with a 45-watt charger.
New Galaxy Buds
Samsung also unveiled the new Galaxy Buds+, a successor to the manufacturer's line of true wireless earphones. The updated model features dual dynamic drivers that Samsung says will bring the audio quality to new highs, an impressive claim given the original Buds' outstanding ratings in Consumer Reports' tests.
The new model comes equipped with three external microphones, which are meant to improve performance in voice calls. They also provide an adjustable monitoring mode that pipes in outside sound so that you can keep an ear on your surroundings. Samsung also pointed out a new dedicated touch control that users can activate to call up Spotify on compatible devices.
The biggest change, though, may be the battery life. According to Samsung, the buds will hold up to 11 hours of playback time. The built-in battery in the earphones' carrying case will power them for another 11 hours on the go, and an impressive quick-charge feature is advertised to give you a full hour of listening after just 3 minutes of charge time.
Externally, the new earphones look about the same, but they will be available in four colors, including red and light blue. The Galaxy Buds+ will retail for $150, and like the Galaxy Z Flip, they go on sale Friday.