Consumer Reports is not currently testing Cordless phones.

Cordless Phone Buying Guide
Many people seem to be hanging up their landlines these days and using their mobile phone for all their calls. But there is a strong case to be made for having a home phone.
Home phones can provide enhanced security because they are connected to your address, including the apartment number, so a 911 operator knows exactly where to send help even if you can't talk. And they offer better performance.
In our tests, cordless phone voice quality and sound was superior to that of even the best cell phones, an important consideration if you suffer from hearing loss, your household is noisy, or you spend a lot of time on the phone, especially in a home office. Check out our cordless phone ratings to find cordless phone that's a clear choice for your needs.
Calling All Shopping Tips
Here are some things to keep in mind when you shop for a new cordless phone.
Decide on the Number of Extensions
Single-handset phones are best for smaller homes where you're never far from the phone. Otherwise you might be happier with a multiple-handset phone, which supports (and usually includes) multiple handsets from one base. Each extra handset sits in its own charging cradle, without the need of a phone jack, making it easier to station a phone where you want it. With some models, you can buy a replacement handset and charging cradle.
Settle on the Features You Want
Most phones come with caller ID, a headset jack, a speakerphone, and ringer in both the base and handset. Check the phone's packaging or download the instruction manual from the manufacturer's website to confirm you're getting the features you want. The more features a phone has, generally the higher its price.
Weigh Performance Factors
Most cordless phones have very good overall voice quality. Some are excellent, approaching the voice quality of the top-rated corded phones. Most fully charged batteries provided 8 hours or more of continuous conversation before they needed recharging. Note: When the battery can no longer hold a charge, a replacement battery, usually proprietary, costs about $10 to $25. Some phones use less-expensive AA or AAA rechargeable batteries, which can be recycled.
Pick It Up & Try It Out
Visit a retailer and hold the handset to see whether it fits the contours of your face. The earpiece should have rounded edges and a recessed center that fits nicely over the middle of your ear. Check the buttons and controls to make sure they're reasonably sized and legible.
Consider Usability Issues
More new phones have designs to enhance usability. That includes easier-to-read buttons and displays, visual "ringers" that signal an incoming call, talking caller ID, and volume boost, to name a few of the options.
Battery Backup
Most cordless phones won't work without electricity unless they have some kind of power backup system. Some have a compartment in the charging base for a spare handset battery pack or for alkaline batteries for base-power backup. Others use the stored power from the handset's battery to operate.
Don't Discard Your Corded Phones
Keep at least one corded phone with traditional landline service in your home, if only for emergencies. For most such models we've tested, the corded phone doesn't require AC power to make and receive calls, although electronic features such as the illuminated display and built-in phone directory might not work. Keep in mind that any phone connected to VoIP services or fiber-optic networks won't work if you lose electric power and don't have a backup battery for the phone modem.
Know the Return Policy
Before buying, check the return policy in case you encounter unexpected problems at home that you can't resolve, such as wireless interference.
Cordless Phone Types
There are two basic types of cordless phones—those with built-in answering machines, and those without. Both types use DECT (Digital Enhanced Cordless Telecommunication) technology, the 1.9-GHz frequency band that minimizes interference with devices such as microwave ovens. Today's DECT-powered cordless phones tend to have relatively long talk times and a longer range from their base compared to analog phones.
Another distinction is whether or not a phone has a corded base. Cordless handsets require power to work (either from household AC or backup batteries), but a corded handset can work without power as long as it's connected to a conventional landline or you have a battery backup for VoIP/cable service. Features such as the answerer won't work, but you should be able to place and receive phone calls. Buying a model with a corded base is smart if you live in an area prone to power outages.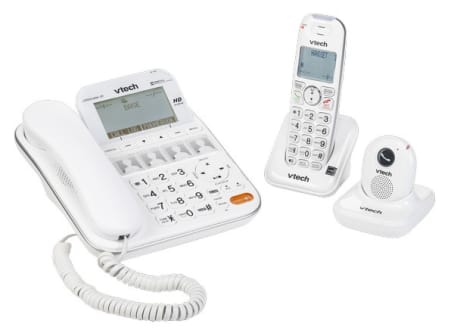 Cordless Phones With Answerers
These are only slightly larger and more expensive than their basic cousins. Besides being able to record messages, they let you listen to callers, a convenient way to screen calls.
Pros: Multiple feature options can include a selectable number of rings and a toll-saver, answerer on/off control, call screening, remote access, speaker-volume control, and a variety of ways to navigate through your messages. Most have one mailbox, a message day/time stamp, a message-counter display that indicates the number of messages received, and a visual indicator that lets you know when you have new messages. Some can also coordinate with phone company voice mail: On many models, a light indicates when there's a message on voicemail. During a momentary power outage, most will retain messages and the greeting.
Cons: Often cost a little more than comparable phone-only models and take up a little more space.
Cordless phones Ratings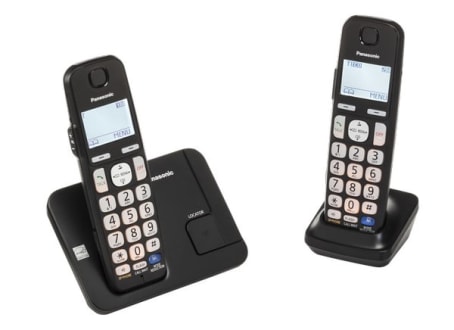 Cordless Phones Without Answerers
These phones are straightforward which can make them an appealing option for those not interested in all the bells and whistles of new models. On most, the base works without a power cord, buttons are large and easy to see, and parts of the handset glow red to alert you to incoming calls if you can't hear the ringer.
Pros: Intuitive and easy to use. Depending on the model, some feature a one-touch customer support button. Simple programming for a limited number of names and phone numbers, date/time, and device volume make these easy to use. The handset often features a scroll wheel on side of handset to adjust call volume.
Cons: Limited features. Often supports fewer handsets, and can be a challenge to set up the first time.
Cordless phones Ratings
Dialing in on Features
Standard cordless phones come with a variety of options, including bluetooth capacity and connectivity with your mobile devices. Some phones offer access to Apple's Siri and Google Now. Other have app alerts for Android devices, including email, calendar, and social media notifications displayed on the phone's LCD screens. Here are other important features to consider when to help you get the most from your phone.
AT&T: This well-known cordless phone brand is owned by VTech. It offers a wide range of phones, with and without answering machines, for consumers and small business. Form factors include single- and multihandset models, cordless-corded combos, Bluetooth, multiline phones, and models designed with large, easy-to-read buttons/displays, and that amplify incoming sound. AT&T still offers stand-alone corded phones.
Clarity: Almost exclusively designed for people with visual or hearing impairments, Clarity's models amplify incoming sounds and have buttons that are large and easy-to-read, as are the text and numbers on their LCD displays.
Motorola's product line, manufactured and distributed by its licensee Binatone Electronics International, has exited the retail telephone business in North America. It may be possible to still find inventory in select retail outlets, but production has been discontinued.
Panasonic: The company has long focused on mid-to-higher-priced models in every form factor. Some trademark conveniences found on Panasonic phones include Talking Caller ID, Talking Alarm Clock, and Talking Battery Alert. Some models have Bluetooth technology for linking to your cell phone service. Some models claim to be shock resistant and splash resistant, while others have large, easy-to-read buttons/LCD displays, and amplify incoming sounds. Panasonic still offers stand-alone corded phones.
VTech This market leader offers consumers a wide range of phones that emphasizes technological innovation and offers models with and without answering machines. Form factors include single- and multi-handset models, cordless and corded combos, Bluetooth models, and multi-line phones.
Thanks for sharing.
Oops, we messed up. Try again later
More From Consumer Reports