Consumer Reports is not currently testing GPS.

There's almost no excuse for getting lost anymore. Using GPS (global positioning system) is a fact of modern life—whether it's on your smartphone, built into your car, or as a stand-alone portable navigation device that can be moved from car to car.
Most of us are familiar with how GPS makes travel easier. You can choose routing preferences (fastest, no tolls, or most fuel-efficient) and sometimes get real-time traffic info. The system works via satellite and can be set to show icons for gas stations or hospitals, or direct you to points of interest like national parks or tourist attractions.  
Many factors will determine which GPS system is best for you, including price, features, screen size, and portability—but most important: Are you glued to your smartphone? If so, you'll be drawn to phone apps or in-car infotainment systems. We give the pros and cons of portable units, as well as built-ins and apps.
Life is a Highway
You can choose from many GPS systems—those that harness the power of your smartphone, versions that are built-in to the car, and portable units, the last of which we have actually tested. Check our full GPS Ratings for more (available to subscribers).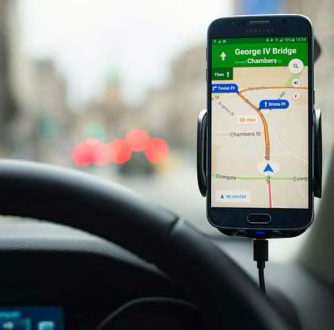 Smartphone GPS Apps
Typical advantages of these are that they are often free, involve hardware (a phone) that you already own, and are always up-to-date.
How they work: Hop in the car with your smartphone and choose a pre-loaded app such as Google Maps or Apple Maps (or download the likes of Here, Waze, or Mapquest) and your phone service gives you multiple options for a smoother trip, complete with traffic views, alternate-route suggestions, and warnings if you're going too fast. The often-bright displays of these apps can make them easy to read on a sun-drenched dashboard. Plus, you don't have to buy any other GPS device—because you already have the smartphone—nor do you have to worry about carrying around a portable navigation device (PND).
Phones can also do things PNDs can't, such as warn you to leave early for a calendar appointment if traffic looks bad. Or, based on your past history, a phone app shows estimated travel time to your frequent destination on the lock screen. If you don't particularly like the navigation app that came with your phone, you have other great choices via the app store, many of them free (see "Free Ride: Top Map Apps" below for more info). Compared to portables or most in-dash options, the apps are easier to update, automatically loading the latest maps.
Consider this: Using phone-based phone GPS apps eats up precious data from your monthly plan, and some conk out during phone calls or when your cellular signal drops. (Some apps work around this by saving maps to your phone, so you won't lose your way—even if you lose phone service.) Whichever option you choose, you'll likely need to purchase a mount, car charger (since navigation can quickly deplete a battery), and possibly a data plan for your phone (if you don't already have one).
Smart phone GPS Ratings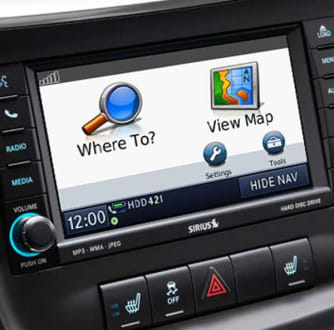 In-Car Infotainment Systems With Factory GPS
Carmakers' built-in proprietary infotainment systems typically work without a plugged-in smartphone.
How they work: It used to be that integrated factory systems were often the most expensive type of navigation aid. However, more and more cars are rolling off the assembly line complete with multifaceted infotainment systems that combine hardware and software to do things like regulate climate controls, provide updates on the engine and other systems, offer Bluetooth connectivity, in-car internet, wifi, and, typically, offer a navigation option.
Newer cars have the infotainment system screen built into the dashboard, and you adjust it using the touchscreen, steering wheel controls, or voice commands. With older cars that aren't infotainment system-capable, you could install a GPS unit but would still need a professionally installed aftermarket head unit to run a full infotainment system. Like PNDs, built-in GPS systems work via satellite, so you won't end up lost if you lose cell phone service.
Consider this: In our tests, we find that the quality of the carmakers' branded infotainment systems varies widely and high-rated systems don't necessarily align with high-rated cars. If you don't like the infotainment system that came with your car, you can opt for phone-based apps such as Google's Android Auto and Apple CarPlay, which plug your smartphone into a car that supports either app.
See our reviews of infotainment systems proprietary to brands as well as the favorites from our survey covering more than 58,000 cars.
Portable GPS Navigation Ratings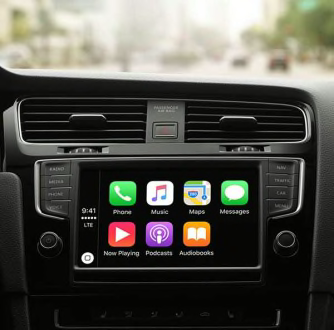 Android Auto and Apple CarPlay
These integrated infotainment systems are built into your car, or professionally installed aftermarket, and use either a plugged-in Android smartphone or iPhone as a conduit.
How they work: Increasingly, new cars come equipped with infotainment systems, a mix of hardware and software that combines information and entertainment to give access to navigation and audio systems, USB and Bluetooth connectivity, in-car internet, and wifi, among other features. There are proprietary infotainment systems from carmakers such as Chrysler, GM, and Hyundai that run without a phone (see "In-Car Infotainment Systems…" for more on these), but more and more automakers are supporting these two smartphone-based infotainment systems from Google and Apple. Android Auto and Apple CarPlay plug into a system-supporting car and, voila, you're seamlessly connected. A modified version of your smartphone screen (with larger icons and an edited-down menu) appears on the in-dash screen, allowing you to use the phone and apps in a less distracting way. Since you're already addicted to…er, familiar with your smartphone's ways, this saves the bother of learning the ins and outs of an automaker's (possibly clunky) proprietary system. Older cars would need a professionally-installed aftermarket head unit. The current market price for Caplay/Android Auto-capable units is around $500 (installed).
Consider this: Since it's your phone, you already know how it works, and can "Hey, Siri" and "Ok Google" as usual. However, these platforms only run approved apps—for example, you can't get Google Maps on Apple's system, and you might want to check that your favorite music-streaming service or podcatcher is supported. The phone-powered navigation automatically updates maps and other apps.
Handheld hiking GPS Ratings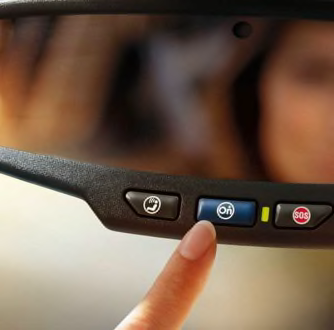 Telematics Systems
These "concierge"-style call buttons came on the scene in the mid 1990s.
How they work: Carmakers combine GPS and cellular technology to access emergency help or a variety of convenience services from the vehicle. Systems include BMW Assist, GM OnStar, Toyota Entune, Hyundai Blue Link, Lexus Safety Connect, and Mercedes-Benz mbrace. Specific services—both paid and free—vary. The systems typically offer a menu of services, including emergency crash notification and assistance, a stolen-vehicle locater, and roadside assistance. Some telematics systems will unlock your car door remotely.
Navigation is typically one of the services provided, via a basic graphic display showing each coming turn along with voice direction. Advantages include ease of use and being able to ask for directions by talking to a human at the other end of the line, even while driving. Another plus is that you don't have to pay for updated mapping information. Older cars with telematics but lacking dash screens will have you interact with a computerized voice when getting directions.
Consider this: On the downside, these systems can be expensive and you have to be in an area with good cell phone coverage for them to work. Typically, The vehicle has to be equipped from the factory, although some companies offer costly aftermarket installation. Car companies may offer an initial trial period of the service, then charge a service fee. It's a good idea to study up beforehand on what is a paid service and what's not. Check with individual carmakers for more info about particular systems.
Handheld hiking GPS Ratings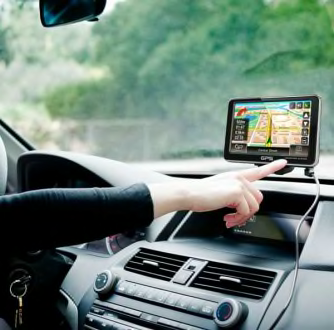 Portable GPS
The name says it all—they can move with you from car to car.
How they work: Like built-in systems, these are connected to a satellite, so—unlike cell phone apps—they can never freeze and leave you stranded when you lose phone service. Portables usually offer the same features as built-in systems, plus more—and often cost less. Typically, the volume can be turned up louder than phone apps. Portables are compact and easy to carry with you or share with others. Real-time traffic reporting is usually reasonably priced and voice commands are sometimes available. We've found that map updates are less costly (than with built-ins); some models even come with lifetime updates for a modest charge. Some newer models come with Bluetooth hands-free calling and dashboard camcorders that can save footage of a trip, and, in the case of an accident, capture still images.
Consider this: Screens are usually smaller than in-dash models, and potentially hard to read. Voice command programming capability is so-so, compared to the best car systems. These should be securely mounted and placed where they won't interfere with airbag deployment or block visibility. Other disadvantage: Your phone already has built-in GPS with a free app. Buying a portable device is an additional purchase—and something to carry around.
It's worth noting that battery life is minimal or can decrease over time. If the battery loses its charge, you have to connect via power cord. It's best to routinely charge the battery; when batteries die on some models, the unit must be replaced. And, usually, when you leave the car, a portable should be hidden or removed to deter thieves. Prices range from about $80 to $400.
Handheld hiking GPS Ratings
Most GPS navigators will home in on a destination, but not always via the most efficient route. A few tips tailored to your typical travel conditions tell you what you can't live (or drive) without.
Easy to Use
Making navigation easier is the prime directive of these gadgets, so look at our ease-of-use scores in the Ratings for PNDs. The models that tested high for us make it especially easy to enter destinations (even by speaking them) and give the most helpful directions. Some interfaces are more intuitive than others, and low-scorers can be awkward, slow, or both.
Keeps Track of Traffic
If you tend to stick to a routine on your commute or errands, you might get the most use out of a navigation system or app that offers real-time traffic info. You'll know about—and avoid—accidents, road closures, and speed traps. Bear in mind that traffic reporting on portable GPS units or pre-infotainment-system built-ins is not perfect; it can be inaccurate or outdated. Phone apps that offer real-time traffic allow you to peek in on traffic cameras and allow for crowd sourced tips on tie-ups and detours.
Shows Stamina
If you have more than one car or often rent cars, you might prefer a portable system or smartphone app that's always there riding shotgun on your travels. If you'll be using a PND for walking or accessing multimedia features outside of the car, look for a battery that has at least two hours on a charge.
The Matter of Size
If you have a hard time deciphering tiny maps, consider a built-in or infotainment system, which generally have larger screens. You can even go really big with special PNDs for commercial trucks, vans, and RVs (since dashboards are farther away from the driver's seat). These models will also take into account low-bridge clearance and parkway restrictions. However, if you often pack a GPS unit in your suitcase, you may want to go smaller: For a PND screen large enough to read easily without blocking your view, we've found a 4-inch diagonal screen a good compromise for travelers, but for regular use, a 4.7-inch size is easier to work with.
If you're a fan of your phone, you're probably already using a free navigation app. These are some we like.
Apple Maps
Offers 3D views as well as the bird's-eye-view Flyover feature. You'll get real-time traffic monitoring and turn-by-turn spoken directions. It even gives public transportation guidance and help remembering  where you parked. Ask Siri to take you there (wherever that is), bookmark locations on Maps, and save them to the cloud. You can access them later via your Mac, iPad, iPhone, or iPod Touch. As of now, you can only get this app on iOS devices.
Google Maps
This worldwide app offers constant updating of maps and features, which can be downloaded for a limited time for offline use. You can get real-time GPS navigation, traffic, and transit help. Find and make pit stops along the way for a fill-up (at a gas station or a café). Street View and indoor imagery help keep you on track whether you're outside or in (helpful for large places such as malls, museums, or stadiums). Available on iOS and Android.
Here Maps
Drive, ride, or walk with worldwide map coverage, turn-by-turn voice guidance, speed limit info, and nearby POI. Offline maps and navigation ensures that you know your way (via downloaded maps) whether you have a data connection or not. You also get public transit directions for over 900 cities around the world. There is even a biking option. Available on iOS and Android.
Waze
This community based traffic and navigation app allows you and other drivers in your area to share real-time traffic and road info. Users drive with the app open to passively contribute traffic and other road data (there's also an active community of online map editors). Waze can also actively give a heads-up regarding accidents or any other hazards. You'll get turn-by-turn voice guided navigation, active re-routing, and alerts re speed cameras. Available on iOS and Android.
Features That Go the Distance
Consider these options (and our GPS Ratings) when buying a portable navigation device (PND).
Apple Maps offers spoken directions and 3D views as well as the Flyover feature, which allows you a bird's eye view. Real-time traffic monitoring offers alternative views.
Garmin, which also develops aviation and marine technologies, is mainly recognized for developing portable GPS devices. Its current lineup consists of the Nuvi and Drive brands.
Google Maps is the most well-known worldwide app available with constant updating of maps and features which can be downloaded for a limited time for offline use. Street View—among the almost unlimited pieces of location information provided—is a favorite feature. Google has proven itself to be reliable and dependable.
Here Maps is owned by an automobile consortium of manufacturers that include Audi, BMW and Daimler (Mercedes). It offers worldwide map coverage and has offline options so that regional maps can be downloaded and used without a mobile connection. The consortium powers major mapping providers and government clients. Destinations can be saved for quick access at a later date.
Magellan develops and distributes vehicle navigation, crossover GPS, and outdoor handheld navigation products. It currently sells RoadMate and SmartGPS brand lines for automobiles.
TomTom offers products covering portable automobile and motorcycle navigation, in-dashboard navigation and car control services as well as navigation software for installation on mobile devices. Presently the brand lineup includes the GO and the VIA for automobiles.
Waze, purchased by Google in 2013, is the world's largest community-based traffic and navigation app available. Its local driving community advises of traffic tie-ups, police traps, and low gas prices, among its many other features.
Taking Apple CarPlay & Android Auto for a Spin
Thanks for sharing.
Oops, we messed up. Try again later
More From Consumer Reports