When you shop through retailer links on our site, we may earn affiliate commissions. 100% of the fees we collect are used to support our nonprofit mission.
Learn more.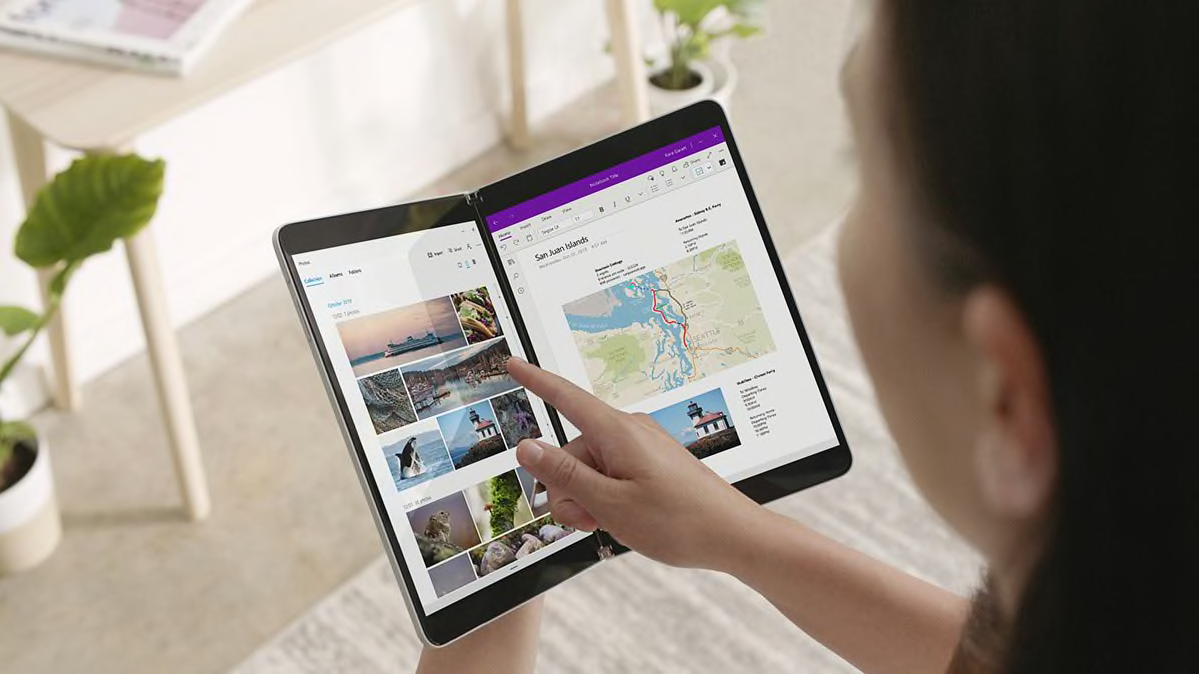 Microsoft announced a slew of Surface devices at an event in New York City on Wednesday, including a dual-screen smartphone called the Surface Duo and a dual-screen 2-in-1 device called the Surface Neo, a laptop/tablet hybrid.
The company claims that having two screens—a new form factor designed to further bridge the gap between mobile and desk-based work—will make users more productive, offering extra workspace for tasks involving documents, calendars, and web pages.
"We designed a product you'll be proud to pull out of your bag," said Panos Panay, Microsoft's devices chief, referring to the Neo. "This device adapts to how you want to use it."
The new Microsoft phone and PC—which largely resemble the recently released Samsung Galaxy Fold smartphone, but with a thin hinge sandwiched between the two touch screens—will not be available in stores until late 2020. Microsoft introduced them well ahead of their arrival in part to generate interest from app developers in the dual-screen form factor.
Though the Duo, the company's first Android-based smartphone, is easy enough to understand, the Neo is more of a hybrid—a dual-screen PC that happens to include a foldable keyboard. Microsoft executives performed typical productivity tasks, like managing a calendar and reading email on the product, to demonstrate how the Neo might be used.
Apps open on one screen but can be expanded to fill the second screen when the Neo is held like a book. When you hold it more like a laptop, the keyboard folds out from underneath the second display.
The Neo uses a new version of Windows called Windows 10X that's specifically designed for dual-screen devices. The software should make it easier for developers to create bespoke apps that better take advantage of the two screens.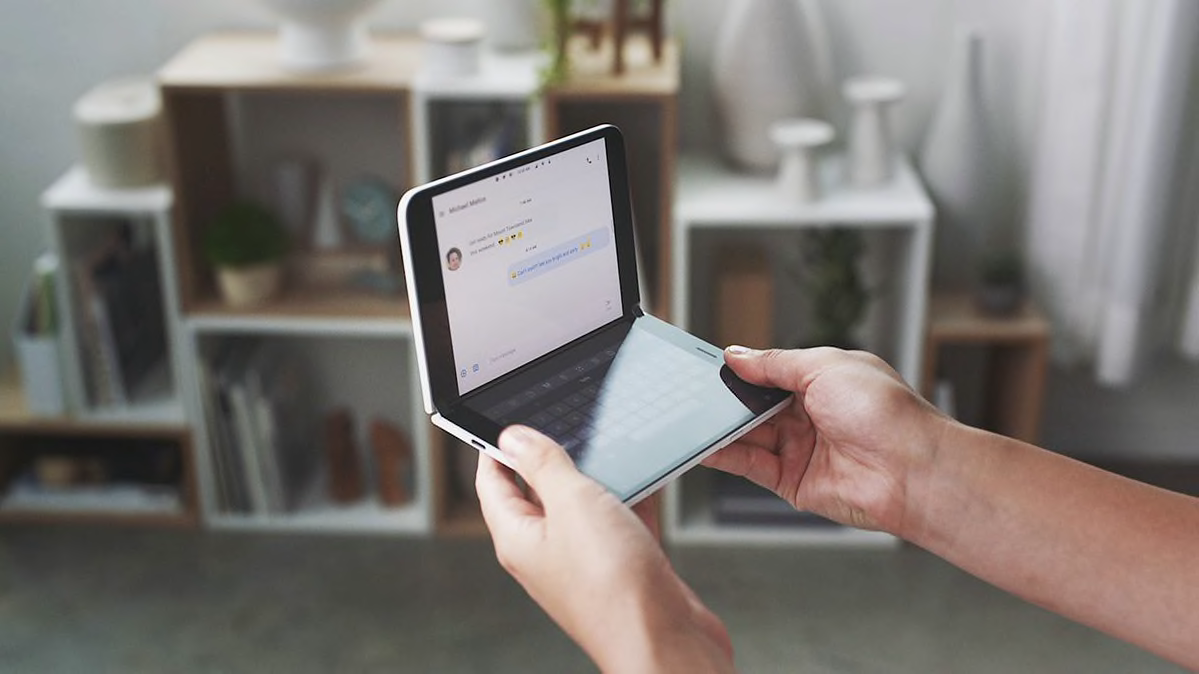 The Duo and Neo were not readily accessible to reporters at the event. Microsoft provided no pricing details.
The company also announced updates to its Surface Laptop and Surface Pro lines, adding faster processors, new colors, and minor design tweaks such as USB-C ports.
The Surface Laptop, now in its third iteration, is somewhat similar to the Apple MacBook Air in that it's aimed at mainstream consumers who don't necessarily need the versatility of a 2-in-1 device. The Surface Pro, now in version seven, is a 12.3-inch, 2-in-1 detachable model—that is, the display can be removed from the keyboard and used more like a tablet or digital clipboard.
In addition, Microsoft introduced a new Surface variant, a 13-inch 2-in-1 detachable called the Surface Pro X.
The Surface Pro X uses an ARM processor, more commonly found on smartphones and laptops; it's typically more power-efficient than the Intel or AMD processors traditionally found in laptops. The ARM processor gives Microsoft the ability to more easily integrate always-on cellular connectivity so that you don't have to hunt for WiFi to surf the web using the device. (Cellular connectivity pricing details were not announced.)
"You're able to open your laptop and immediately be up and running and connected to the internet without any sort of lag," said Lauren Guenveur, senior research analyst for devices at the IDC research firm. "It's a much more smartphone-like experience."
Microsoft claims that the Surface Pro X can last up to 13 hours on a single charge, in part thanks to its use of the power-efficient ARM processor. That's impressive, but other laptops in our ratings surpass that, including the HP Spectre Folio (18.5 hours), Apple MacBook Pro (16), and Dell XPS (14); they use traditional Intel processors.
This idea of using an ARM processor may sound familiar to consumers who pay close attention to technology news.
In early 2018, a handful of laptop makers, including HP and Lenovo, announced Always Connected PCs, laptops that similarly used ARM processors. Like the Surface Pro X, they also promised excellent battery life and constant cellular connectivity that was more in keeping with a smartphone than a laptop that has to find and then latch onto a WiFi network.
And though these laptops did indeed offer impressive battery life, our testers found performance to be wanting—so much so that even carrying out the simplest of tasks, like opening the Start menu or resizing windows, resulted in slowdowns.
Microsoft, however, says that these performance issues have been solved, resulting in a laptop that may fulfill the promise of the Always Connected PC. And while we won't know for sure how well the Surface Pro X performs until we get it into our labs, our brief hands-on time with the device at the New York City unveiling showed promise, with no slowdown of the sort that typified the older ARM-based laptops.
The new Surface Laptop (starting at $999) and Surface Pro (starting at $749) are available for preorder today and ship Oct. 22. The Pro X (starting at $999) is also available for preorder today but ships Nov. 5.
Microsoft also announced on Wednesday AirPod-like true wireless earbuds called Surface Earbuds that you control with a touchpad on the earbud. They cost $249 and will ship later this year.