When you shop through retailer links on our site, we may earn affiliate commissions. 100% of the fees we collect are used to support our nonprofit mission.
Learn more.
Magda Segura, 30, is thrilled to be spending time with her newborn daughter, Kailee, who arrived just after Christmas. She didn't have the same luxury when her two other children, now ages 12 and 7, were born.
"I didn't have the money, and my employer didn't offer paid time off," Segura says.
Her current employer, a restaurant in New York City where she works as a cook, does not offer paid maternity leave, either. But this time Segura is taking off eight weeks—and getting paid half her salary while doing so—under a new program in New York state that went into effect Jan. 1. (See the paid family leave FAQ, below.)
New Yorkers like Segura join residents of California, New Jersey, and Rhode Island who can take paid maternity, paternity, and family medical leave under statewide insurance programs. Similar legislation goes into effect in Washington state and the District of Columbia in 2020. All the programs are funded by small taxes on workers and/or employers.
Other states are expected to follow in the next few years, with the most likely being Connecticut, Hawaii, Oregon, Massachusetts, and Vermont. Paid-leave legislation is also being introduced this year in Colorado, Maine, Minnesota, Montana, Pennsylvania, and Wisconsin, says Ellen Bravo, co-executive director of Family Values at Work, a nonprofit coalition of 27 national and state advocacy groups pushing for paid family leave and sick days.
But the holy grail for advocates of paid leave is a federal law encompassing paid parental and family leave, as well as time off to tend to one's own medical needs or illness.
"It's no longer a matter of if but of when and how," says Vicki Shabo, vice president for workplace and policies strategies of the National Partnership of Women & Families, a group that advocates for paid leave. "Both consumer support and political momentum continue to build." Shabo notes that the U.S. is the only developed nation that does not guarantee paid maternity leave to new mothers, one of a handful that does not guarantee paid paternity leave, and one of two without a guarantee of paid medical leave (the other is South Korea).
Whether you live in a state with a paid-leave law or not, it is important to understand how existing federal and state laws and even your employer's policies might apply if you need to take time off from work to handle a situation involving your health or that of a loved one. More information on this can be found at the end of this article.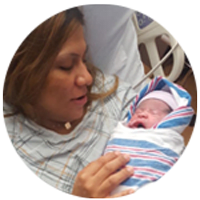 "I'm so happy to be able to have this time with Kailee and not have to worry about the money."
—Magda Segura, 30, a mother of three who is taking a paid eight-week leave following the birth of her daughter in late December 2017. For financial reasons, she had to return to work shortly after her older children were born.
Building Momentum for a Federal Law
A Pew Research Center survey of 2,029 adults released in March 2017 found that 82 percent supported paid maternity leave, and 85 percent supported paid leave to deal with one's own serious health condition. Sixty-nine percent supported paid paternity leave, and 67 percent endorsed paid family leave.
Both Democrats and Republicans in Congress have proposed national paid-leave laws. And the tax bill Congress passed in December had a narrow-bore and temporary paid-leave provision. Under it, companies can get a tax credit if they provide workers at least half their salary for up to 12 weeks of parental or family leave. The program applies only to workers making less than $72,000 a year, and it terminates in 2020.
Paid-leave advocates say the federal measure is inadequate and will induce few companies that don't already offer paid leave to do so.
They also say state programs have tested and proved the benefits of paid leave—for both employers and consumers.
These include enhanced worker retention, morale, and loyalty, as well as reduced absenteeism, according to a 2014 Department of Labor analysis (PDF) of the first decade of California's law. Similar findings have emerged from studies in New Jersey and Rhode Island. New mothers who take paid leave are also more likely to breast-feed and get medical checkups and immunizations for their babies, according to studies.
Conservatives don't dispute such findings or the benefits of paid leave to families: The provision in the tax-reform bill was a Republican initiative.
But most Republicans and conservative groups oppose tax-financed government paid-leave programs, state or federal. Instead, they argue that paid leave is best left as a voluntary decision by businesses, which can then tailor a paid-leave benefit to the needs of their workforce.
Private Sector Leads the Way
Whether motivated by the lack of a government program or embracing the employer approach, hundreds of mostly large companies now offer paid leave, with about 100 having begun to do so over the last three years, says Shabo of the National Partnership for Women & Families. They're also motivated by worker demand for the benefit, Shabo adds. (Read about the details of company paid-leave policies.)
Even so, only 13 percent of all workers in the U. S. have access to paid parental or family medical leave through their employers.
Andrew Eshleman, Ph.D., is one of them. A professor at the University of Portland, in Oregon, he took a month of paid leave last year to help care for his 89-year-old mother, Mildred, in the last weeks of her life. He received full pay during the leave. His mother died in early December.
"It meant a whole lot to me to be able to do that," Eshleman says.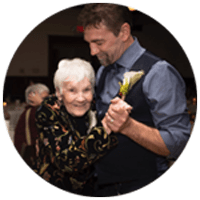 "Spending time with my mother was so meaningful. I was very appreciative that my employer supported it."
—Andrew Eshleman, 55, who took a month of paid leave to care for his 89-year-old mother, Mildred, at the end of her life.
Like most people who take paid leave, Eshleman, 55, found out about the details of his employer's paid-leave policy plan only when he decided to take it.
"People don't tune into it until they need the benefit," says Molly Weston Williamson, a staff attorney at A Better Balance, a group in New York that advocates for flexible workplace policies. She says that public awareness of state-based paid-leave programs is low, too.
In California, for example, only 221,500 people took paid leave between 2010 and 2017 to care for a loved one. Just over 1.5 million took paid parental leave during that period. California's paid-leave law went into affect in 2004.
"In some cases, of course, people still can't afford to take paid leave because half pay is not enough for their families," says Williamson. She says New York is making a concerted effort, through a public-information campaign, to inform residents of its new benefit.
Paid Family Leave FAQ
Are you eligible for paid or unpaid leave? And what exactly are your rights in the event of your own illness or that of a family member? To learn the answers, you need to understand the federal and state laws that govern medical leave, as well as your own employer's policies. Specifically, familiarize yourself with:
State and Federal Laws That Apply to Medical Leave
A 1993 law, the Family and Medical Leave Act, offers up to 12 weeks of unpaid, job-protected leave for personal or family health needs, bonding with a new child, or circumstances surrounding the deployment of a member of the armed services. But the law applies only to businesses with 50 or more workers. As a result, about 40 percent of workers don't qualify. The National Partnership for Women & Families offers details and a Q&A of that law.
The California, Hawaii, New Jersey, New York, Rhode Island, and the District of Columbia paid-leave laws differ (PDF). It's especially important, experts say, to know when you have to file forms to start the benefit. Your employer's human resources department should know. In New York, check out FamilyLeaveWorks.org, or call 833-633-3222.
Find your state's stand on the issues of paid leave and short-term disability.
Paid and unpaid leave also overlap with disability leave, and that can complicate things. California, Hawaii, New Jersey, New York, and Rhode Island have statewide temporary disability-insurance programs. Of those, all but Hawaii also have paid parental and family leave. In states that do not have temporary disability or paid-leave laws, you'll be relying on your employer's benefits.
Your Employer's Policies
It's worth learning about these policies before you need them. A sudden illness or accident can create an unexpected need for extended time off. For example, all employers require documentation of the need, and this can be quite specific. Some 90 percent of midsized and large firms offer unpaid maternity leave today, and a growing number of small firms do, too. But the vast majority don't offer paid maternity, paternity, or family medical leave.
Employers' policies differ widely with respect to disability leave and saving up sick and vacation days to use with paid and unpaid leave. Employers who carry short-term disability insurance must treat pregnancy the same as any other temporary disability. But most employees lack access to short-term disability benefits.
Paid-leave advocates also advise checking out a prospective employer's paid-leave benefits if you're shopping around for a new job. In some industries—especially tech—companies are now competing for workers on this benefit.
How the Laws Apply If You're Self-Employed or Do Contract Work
California allows the self-employed to buy into its paid-leave benefit, as do the new laws in New York state and the District of Columbia's new law. The other states offering paid leave don't offer the benefit to the self-employed.
Self-employed people are also responsible for buying their own disability insurance, which should include childbirth.