When you shop through retailer links on our site, we may earn affiliate commissions. 100% of the fees we collect are used to support our nonprofit mission.
Learn more.
Two years ago, Sherri Swansey, a school social worker in the Chicago area, noticed that her mom and dad were beginning to behave oddly. "They told me people were stealing money out of their bank accounts, and after switching banks, they began making the same complaints," says Swansey, 47. Her concern grew when she discovered they were having trouble
shopping for food and preparing meals.
Swansey and her brother Melvin, who both live nearby, stepped in to help with finances and housekeeping. She also arranged for neuropsychological evaluations. The findings were grim. Her father, Rayfield Thompson, was diagnosed with Lewy body disease, a form of dementia, and her mother, Ruth, with mild cognitive impairment.
"My initial reaction was extreme fear," Swansey says. "Oh my God, I have to pay my parents' bills and navigate through things I never did before, and my family is looking to me to tell them what to do."

Clearly her parents, already in their 80s, needed regular caregiving. But moving the couple out of their home of 46 years and into a nursing facility was out of the question. "It would have been too stressful for them," Swansey says. Tapping her parents' savings, she and her brother arranged for a home-care worker to look after her dad during the day. A second caregiver for evenings was brought in when he began declining last fall. He died in March at age 86.
Her mom, now 84, gets help from a home-care aide two days a week and attends an adult day-care program three days. Swansey, married with two sons, 11 and 17, visits her mother every other day, a task she juggles with her full-time job. Melvin helps take care of his mother's house and fills in the caregiving gaps. Two other brothers, Steve and Byron, live out of state and visit once a month.
But more caregiving help may be required. "There are times my mom will call, crying, and can't explain why, and I call my brother to go over there," Swansey says. "I haven't really had time to grieve for my dad—it's really overwhelming."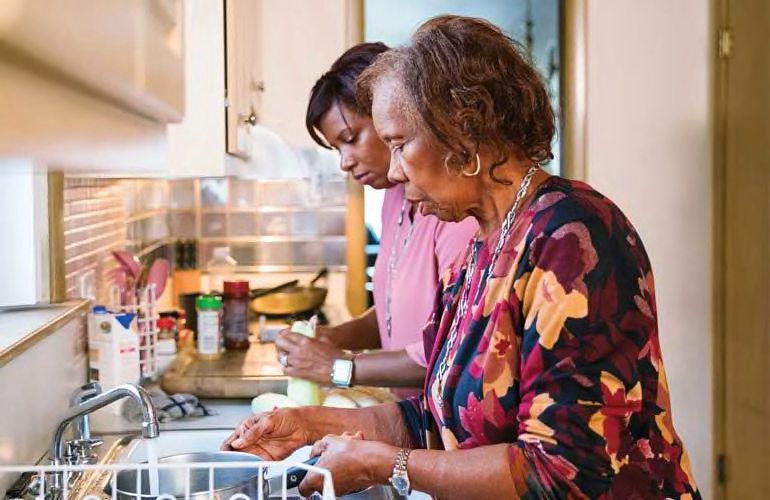 The Caregiving Challenge
Swansey's struggle is shared across the country. The number of Americans 65 and older is projected to reach about 73 million in 2030, up from 46.2 million in 2014, according to the U.S. Census Bureau. And 70 percent of them can expect to use long-term care, government data show. Yet about 80 percent of older adults say they intend to age in place, according to a 2011 survey by the National Conference of State Legislatures and the AARP Public Policy Institute. That means they may eventually require in-home services.
The responsibility for this care now falls mainly on family members. "America, unlike most developed countries, lacks a comprehensive national long-term-care support or insurance system," says Bruce Leff, M.D., a professor of medicine at Johns Hopkins University School of Medicine. It's a hodgepodge of family support and self-pay care at home, plus other private-pay options such as assisted living and short-term skilled home health services. (Nursing homes are mostly funded by Medicaid.) Family members often end up stitching together a patchwork system by hiring private aides, tapping local resources, and providing hands-on help.
But this ad hoc system could be headed for a breakdown with smaller families and fewer children to take on the burden compared with previous generations. In 2010 there were 7.2 family members (potential caregivers) for every person 80 or older, according to a 2013 study by the AARP institute. By 2030 that ratio is expected to drop to 4 to 1.
Yet the cost of hiring help is daunting. In 2017 the national median cost for 44 hours a week of nonmedical home-care services was $47,934 per year, according to Genworth, a long-term-care insurer. The national median cost of a one-bedroom apartment in an assisted-living facility or a semiprivate room in a nursing home ran $45,000 or $85,775, respectively. Most of these costs are out of pocket because Medicare generally doesn't cover long-term care. Medicaid kicks in only after financial assets are spent down and other eligibility standards are met. (See "Help With Home-Care Bills.")
It's not surprising that many families end up scrambling when illness strikes, with the responsibility often falling on the nearest relatives. According to a recent nationally representative CR survey of 1,000 adults, 45 percent of current caregivers reported spending 20 hours or more a week on the task, and 62 percent said they were paying out of pocket or using personal savings, with half spending $500 or more a month. A 2015 survey by the AARP institute and the National Alliance for Caregiving found that six in 10 caregivers said their duties had a negative impact on their job, including having to reduce work hours or take a leave of absence.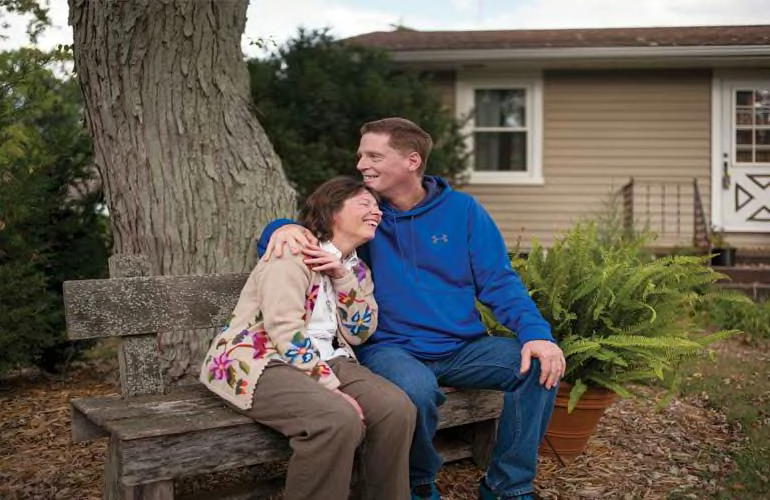 Strategies for Success
If caregiving may be in your future, develop strategies now. And if you're already a caregiver, there are resources to make the task easier. Here are some guidelines to consider:
1. Start the Conversation
If your parent or relative requires caregiving, reach out to other family members. Build a team for handling specific tasks such as housework, monitoring medication, and staying on top of paying bills. This approach can minimize disagreements or bad feelings if someone is left out of the discussion or stuck with an unequal share of the burden.
Of course, it may not be easy to raise the issue of caregiving with your mom or dad, who may resist the idea. "Many older adults don't want a stranger coming into their home, or they refuse to admit they need help for fear of losing independence," says Bobbi Kolonay, R.N., a nurse and life-care manager in Pittsburgh.
If your parents push back, consider easing into it. Start with small moves—perhaps hiring help for a single task, such as cooking or doing the laundry. "Once you have someone coming in regularly, your parents may look forward to the help and the companionship," Kolonay says. That might make it easier for them to accept help later with more tasks.
Smart strategy: Make the home safer. Your parents won't be able to age in place if they can't get up and down the stairs or if the bathroom won't accommodate a walker or a wheelchair. Nearly 70 percent of those age 85 and older live in homes that lack key accessibility features, according to a 2015 report by Harvard's Joint Center for Housing Studies. To get help with modifications, you can find a certified aging-in-place specialist through the National Association of Home Builders. (See "Make Your Home Elder-Friendly.")
2. Tap into Support Systems
The role of caregiver often starts slowly, as Roger Halleen, 59, discovered. His wife, Barbara, now 58, was diagnosed in 2008 with early-onset Parkinson's disease. The symptoms were mild at first, and she continued to work as a physical therapy assistant. But by 2010 the condition was causing periods of immobility, and Barbara had to quit her job.
"I've gradually made changes," says Halleen, a maintenance foreman for the public pool system in Peoria, Ill. These days he begins his workday at 7:30 a.m., rather than 5:30 a.m., to make sure his wife has her medication and can get around. They also get occasional help from nearby family members and friends. "We know what's coming in the future," Halleen says. "I hope I can keep going to retirement and get full benefits, but I'm not sure."
Joining support groups has made a big difference. Barbara attends exercise classes for Parkinson's patients. She and Roger co-chair the Central Illinois Parkinson's Support Group. "It's been really helpful to have people to talk to," Roger Halleen says. "We've formed friendships that have carried over beyond monthly meetings."
For many families, the caregiving role is a result of a medical emergency. If it's a hospitalization, talk to the discharge planner about the medical care your loved one will need.
You'll also want to speak with your employer about family caregiving needs. Under the federal Family and Medical Leave Act, larger companies (with 50 or more employees within 75 miles) and public agencies must provide up to 12 weeks of unpaid leave to eligible workers to care for a seriously ill parent or immediate family member. (To qualify, you must have worked 1,250 hours in the past 12 months.)
Smart strategy: Take advantage of tech. Apps and devices may help your loved one manage longer without help. Try using Skype or FaceTime to check in. Digital pill reminders can help keep track of medication. Amazon's Echo or other smart-home devices can answer questions and control devices by voice, which can be helpful for someone with mobility problems, points out Leslie Kernisan, a geriatrician who blogs at Better Health While Aging. You can find suggestions for helpful devices on her blog as well as at Tech-enhanced Life, a website run by a group that evaluates and reviews products for older adults.
3. Safeguard Your Loved One's Finances
It's crucial to have a full picture of your parents' finances, which will determine how much long-term care they can afford. But it might be difficult to raise the topic. One strategy is to bring up your own money concerns and then ask them for advice, says Miriam Zucker, an elder-care consultant in New Rochelle, N.Y. With your parents' okay, you can help them track their bank and brokerage accounts as well as assist in managing their cash flow. You can also keep an eye out for odd transactions. "Cognitive decline among older people is a huge issue, since they can become increasingly vulnerable to elder fraud," says Shirley Whitenack, an elder-care lawyer in Florham Park, N.J. "People are often shocked when they find out what their parent's finances look like."
Caregivers should also be sure their family members have key estate-planning documents in place. This includes a durable power of attorney, which will give you or a trusted relative the authority to make financial decisions on a parent's behalf if he or she is incapacitated. Your mom and dad should also have healthcare proxies, which authorize a family member to make medical decisions if they can't, as well as a Health Insurance Portability and Accountability Act form, which allows medical providers to speak with you about their care.
Smart strategy: Consider Medicaid eligibility. Lisa Mott and Karen Palonis, 56-year-old twin sisters in Pittsburgh, have been caring for their mother, 82, who has Alzheimer's disease, for six years. She has been living at home, and her savings go toward paying caregivers. But eventually she may have to live in a nursing home, which could deplete her assets. So three years ago the sisters turned to free legal services offered by their local Area Agency on Aging. "My mom got her will and medical and regular power of attorney done," Palonis says. The attorney also helped them plan for their mom's eventual eligibility for Medicaid, which has a look-back period of five years and strict income limits.
4. Managing Medical Care
One of the most overlooked challenges in home caregiving is simply figuring out how to do it. "Even nonmedical caregiving requires some training," says Howard Gleckman, an expert on issues related to aging at the Urban Institute, an economics and social-policy think tank in Washington, D.C. "It's not that easy to transfer a person from a bed to a wheelchair, and giving your parent a bath can be emotionally difficult, not to mention physically risky."
And if your parent has acute medical needs, you could find yourself providing care that would otherwise be delivered by a nurse or doctor. According to a 2012 study by the AARP institute and the United Hospital Fund, 46 percent of family caregivers did medical or nursing tasks for ailing loved ones, including injections and wound care. "There's very little help for family members to learn how to do these tasks," says Susan Reinhard, R.N., Ph.D., senior vice president at the institute.
Rules in many states bar anyone but family members, nurses, or certified nursing assistants working under a clinician to administer medication or provide other types of medical care. One way to pick up these skills is through instruction by nurses at the hospital where your parent is being treated. Or you can get tips from home health aides or physical therapists who may come for a limited time after your parent is discharged from a hospital. You can also get instruction from support groups as well as from online videos, such as those offered at Elder Stay at Home ($19 per year).
Smart strategy: Get help from the hospital. If your parent is being treated in a hospital, ask the discharge planner about the medical care that will be required, as well as any support you can access. Providing that information may be a legal requirement. A multistate initiative called the Caregiver Advise, Record, Enable (CARE) Act is rolling out. It's designed to train family members to manage complex medical care after a loved one is discharged. So far almost 40 states have enacted versions of this legislation, but many hospitals have only started to implement these programs. For family caregivers, the help can't come soon enough.
How Seniors Support One Another
These three creative alternatives can keep elders in their homes even if family isn't nearby.
Many people who want to stay in their homes as they get older don't have family nearby or other resources to make it feasible. So in some parts of the country, seniors have banded together to help each other. Some communities are planned housing developments; others have grown organically. Here's what you need to know about these communities and how to find one.—Donna Rosato
(If you're reading this article on your smartphone, we recommend that you rotate your phone to landscape mode to better view the tables below.)
| | | | |
| --- | --- | --- | --- |
| | What It Is | How It Works | What It Costs |
| Senior Village | A nonprofit membership organization, with volunteers and a paid staff, that coordinates programs for older residents who live in a defined geographic area. There are about 200 in the U.S. and more than 150 in development, according to the Village to Village Network, a nonprofit that helps organize the villages. To find one, go to vtvnetwork.org. | People live independently in their own home and pay a membership fee for services coordinated by their local Senior Village office. Member benefits might include transportation to stores and medical appointments, home repairs, and healthcare information. Villages also offer organized activities, such as fitness groups and cultural outings. | Prices vary, but at Capitol Hill Village in Washington, D.C., for example, membership dues are $625 per year for an individual and $925 for a household. |
| Senior Cohousing | A planned development of private homes or townhouses clustered around a shared common house that usually has a large kitchen, a dining room, and recreational space. There are 13 such communities and 15 in development, according to the Cohousing Association. For a directory, go to cohousing.org. | Residents own their homes, but the heart of the community is the centrally located community center, where they plan and share meals and hold social functions. A community typically has 20 to 40 houses designed to support aging in place, with features such as entries without steps and one-level floor plans. Residents coordinate services for each other, such as landscaping and transportation. | Home prices vary depending on the location. At Wolf Creek Lodge in California, one- and two-bedroom condo-style houses range from $200,000 to $500,000, and residents pay a monthly homeowners association fee of $400. |
| Naturally Occurring Retirement Community (NORC) | NORCs are communities with a large proportion of older residents, often people who have aged in place. They are found in urban high-rise apartment buildings and residential neighborhoods. There are more than 80 NORCs with supportive services formed by residents working with community partners. | A NORC typically has a small paid staff and volunteers to provide services. Residents pay monthly dues for such services as in-home computer help, referrals for healthcare providers, and social programs. The communities often get funding from local and state agencies. Go to norcblueprint.org for more information. | At the St. Louis NORC, which serves a 3-mile area in the city's Creve Coeur neighborhood, annual membership dues are $35 for an individual and $50 for a couple. |
Editor's Note: This article also appeared in the December 2017 issue of Consumer Reports magazine.