Most people who need long-term care rely on family for assistance, but about one-third get help from paid caregivers.
Finding and managing outside help can be stressful and time-consuming. You need someone reliable and trustworthy with the right skills. But you also want someone your loved one will be comfortable with.
Here are some steps to help you find quality home care:
Assess the Type of Care You Need
There are generally two types of home aides: home health aides, who provide basic medical care, such as managing medication and checking blood pressure, and personal care aides, who help with household chores and personal needs.
A home health aide might be the right choice if your loved one has an illness or disability and needs medical attention. Otherwise, a personal care aide, who can help with bathing, eating, dressing, or household chores, may be your best option. Elderly people living at home, especially those who don't drive or have family nearby, often spend a lot of time alone. A personal care aide can also serve as a companion, someone to share meals and do activities with, or someone to talk to during the day. People with dementia, who may be physically healthy but can't be left alone, also can benefit from companion care.
Know What It Costs and Whether It's Covered
Home health care and homemaker-type services cost roughly the same, about $21 per hour or $48,000 per year for a 44-hour workweek, according to the 2017 Cost of Care survey from Genworth, a long-term-care insurance company.
You'll pay a higher rate if you need help during evenings, holidays, or weekends. Hiring an aide, such as a nurse or certified nursing assistant, who can provide a higher level of care (changing a catheter, for example) will cost more.
Home care in rural areas, where there are fewer available workers, is more expensive. For example, the median annual cost of home health care is almost $64,000 in Alaska and North Dakota, the Genworth survey found.
A less expensive option is adult day care. According to Genworth, the median annual cost for five days a week is $18,200. Adult day-care programs provide many of the same services you'd get from a home health aide or personal care worker, often in a senior center or nursing facility. Go to the website of the National Adult Day Services Association for information about local programs.
Many people are surprised to find that Medicare, the health insurance program for people over 65, doesn't cover long-term-care needs, whether it's assisted living, a nursing home, or in-home care. But for short-term medical needs, it does cover some in-home care. Medicare typically pays for services after a person has been hospitalized or has an illness or injury and a doctor certifies that he or she needs care for that specific condition at home.
And if you have long-term-care insurance or qualify for Medicaid, you may have coverage for some home care.
Still, most people who need home care pay for it out of pocket. (See "Help With Home-Care Bills.")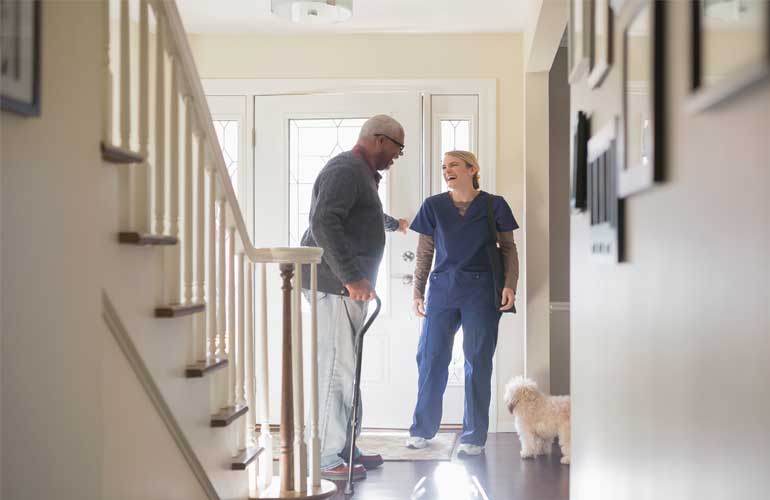 Know Where to Look for Help
Your community: Most people still rely on recommendations from family and friends, their doctor, or support groups. Word-of-mouth can be a good way to find a quality caregiver or a home health staffing agency—or which ones to stay away from, says Susan Misiorski, vice president for workforce innovations at PHI, an advocacy organization for home-care workers.
Your employer: About 13 percent of employers offer elder-care referral services, according to a study by the Society for Human Resource Management. Some go beyond a simple referral. For example, Care@Work, which provides employee benefits, assigns a social worker to do a health-needs assessment and connects people to vetted providers.
Locator service: There are thousands of staffing agencies that specialize in home care. To find one in your area, check the federally funded Area Agency on Aging's free home-care locator service. The National Association for Home Care & Hospice also has a free database listing thousands of home-care agencies.
Online: There are online elder-care matching services, such as Care.com and ElderCare.com, where home-care providers looking for work post profiles. You set the criteria and get a pool of candidates to contact. Some services, such as Care.com and CareLinx, do basic background checks. At Care.com, you can pay for higher-level screenings; a criminal and driving-record check, for example, is $69.
Decide Who's the Boss
Your next decision is whether to hire a caregiver through an agency or on your own. There are pros and cons to both. If you work with an agency, it will do the background screening, the hiring (and firing), and the tax and legal paperwork.
On the downside, you might have less choice over who comes to your home. "They're going to give you who is available; you don't get to select the person," Misiorski says. Agencies often divide the job between several workers, which can make it difficult to develop a good relationship with a caregiver.
If you're doing the hiring yourself, you can choose the person you think will provide the best care. It's usually less expensive than using an agency because you don't have to pay for all of the services built in, but it's more work, too.
You'll conduct the interviews, arrange a schedule, negotiate a salary, and spell out job responsibilities. If the home-care worker is sick, you'll need to arrange for a backup.
You'll also be responsible for the administrative tasks you need to do when you employ someone. (See article below.)
Check Out Your Caregiver
It's not difficult to find scary stories about elderly people being scammed by caregivers, like the home health aide who bilked an elderly couple in New York out of nearly $180,000 by forging checks to herself from the couple's bank account. The aide, who worked for the 92-year-old man and his 88-year-old wife, was sentenced to up to five years in prison earlier this year.
But Leah Eskenazi, director of operations for the Family Caregiver Alliance, a nonprofit organization, says most people who hire in-home care aren't ripped off or abused.
A bigger concern is whether the person you hire has the right training and is reliable, Eskenazi says. If you go through a home-care agency, ask about its screening process. Does it merely verify a worker's identity or will it do a thorough check—criminal history, driving record, and references?
If you're hiring a caregiver yourself, do your own background check. Ask for references from former employers and call them all. Use a service to check criminal histories and driving records, and to verify licensing. You can use background-check services at companies such as C3 Intelligence, which charges $15 to $30 (not including court fees) depending on how comprehensive the investigation is.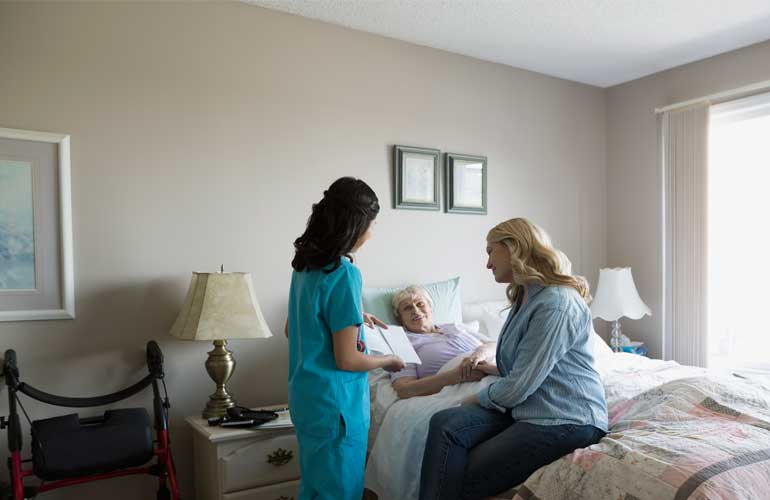 Ensure a Good Fit
It can take a lot of time to find a home-care aide, but the effort should pay off in the long run. When interviewing candidates, ask probing questions about how they handled difficult situations and managed disagreements with people they cared for, Misiorski says. And make sure your loved one is part of the interviewing and selection process.
Once you find someone, make the transition easier by having the aide start gradually, perhaps a few hours a week, or ask the staffing agency for a trial period. A family member or friend should be there the first few days to make sure things go smoothly. Check in frequently with your loved one and set up regular times to meet with the caregiver. Consider hiring a geriatric-care manager who can oversee the aides if you can't or you don't live nearby. You can find certified geriatric-care managers, who charge $50 to $200 an hour, through the industry's professional association.
The Right Way to Pay a Caregiver
Whether you hire a close family member or a stranger through word-of-mouth, ensure the best care for your parent—and protect your finances—by following these steps:
Don't pay under the table. Untaxed cash payments with no records can get you in trouble with the IRS and be construed as "spend down" gifts, potentially disqualifying your parent from future Medicaid-funded nursing-home care.
Doing things right involves work. If you pay a caregiver $2,000 or more a year or $1,000 a quarter, you'll need to give him or her a Form W-2. A CPA can help with these details. Or contact a service such as QuickBooks Payroll or SurePayroll, which offer turnkey payroll systems for home-based care. As an employer, it's also up to you to check the worker's immigration status.
Increase your insurance. If a regular caregiver is injured in the home and sues, your homeowners insurance might not cover all the medical or legal costs. "The resulting liability to you and your family could be financially devastating," says P. Mark Accettura, an estates and elder-law attorney in Farmington Hills, Mich.
Even when your homeowners insurance covers an injured worker in your home, it might not be sufficient to protect your financial assets.
Check with your insurer about buying or increasing umbrella liability coverage. Depending on your state, you also might need to buy workers compensation and disability benefits insurance.
Have a formal arrangement. Laying out the hours, tasks, pay, and other factors is especially important if you're paying a relative to do the work. A written contract can help you prove that the money paid wasn't a gift, a key consideration for Medicaid eligibility later. It also makes it clear when the relative's work ends and the work of others begins, such as a paid evening caregiver.
"It has to be an arm's length transaction," says Debra Speyer, an elder-law attorney based in Bala Cynwyd, Pa. "The person writing the check should be different from the one receiving the money."
A tax expert can lay out the most tax-efficient employment arrangement with a caregiving relative.
Generally, to pass muster with Medicaid, the hourly rate must be in keeping with market rates for unskilled home-care workers in your area. "If in your neck of the woods they're getting $20 or $30 an hour, you can't pay $80," notes Bernard Krooks, an elder-law attorney in New York.
The caregiver should keep a log of when he or she works to jibe with the payments made. Payments made months or years after the work was done won't pass muster with Medicaid, notes Paul T. Joseph, a CPA and elder-law attorney in Williamston, Mich.
"The money has to be paid after the agreement was put in writing," he says. "Past consideration is no consideration."—Tobie Stanger
Editor's Note: This article also appeared in the December 2017 issue of Consumer Reports magazine.
Consumer Reports is an independent, non-profit organization dedicated to helping consumers. We make it easy to buy the right product from a variety of retailers. Clicking a retailer link will take you to that retailer's website to shop. When you shop through retailer links on our site, we may earn an affiliate commission – 100% of the fees we collect are used to support our mission.
Learn more.
Our service is unbiased: retailers can't influence placement. All prices are subject to change.