When you shop through retailer links on our site, we may earn affiliate commissions. 100% of the fees we collect are used to support our nonprofit mission.
Learn more.
Most window stickers give a long list of features, detailing tangible mechanical basics such as airbags or wheels. Instead, the 2016 Buick Envision's list of standard equipment starts out with "Design and Engineering Led By Buick in the United States of America." This seems curious; a BMW's sticker doesn't proclaim that it is "German-designed."
So why is Buick, a traditionally all-American brand known for selling velour-lined sedans to modest family doctors and country lawyers, pushing the Envision's origin story? Turns out this new-to-America upscale compact SUV is built in China with 85% Chinese parts. More Envisions will be sold in China—where it has been on sale for well over a year—than here.
But regardless of where the 2016 Buick Envision was brought up, our first impressions show that it needs more time in finishing school.
That's troubling, because here in the States, Buick really needs the Envision to fill a gaping hole in their SUV lineup between the tiny Encore and near-enormous Enclave. Nearly every other luxury brand sells a compact upscale SUV, making this a very competitive segment. The best-performers combine nimble handling with a luxurious interior and versatile accommodations for people and cargo.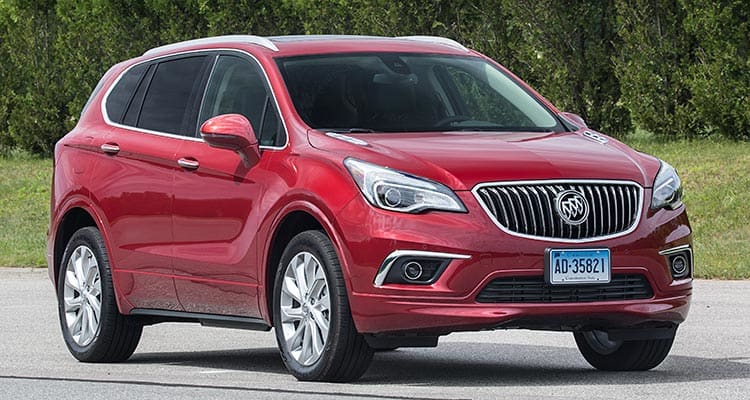 Buick would love for you to compare the Envision to the Audi Q5. They should be careful what they wish for. The 2016 Buick Envision just can't match the driving dynamics of the German competition—including the BMW X3 and Mercedes-Benz GLC—never mind the more plebeian Ford Edge. Despite compact dimensions, the Envision drives like a larger SUV, and that isn't meant as a compliment. Steering is slow and the Buick doesn't care to be rushed. The brake pedal also lacks bite, hurting confidence.
This is disappointing, given that our 2016 Buick Envision Premium is the version with the most potential. It has a 252-hp, 2.0-liter turbocharged four-cylinder, GM's touted HiPer strut front suspension, and all-wheel drive. Power is no problem, but the six-speed automatic sometimes shifts with a bump, posing no match for the smoother eight- or nine-speed gearboxes found in some rivals. A start/stop system saves fuel by shutting off the engine at intersections.
Maybe you don't care about tackling a twisty road in your luxury SUV, but would rather soak in a quiet interior and a cushy ride. The Envision only meets you halfway here. Engine noise is well stifled; road noise is kept at bay. Wind noise, however, already appears at around 50 mph, rushing around the windshield pillar. While the ride seems soft and supple at first, bumps manage to punch through, disrupting the cabin's calm.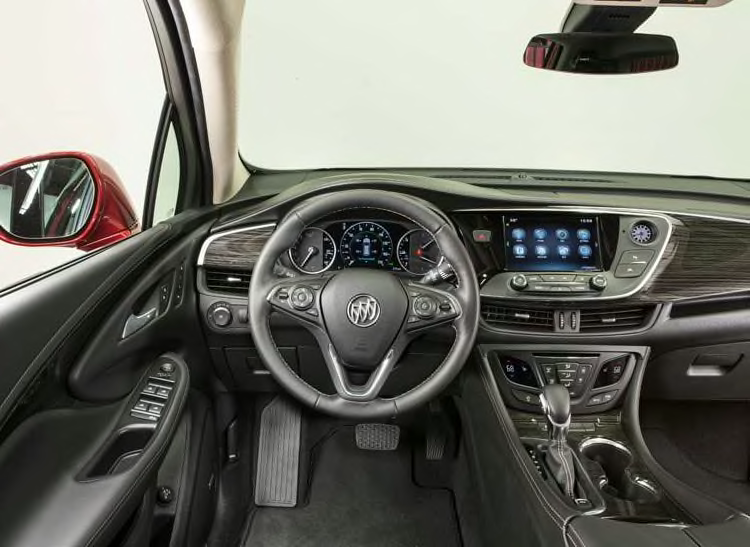 On first sighting, the Envision's interior looks inviting and plush. A big panel of glossy wood trim dominates the dashboard, along with stitched accents. The IntelliLink infotainment system has a big touch screen and easy-to-use graphics, although unlike most GM cars, it lacks Apple CarPlay and Android Auto.
Again, the frustration is in the details. Mounted underneath an overhanging dashboard ledge, the too-low center dash vents freeze your elbows but leave the upper cabin stuffy. Hard plastic covers the lower dashboard, and there are some evident rough edges. And while the rear seat has plenty of leg and knee room, headroom with the optional panoramic moonroof is so tight, an average-height man sitting in back will find his head firmly pushing into the ceiling.
Buick is rolling out the Envision in a phased launch. All 2016 Envisions will be Premium trim with the turbo engine and all-wheel drive. Standard equipment is generous, including leather, a Bose stereo, heated front and rear seats, and a heated steering wheel. Even more impressive, advanced safety equipment including blind-spot monitoring and forward collision warning is standard; automatic emergency braking is optional.
That changes for 2017, which introduces more modest versions. Front-wheel drive becomes standard, with all-wheel drive optional. The base engine becomes a non-turbocharged 2.5-liter four-cylinder, a milquetoast engine familiar from the previous-generation Chevrolet Malibu. Lower-level trim lines mean that the advanced safety equipment remains exclusive to the turbocharged Premium trim.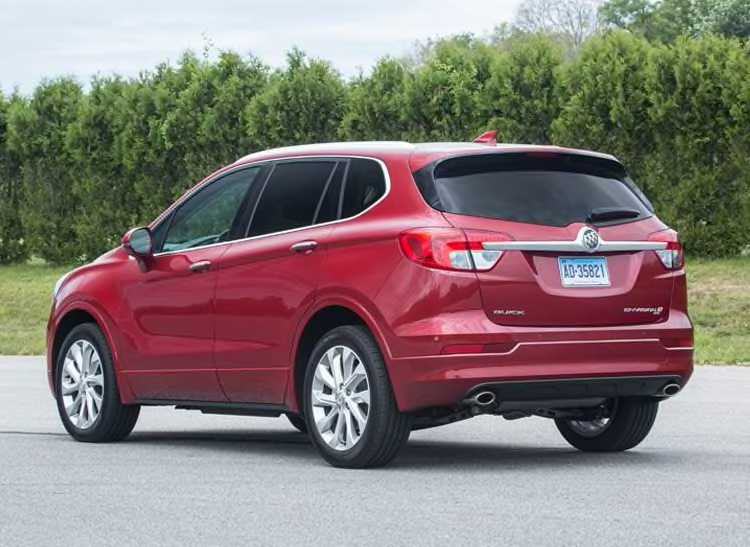 One of the effects of this broader lineup is to lower the base price. Our Envision Premium with the optional moonroof, navigation, and Saffron red paint came to a whopping $45,380. That's easily $5,000 less than similarly-equipped German rivals—but this car isn't even remotely in the same league. We just don't see any compelling reason to choose the Envision over the aforementioned Ford Edge, the Kia Sorento, or the Nissan Murano. A super-loaded Edge Titanium costs less and is roomier, far more athletic, and quieter. The Murano is plusher inside and a Sorento packs a third-row seat into a tidy package.
Overall, we find the Envision to be a diversion from GM's recent run of successful designs. The rewarding overall competence of the Chevrolet Impala, Silverado, and Cruze, or the dynamic excellence of the latest Corvette, Camaro, and Cadillac CT6 are absent here. That's a shame, given how many good SUVs—luxury-branded or not—fight to win buyers' dollars.