Fitness App Face-Off: Apple Fitness+ vs. Peloton
CR details everything from how well each helps newbies to how they integrate music Taking a cycling, cardio, or some other workout class once meant joining a gym and not only getting yourself there but also doing so when your favorite instructor was teaching.
But in the same way that Netflix made it possible to watch a TV show when you want—not when a network aired it—fitness apps that stream workouts have made it easy to get instruction from top-flight trainers anytime.
True, this has been doable since the days of Jane Fonda's VHS workout videos, but tapes and DVDs were limiting and static, unless of course you had a large collection. Streaming services give you access to thousands of classes taught by dozens of instructors—with new ones added daily or weekly.
The trend has been growing for years, but the pandemic has only ramped up interest. In the quarter that ended Dec. 31, Peloton said digital subscriptions were up 472 percent from a year earlier.
The company started out by streaming classes only to owners of its workout-studio style bike, and later its treadmill, but in 2018 it launched a digital subscription service that offered classes, including yoga and strength training to anyone—no equipment required.
First, I used my experience to settle on eight criteria that are important to the average exerciser to assess both of these services: workout options, instructors, motivation, dashboard navigation, beginner friendliness, music, community, and customization.
Since I was already familiar with Peloton's classes, I spent three weeks taking Fitness+ classes nearly every day, sampling a variety of workouts with different instructors.
I'll tell you now that both Peloton and Fitness+ have a lot to offer; and there's no clear "winner." But I did find differences in some areas that could be enough to sway your choice.
Before we get into the workout details, there are a few things to know about differences in the monthly costs and what you need to use each service.
Peloton made a conscious decision to grow its business by separating, to some extent, its service from its exercise equipment. As a result, you can use it on any device, iOS or Android. The price is $12.99 per month, and the company offers a 30-day free trial.
But with Fitness+, you need to own an Apple Watch. It doesn't have to be the most expensive one; a Series 3, which costs $199, will do (that's what I used to do my workouts). Granted, that's a lot less than the $1,900 you'd spend for the basic Peloton bike or $2,500 for the basic treadmill. But unless you already own an Apple Watch, you have to factor in that cost. The service itself is $9.99 (or $79 if you sign up for a year). New watch buyers get three months of Fitness+ free; current watch owners can get a one-month free trial.
You don't have to wear your Apple Watch to take a class on your iPhone or iPad, although you do on Apple TV, but without it, you won't get the full experience.
When you do, you can see your workout stats—such as time spent, heart rate, calories burned, and even how many seconds left in an interval—on screen while you're exercising; you don't have to keep checking your wrist the way you would if you were using a smartwatch (Apple or another brand) on another service, like Peloton.
It's clear from Apple's promotional materials, that "world-class workouts" (as Apple refers to them), keeping track of your personal data, and putting workout stats front and center to keep you motivated is what Apple believes sets Fitness+ apart. Peloton bike and treadmill owners get some of the same features, but digital subscribers can't see their stats on screen.
Workout Options
Advantage: Peloton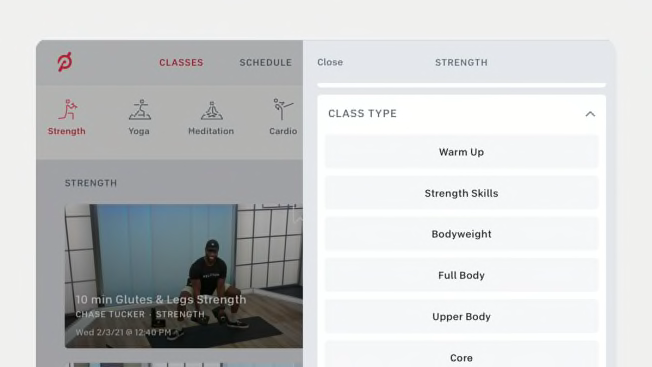 You won't have any trouble finding a workout that appeals to you and that you can squeeze into the time you have with either app. Class lengths range from 5 minutes to 75 minutes. (Peloton has some 60- and 75-minute workouts, while Fitness+ sessions are mostly in the 20- to 45-minute range).
Both are loaded with classes for beginner, intermediate, and advanced exercisers. But Peloton has more variety than Fitness+, for now, at least.
With Peloton, you can choose from strength, yoga, cardio, meditation, running, outdoor (running, walking, and intervals), cycling, stretching, treadmill and bike bootcamp classes (a combo of strength and cardio), and walking workouts.
On Fitness+, your options are interval training (aka HIIT, or high-intensity interval training), yoga, core, strength, treadmill, cycling, rowing, dance, and mindful cooldown (stretching).
On both, the filter button lets you drill down into the workout categories. I found that Peloton's offerings run deeper for all exercise levels, including advanced—which fits its mission to deliver "immersive and challenging workouts." For example, Peloton's strength section includes resistance band workouts, strength for runners, ballet-inspired barre, Pilates, and prenatal classes, in addition to bodyweight- and dumbbell-focused workouts.
When it comes to yoga, Peloton offers flow (vinyasa) classes, restorative yoga, pre- and post-natal, and more. Currently, Fitness+ yoga classes are all flow-based, likely because that's what, in my experience, most people are looking for when it comes to yoga in the fitness realm. Flow classes burn more calories and are just more app-friendly (and engaging) because they move faster than, say a restorative yoga class where you hold poses for long periods of time.
While you need to be in front of a screen to use Fitness+, Peloton has an audio workout option that lets you use the app when you walk, run, or do intervals outdoors. The instructors walk (or run, as the case may be) you through the sessions minute by minute, encouraging you with breathing and form cues. It's a feature I appreciate—it helps me mix up my workouts when I go for a run or walk around the park without having to put the energy into coming up with my own running or walking plan, for instance, deciding whether I should do one-minute run-walk intervals today or just a 30-minute jog.
Instructors
Advantage: Apple Fitness+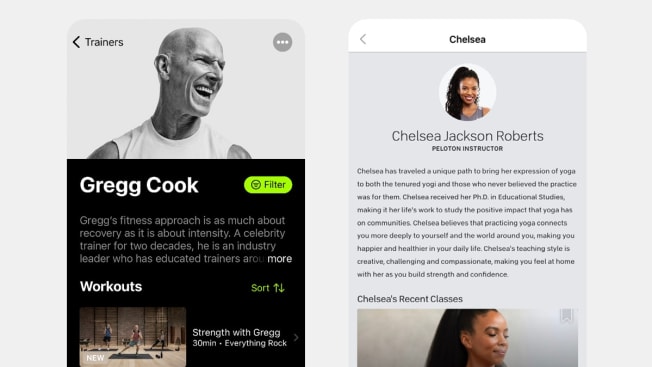 The instructors in both services are qualified as well as engaging and talented. They smile through every workout, no matter how hard. They're also very good about telling you what to expect during each class, and how it's broken down.
This may sound trivial, but it's the sign of a good instructor and good programming. Whether it's a fitness class or a lecture, people appreciate knowing what's in store for them. If you get a heads-up that you're in for a tough segment at the end of a class, you'll save some energy. Cueing—clearly calling out the moves and any crucial form tips—in the workouts is also excellent across both services.
Both have a diverse team of instructors, too, but representing a range of ages is one area they fall short. Fitness+ appears to have more age diversity, although I'd still like to see more 50-plus instructors. While some older exercisers are motivated by being able to keep up in a class taught by a younger teacher, in my experience as a fitness instructor, many prefer working out with someone who they can relate to and who they believe can understand and accommodate their potential limitations. (You can put me in that camp—my burpees are a lot slower than they used to be!)
For these reasons, the average exerciser probably won't notice a difference in the quality of the instruction between the two. And yet my impression is that Apple has really embraced fitness cred over camera appeal. Many Fitness+ instructors are longtime fitness professionals, with a decade or more of experience, who had cultivated devoted followings even before it was "cool" to be a fitness trainer.
It's not that Peloton's instructors aren't highly qualified and beloved by Peloton users. For example, the company recruited yoga pro Chelsea Jackson Roberts, and yoga and Pilates teacher Kristin McGee. And teachers like Robin Arzon, the "face" of Peloton cycling and vice president of fitness programming there, have established an ardent fan base through the Peloton craze. She drew 28,000 riders to one live class last spring.
With Fitness+, however, it's like working out with all the best trainers from top gyms around the country, and I love that aspect. The lineup includes Josh Crosby, who sparked the indoor rowing craze and is the creator of the IndoRow program; Gregg Cook, a New York City cycling and strength instructor whose classes were always packed, even back in the '90s; Bakari Williams, a former soccer player and another in-demand New York instructor; and Molly Fox, whose eponymous fitness studio was one of the first to ignite the aerobics craze in New York City in the '80s and who has been going strong ever since.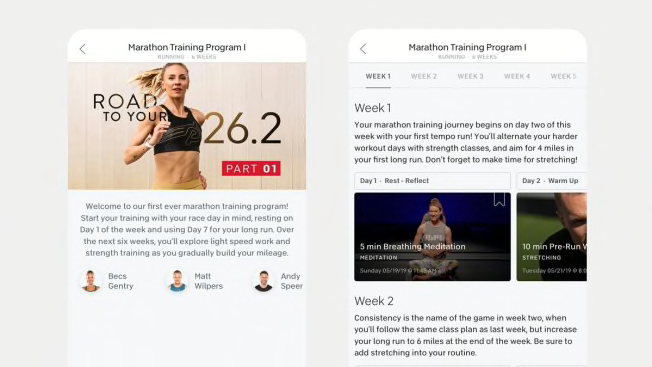 For people, like me (and I imagine many others), who want to maximize their workout time, having the stats, like heart rate and calories burned, front and center provides the carrot—that inspiration to increase intensity or just keep moving. Fitness+ does a better job of this compared with Peloton's digital subscription. The activity rings—which track your calorie burn, minutes exercising, and standing time—that are built into the Apple Watch activity app sync with Fitness+, and they're displayed during your workout, too. I always find it so satisfying to see those rings close and I know I've met my movement goals for the day.
And in Fitness+ cardio workouts, such as treadmill and cycling, you can see the Burn Bar, which lets you know how you compare calorie burn-wise to other people who've done the workout before you, prompting you to pick up your pace. If you have a Peloton bike or treadmill you can get this kind of info, too, through the Leaderboard, but digital subscribers can't.
But if working toward a goal is what gets you pumped, Peloton may be a better fit for you. It offers programs—multi-week plans that progress you day-by-day toward a goal, something various fitness app creators have told me more and more users are looking for. The programs are progressive and centered around building strength, learning to run, improving core strength, training for a marathon, and more.
Peloton also has monthly (and one annual) challenges you can join that might include working out every day (or a certain number of days) in a given month, running 10 miles in a month, and so on. You earn badges when you complete them. The Girl Scout in me loves a badge and it's motivating to see that visual proof that I worked out every day this month or logged my miles. Another option is "collections," which are themed classes, such as Shonda Rhimes' Year of Yes.
Beginner Friendliness
Advantage: Apple Fitness+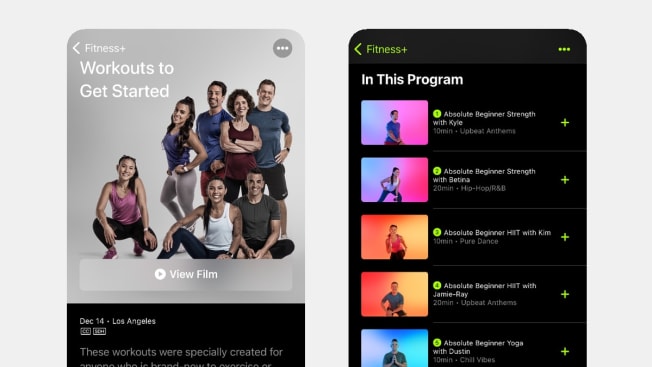 Beginners will have plenty to try on both apps, but Fitness+ has a section dedicated to beginners on its dashboard. In it, Apple has put together seven classes across a handful of exercise modalities (strength, yoga, HIIT, and core training) that are dedicated to "absolute" beginners and teaching the basics.
While Peloton categorizes each workout as beginner, intermediate, or advanced, most Fitness+ classes contain modifications for all levels and the instructor is joined by two other people who demonstrate beginner and advanced modifications. A lot of people like this group approach, which is a hallmark of workout DVDs, but I find it confusing to listen to the instructor, but watch another person to see how to modify the moves. I'd prefer to just know the workout is right for my level. But there's plenty of room to grow and advance with both services.
One thing missing is any kind of fitness testing tutorial that might help you determine where you stand in terms of levels, but if you start with either services beginner classes, you'll figure it out easily enough.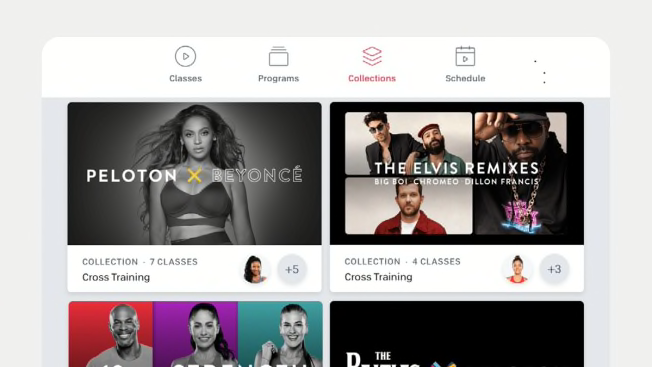 Although I enjoy a good playlist that perfectly times the songs with the intensity or cadence in class—the right tune can get you through an energy slump— it's not a huge deciding factor for me in an app. But I know that for other people, there's nothing more disappointing than picking a workout and once you're into it, realize the music isn't doing it for you.
Getting the "best" music experience depends on what you prefer. No doubt Fitness+ prioritizes the music. Every class tells you the type of music you'll be working out to, such as R&B, Latin Grooves, Upbeat Anthems, or Throwback Hits (all songs are from the Apple Music library).
You can find the same type of info on the Peloton dashboard, but sometimes it's not included in the class title and you have to click on the workout to see the kind of music. Still, Peloton's music focus is stronger and more varied. For instance, I recently took a cycling class called Cover to Cover ride (every "ride" has a different name or theme), with the motivating Jenn Sherman, where the playlist was made up of covers of classic songs, like Miley Cyrus performing Blondie's "Heart of Glass." And Robin Arzon's (VP of fitness programming at Peloton) Hamilton ride is amazing. The company is also offering buzzy, fun, music-themed workouts, such as with Beyoncé, The Beatles, and even Elvis remixes.
If music isn't your thing, though, Apple recently introduced an audio feature, Time to Walk. It's not a workout program—Apple calls it "a walking experience," and its goal is to encourage people to walk more. Various individuals, such as singer Dolly Parton and actor Uzo Aduba, have recorded personal stories and observations while walking or in a place that's meaningful to them, according to Apple.
The stories are paired with images that appear on the Apple Watch screen, and they're followed by a short playlist of songs that inspired the individual. They're an interesting and sometimes educational alternative to music, a podcast or an audiobook but I prefer music or more in-depth audio content, like a podcast.
Community
Advantage: Peloton
I like focusing on my own performance in a class; I'm not generally concerned about what others are doing. But for users who like exercising with other people—something sorely missing when you're doing reps in your living room—Peloton has live classes. Plus, you can see the names (aka "handles") of other people who are in class with you during cycling and treadmill workouts. You can click on a name to send them a high five (easily managed while still pedaling or jogging), and you'll see when someone sends you a high five as well. One click from the dashboard shows which classes are streaming live on a given day (and there's no risk of it filling up). Fitness+ doesn't currently offer live classes.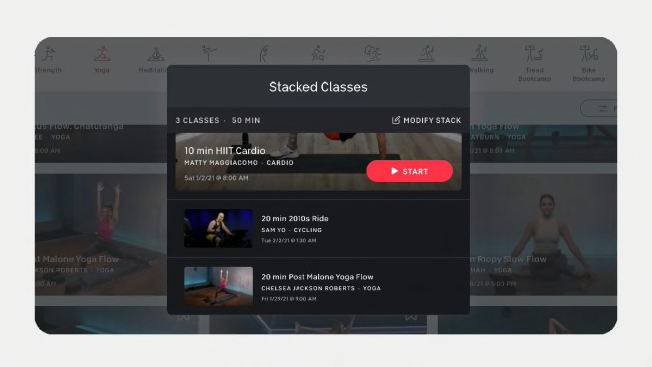 If you had asked me a few weeks ago, I would have given the advantage to Fitness+ in this category. The Fitness+ algorithm will give you suggestions for workouts based on other classes you've taken, whether from Fitness+, the Workout app on your Apple Watch, or other workouts from other platforms that sync with the Health app (including Peloton). Love Sam Sanchez's treadmill or core classes on Fitness+? You'll know when her new workouts are available. Doing mostly core classes? With Fitness+ you'll get suggestions for other options that will help round out your routine. This is a really helpful feature for exercisers who may tend to stick with the same classes and forget to add in variety, myself included.
But Peloton recently launched its Stack feature, which lets you create your own workout by stringing together up to 10 classes back-to-back—for instance you could stack a 10-minute warmup, a 20-minute treadmill class, a 10-minute core class, and a 10-minute full body stretch. (You could do this before by simply choosing another class after you finished one, but the Stack feature queues the classes up so they flow seamlessly and you don't have to stop and search for the workouts.) Digital subscribers have to create Stacks on the web, but can access them from a mobile device.
Scheduling is another new Peloton feature that helps you coordinate your workouts. If you use the app on an iOS device, you can view two weeks' worth of upcoming classes and check off the ones you want to take to create a custom schedule.