When you shop through retailer links on our site, we may earn affiliate commissions. 100% of the fees we collect are used to support our nonprofit mission.
Learn more.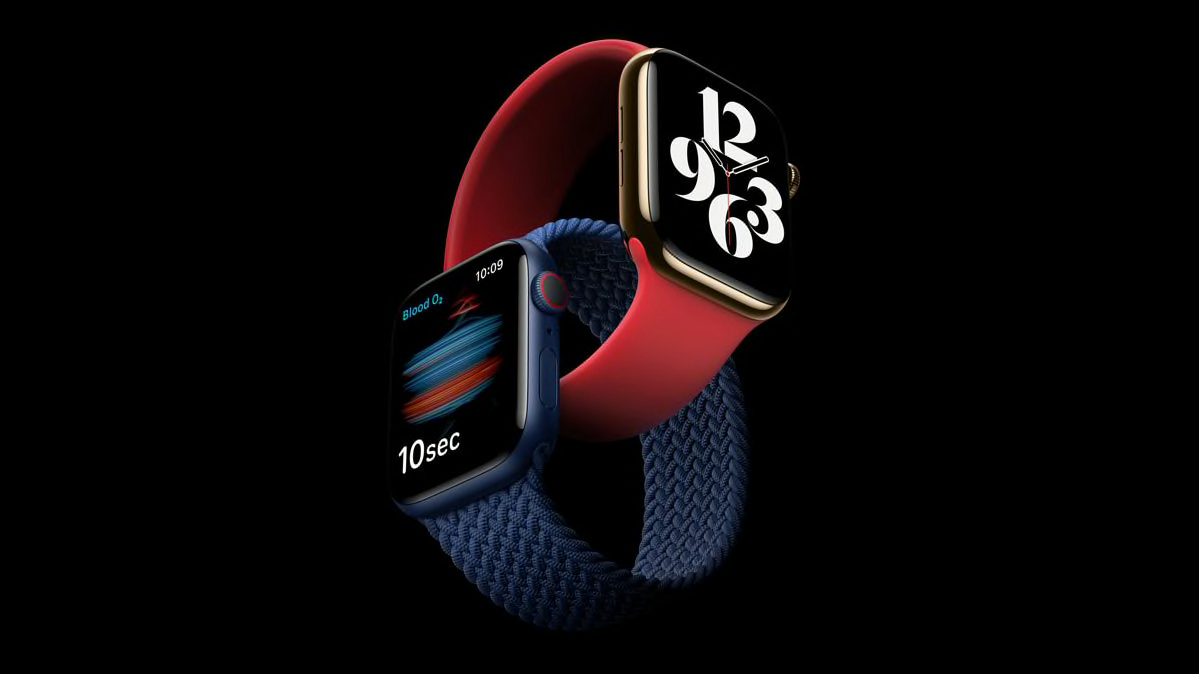 Apple has decided to unveil two new smartwatches this year: the budget-conscious Apple Watch SE and the Apple Watch Series 6, which is designed to give you better insights into your overall health and fitness with the help of a new sensor that measures blood-oxygen levels.
That hardware upgrade, which is needed for features such as sleep tracking, brings the flagship Series 6 model in line with those made by rivals like Fitbit and Garmin. Much like Fitbit and Peloton, Apple is launching a monthly fitness subscription service, too.
And, to round out a day of product announcements, the company introduced a pair of new iPads and an option to bundle existing Apple services like Apple TV+ and Apple Arcade.
Notably absent from the annual product launch were details about the new iPhones, which have been pushed back because of the ongoing pandemic.
The Apple Watch SE provides a midpriced option between the new Series 6 and the budget-friendly but aging Apple Watch Series 3, which Apple says will continue to sell for $200.
The SE includes a faster chip set than the Series 3, delivering features such as fall detection, which can call for help if the watch detects that the user has taken a hard spill.
Both watches can be preordered now. They officially go on sale Friday, with the Series 6 starting at $400 and the SE at $280.
In the meantime, here's a closer look at what all the new Apple products have to offer.

Apple Watch Series 6
Blood Oxygen sensor and app: Researchers have raised flags in the past about certain devices designed to measure blood-oxygen levels, pointing to inaccuracies that can arise when the devices are used on people with darker skin.

To compensate for variations in skin pigmentation and improve accuracy, Apple says, the Watch 6 employs clusters of green, red, and infrared light projected onto the surface of the skin, measuring the amount of light reflected back to determine a user's blood-oxygen level. The results are tabulated using a custom algorithm built into the watch's Blood Oxygen app.
On-demand measurements can be taken in about 15 seconds, the company says, but the app will routinely track a user's blood-oxygen levels as well to detect changes over time.
The sensor's measurements will be used as part of the new sleep-tracking feature in watchOS 7. Apple says it's also working with researchers on studies to determine how blood oxygen levels can be used to help manage asthma, heart failure, and early detection of respiratory illnesses like the flu and COVID-19.
Better performance: The Series 6 features a new dual-core processor based on the A13 Bionic in iPhone 11. Apple says the watch will perform significantly faster than the Series 5.
Always-on altimeter: That means you can see exactly how many flights of stairs, or mountaintops, you've climbed in real time.
Improved display: According to Apple, the always-on display on the Watch 6 will be up to 2.5 times brighter than that on the Series 5 watch, making it easier to view in bright sunlight.
Same battery life with faster charging: Despite the zippier performance and brighter display, the Series 6 will match the 18-hour battery life found in last year's watches, Apple says. But it will refuel faster.
And that's important if Apple is serious about sleep tracking. It allows Apple Watch users to quickly top off the battery, before or after a night of sleep, so they can wear the device for close to 24 hours a day.
By comparison, smartwatches made by Fitbit offer multiday battery life.
New design: Apple has introduced new bands, and new colors and finishes for its metal cases. In particular, it's debuting a handful of stretchy silicone bands that it says fit better and are more comfortable. There are also new watch faces for download, including some that incorporate your favorite Memojis.
Family Setup: Apple's new Family Setup feature allows parents to provide a child or an older relative with a watch instead of a phone. The device can be used to make calls, send and receive messages, use Apple Pay, play games, and track fitness goals.
It also permits the parent to track the user's activities, receive notifications on the user's whereabouts, and confine the user's communication to trusted contacts. And if you're worried about your kid paying attention in school, you can even limit the watch's functions during school hours.
Family Setup will be available Wednesday as a free software update and works with cellular Apple Watches dating back to the Series 4. Compatible wireless plans are required, and the cost depends on the carrier, Apple says.
Apple Watch SE: This new model doesn't have all the bells and whistles of the Series 6—you don't get the pulse oximeter, for example—but Apple does promise performance that's twice as fast as that of the Series 3.
The display is bigger than that on the Series 3. You get the same accelerometer, gyroscope, and always-on altimeter found on the Series 6. And, because it's designed with children and grandparents in mind, the SE works with both Family Setup and Fall Detection. The Series 3 does not.
New software: Both iOS 14 and watchOS 7 will be available for download tomorrow. The annual iPhone revamp includes a handful of new features designed to declutter users' growing app collections. And the new Apple Watch software includes redesigns of the device's activity and workout apps, along with new sleep-tracking abilities and more ways to customize and share watch faces.
New iPads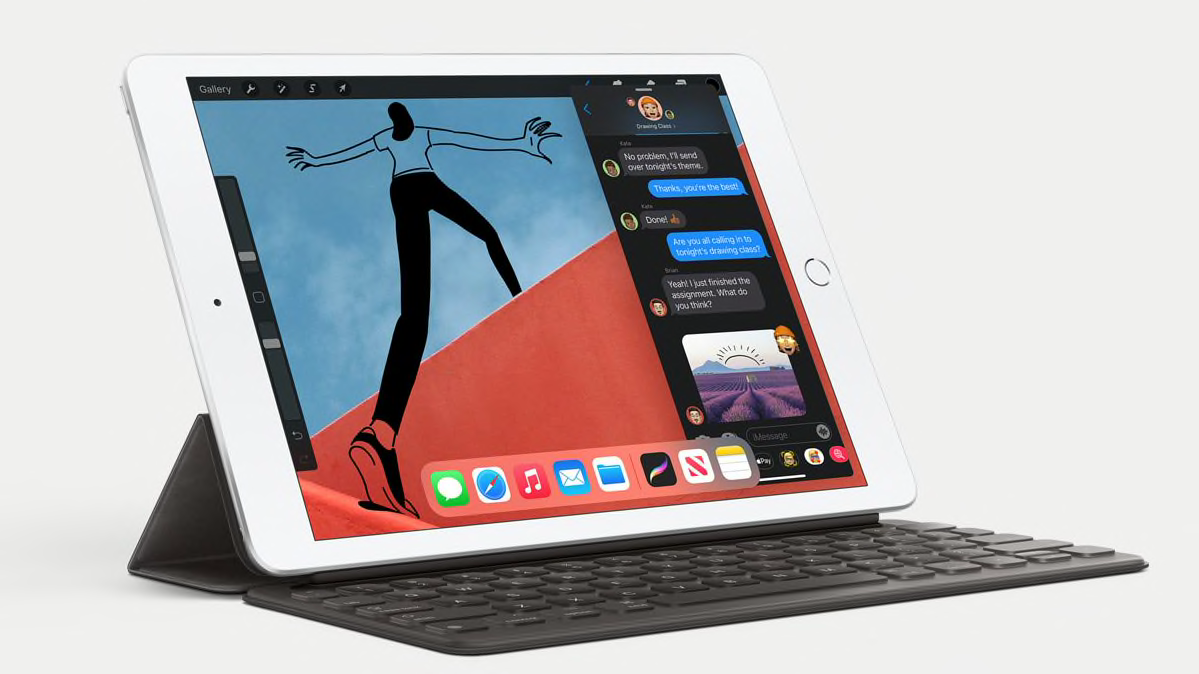 Apple announced updates to its entry-level eighth generation iPad and midtier iPad Air.

The midtier iPad Air received an all-new design that closely matches that of the high-end iPad Pro, but for a much lower price. The bezel around the display has been reduced, allowing the screen to stretch from 10.5 inches to 10.9 inches while maintaining the same footprint.
The device has higher-end finishes compared with that of the entry-level iPad, too, including an anti-reflective coating that makes the tablet easier to view outdoors and a lamination that makes text appear more crisp than it otherwise would.
The updated processor, the A14, hasn't been seen in an Apple product to date but is likely to be in this year's iPhone, as well.
Apple also added quality-of-life enhancements to the iPad Air, including a Touch ID sensor built into the power button; stereo sound (when the tablet is held in landscape mode); a USB-C port (which allows for faster data transfers and one less bespoke cable than the old Lightning port); and support for the WiFi 6 standard, which theoretically allows for faster speeds and lower latency.
The new iPad Air can be preordered Friday, starting at $549 for a version with 64 gigabytes of storage. It ships in October.
The entry-level iPad received a less dramatic update. While Apple added a faster processor (the A12, similar to the one introduced with the 2018 iPhone XS), the overall design remains the same. So does the $330 starting price, which gets you 32GB of storage. The device goes on sale and ships this Friday.
New Subscriptions
Apple Fitness+: Apple's new fitness subscription service will feature new workouts each week that cover activities like yoga, treadmill running and walking, and dance. The classes are paired with a variety of music styles, and you can watch them on your iPhone, iPad, or Apple TV. Your progress is tracked on your watch and stored in the app on your iPhone.
It's a lot like, and priced exactly the same as, the premium service introduced by Fitbit last year. And it bears a bit of resemblance to more expensive fitness services such as Peloton.
Apple Fitness+, which will cost $10 per month or $80 per year, is set to launch by the end of this year. Buy a new Apple Watch and you can get the first three months free.
Apple One: Starting this fall, you can bundle your favorite Apple services and save a few bucks. The individual plan includes Apple Music, Apple TV+, Apple Arcade, and 50 gigabytes of iCloud storage for $15 per month.
Or sign up for the Family plan and get the same three services plus 200GB of iCloud storage for $20 per month. This plan can be shared among up to six family members.
And Apple's Premier membership adds Apple News+ and Apple Fitness+ to the mix, along with 2 terabytes of iCloud storage for $30 per month. It also can be shared among up to six family members.