Here's What We (and Our Nutritionist) Think of KFC's Beyond Fried Chicken
The fast-food chain's new menu item targets flexitarians looking to incorporate plant-based meat into their diet KFC, the famous fried chicken chain, launched a big new menu item at locations across the U.S. on Monday that is chicken in name only. The Beyond Fried Chicken Nuggets—a product two years in the making—are the first plant-based protein offered at KFC. But are they finger-lickin' good, and are they any better for you and the environment?
The nuggets, which are being offered for a limited time, are made by Beyond Meat, the same company that brought us the Beyond Burger, the plant-based burger that "bleeds." The KFC nuggets are supposed to mimic the flavor and texture of chicken breast, particularly the way it pulls apart in layers. They're made with soy and wheat proteins but are not technically vegetarian or vegan because they're fried in the same oil as the chicken. None of the accompanying sauces are vegan, either, and only the Honey BBQ is vegetarian. But the company says Beyond Fried Chicken isn't targeting vegans and vegetarians.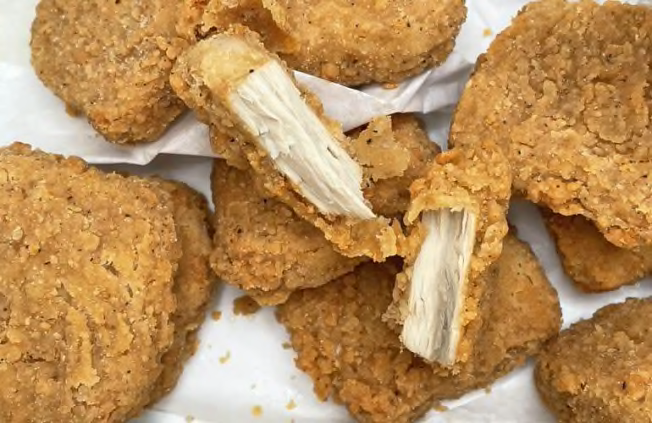 "Our target customers for this product are flexitarians looking to incorporate plant-based meat or more diverse protein options into their diets, and those who want to experience the signature flavors of KFC in a plant-based option," a KFC spokesperson said in an email statement.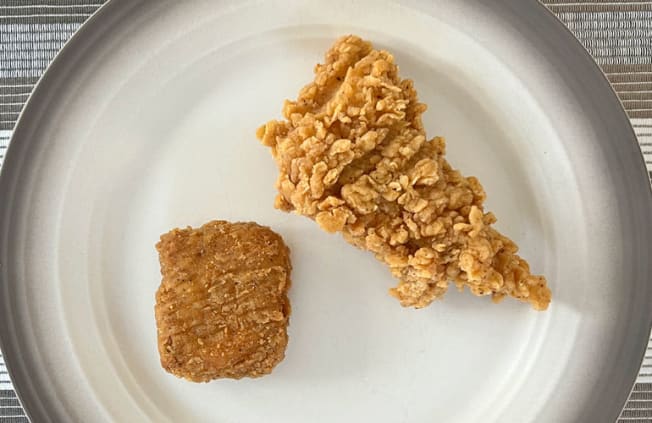 Better for You Than the Bird?
KFC makes no claims that its Beyond Fried Chicken Nuggets are healthier than its other fried chicken menu items, such as the chicken tenders, but because many people assume plant-based proteins are healthier than animal proteins, we asked CR's nutritionist, Amy Keating, for her take.
"Incorporating plant-based protein in the fast-food setting may have favorable impacts on sustainability. But in terms of nutrition, it won't make much difference," Keating says. "Depending on the size you choose, you'll save some saturated fat with the Beyond Fried Chicken, but not much else, since sodium and total fat can be comparable to that in the chicken tenders."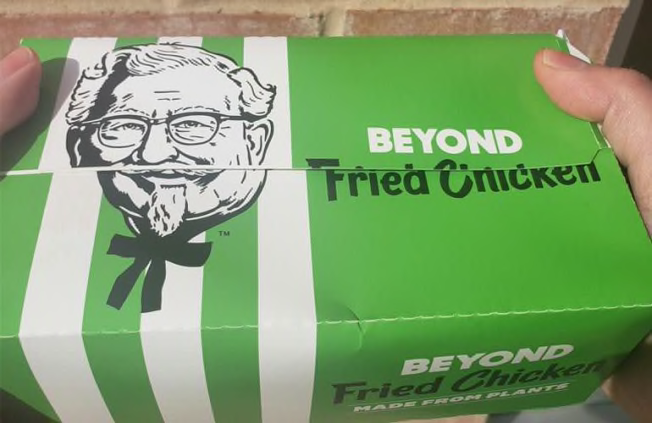 How Beyond Fried Chicken Nuggets Taste
Five CR staffers volunteered to give the Beyond Fried Chicken Nuggets a try to see if they're the "Kentucky Fried Miracle" KFC claims they are. For the most part, reactions were positive. 
"Overall, I Was Happy With This Product"
They were yummy! My husband, who only seldomly eats veggies, couldn't tell it wasn't real meat. I thought the texture was odd, though. It was tightly packed, which made for a strange chew. Not bad, just different—very well-seasoned and consistently crisp coating that sticks well to the meat portion.
Would I buy them again? Sure! Overall, I was happy with this product. These are much better than the frozen brands I've tried from Whole Foods.—Ginger Cowles, managing editor
"Would Order Again If I Needed a Fast-Food Fix"
The meal was pretty satisfying for fast food. The look and taste of the product were good. The texture was dense, like extra-firm tofu, and a bit dry but soft and chewable. The KFC hot sauce made the Beyond Fried Chicken Nuggets a lot tastier. 
Would I buy them again? I would order again if I needed a fast-food fix.—Daniela Nuñez, associate director of social media
"Pasty but Not Unpleasant Consistency"
If you slipped me one of these, I'm not sure I'd know the difference. The mouthfeel is chickenlike for the first few bites, at which point it assumes a somewhat pasty but not unpleasant consistency that is different from chewed chicken. In terms of flavor, there is a slightly bitter taste that registers on the back and rear sides of the tongue. There's also umami and a lot of salt.
Would I buy them again? If you told me that these were far healthier than fried chicken and/or that their environmental impact was far less than real fried chicken, I would order them—when feeling virtuous.—Kevin Doyle, enterprise editor
"I Wish the Nuggets Were Something They're Not Trying to Be"
I think this is a pretty darn good plant-based nugget that could trick kids into thinking they are real chicken nuggets. The breading, which is similar to KFC's popcorn nuggets, is way overseasoned and could be toned down several notches, closer to KFC's original fried chicken coating. Without it, I find that the meat actually tastes more like chicken. The texture is denser than white-meat chicken and less mealy than most other chicken nuggets. I think these Beyond nuggets taste more like meat than many fast-food chicken nuggets, but were they ever supposed to? 
Would I buy them again? Nah. I wish the nuggets were something they're not trying to be—a juicy fried chicken thigh—because if I'm going to KFC, that's what I'd order, never a nugget (plant-based or otherwise). Once Beyond Meat figures that out, I'll be first in line.—Perry Santanachote, multimedia content creator
"Texture Was Tough and a Bit Grainy"
They are dry and rubbery to me and not at all a meat texture. It looks more like KFC tofu, although when you bite them they do look a bit more like compressed chicken meat. The texture was tough and a bit grainy, and the nuggets were greasy under the breading and had a slight aftertaste.
Would I buy them again? The real chicken I ordered seemed less greasy, moister, and more flavorful. If you are not a vegetarian, stick with the chicken.—Sharon Seidl, senior user experience visual designer
Clarification: This article has been updated to indicate that any savings in saturated fat will depend on the size of your Beyond Fried Chicken order. The article was originally published on January 11, 2022.