When you shop through retailer links on our site, we may earn affiliate commissions. 100% of the fees we collect are used to support our nonprofit mission.
Learn more.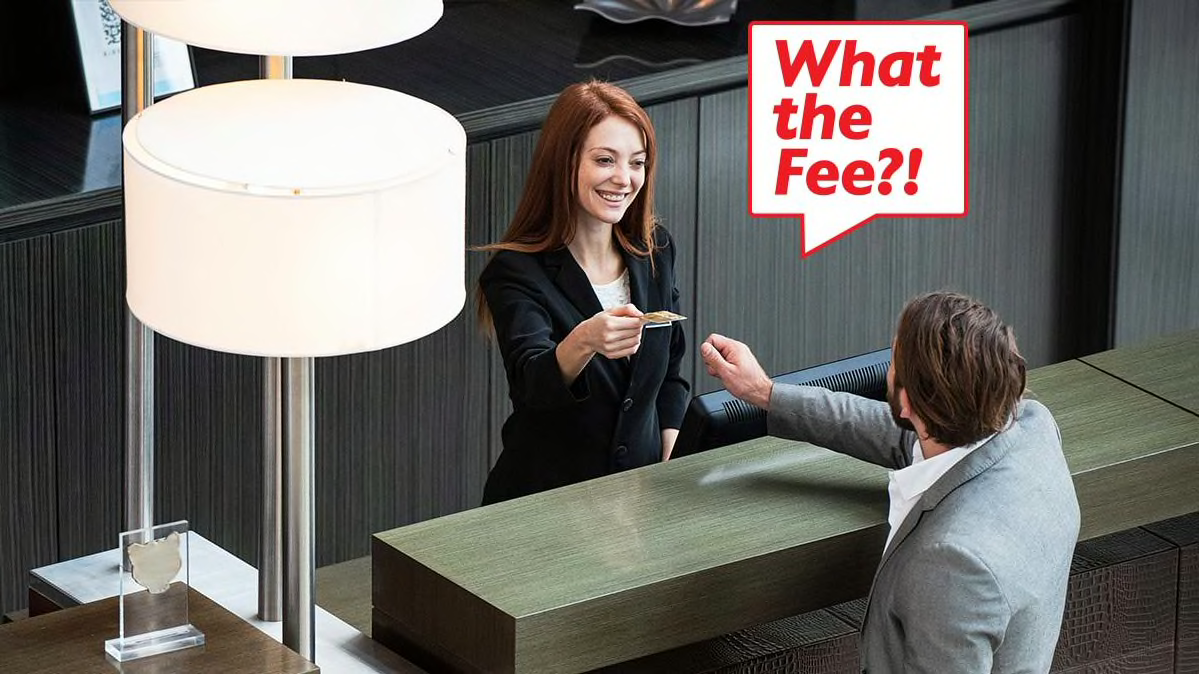 Nate Hake thought he got an incredible deal when he booked a last-minute room at a Las Vegas hotel recently. But when he checked in, the front desk agent informed the 32-year-old Colorado resident that he would also have to pay a "resort fee" of $35 plus taxes per night for the room.
"They insisted on charging me the fee, or they wouldn't let me check in," he says. "Ultimately, I really didn't have any choice but to pay."
Being nickeled-and-dimed by unexpected hotel fees is a frequent complaint among modern-day travelers: Hundreds of consumers wrote to Consumer Reports recently about paying extra for everything from safes they never opened to newspapers they never read to, in at least one case, even bathroom towels.
"Because of all of these add-on fees, it's difficult for consumers to know much it will cost to stay in a hotel," says Anna Laitin, director of financial policy at Consumer Reports. "Room rates that may seem like a good deal when you reserve can quickly balloon, making it hard for consumers to comparison shop and nearly impossible to budget for a trip."
The problem may get worse. The hotel industry raked in a record $2.9 billion in resort fees and other fees and surcharges in 2018, with even more expected for 2019, according to Bjorn Hanson, Ph.D., a hotel consultant and clinical adjunct professor at the Jonathan M. Tisch Center of Hospitality at New York University.
Because third-party websites that let you compare multiple hotels at once don't always show all the fees you might have to pay, it's often worth doing some extra homework.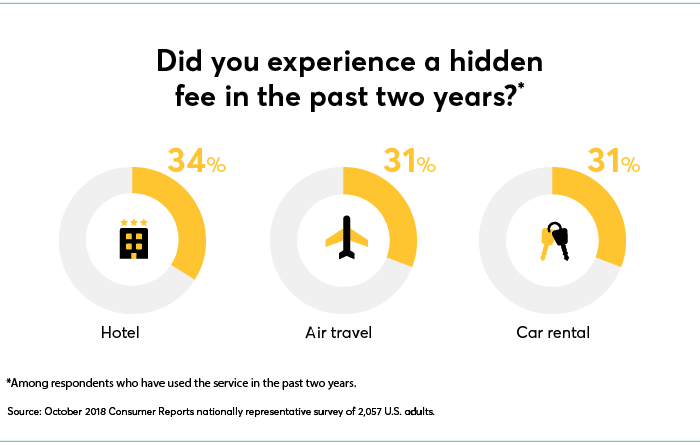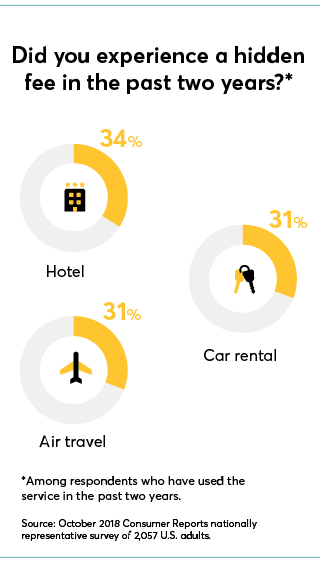 The fix: Start by checking hotel websites directly. They sometimes list the fees they typically charge.
But call the hotel, too, to get a full tally of fees and to ask about waivers for services you know you'll never use. That is more likely to work if you call before checking in—and if you get the name of the hotel staffer you talked with in case of disputes later.
Two other options: Check fees for specific hotels at ResortFeeChecker.com and consider joining a hotel loyalty program. Pearl level members of MGM Resorts' loyalty program get complimentary self-parking, and Gold members of the Wyndham Rewards program don't have to pay extra for late checkouts.
Here's a sampling of some hotel fees you might encounter.
Resort Fee
This charge—which typically covers access to things like swimming pools or gyms, even if you never jump in or break a sweat—are a particularly common gripe. The charge averaged about $27 per day in 2018, according to the American Hotel & Lodging Association.
Parking Fee
Some hotels charge this even if you park yourself, as Jeanne Hanahan of Torrance, Calif., discovered. That fee, plus others, ended up making her total bill "25 percent above the advertised rate," she says.
Safe Fee
This is an extra charge for that thing hidden in hotel room closets that many people never use—and some don't even realize is there. The charge is sometimes just a few dollars but is a particularly maddening one, consumers told us.
Online Reservation or Booking Fees
Patricia Daugherty of Aurora, Ill., told us that after a three-day stay at a hotel, she was surprised to find a $25 per night fee charged because she had booked her reservation online. "Needless to say, I submitted a review reflecting my disappointment with the billing practice," she says. And Robert Jasinski of Eureka Springs, Ark., says he was surprised by a reservation fee he had to pay at a Colorado hotel whether he reserved the room online or on the phone.
WiFi Fees
Though many hotels now provide free internet, you may have to pay a premium for high-speed connections. That's what Roger Bhalla of Cypress, Texas, says happened to him during a trip to San Francisco. "So apparently the WiFi wasn't free after all!" he says.
What the Fee?!
Are you tired of the endless stream of add-on charges that appear on your bills? On the TV show "Consumer 101," Consumer Reports' expert explains to host Jack Rico how to avoid these pesky fees.
Editor's Note: This article also appeared in the July 2019 issue of Consumer Reports magazine.